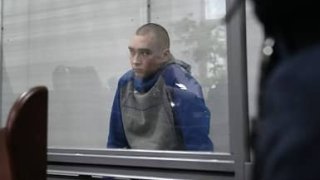 This was CNBC's live blog tracking developments on the war in Ukraine on Wednesday. See here for the latest updates. 
Finland and Sweden formally applied to join NATO on Wednesday in another step toward the Western military alliance's expansion. The full accession process could take a year, and the countries will need to overcome objections from Turkey, which blocked swift approval of their applications.
The status of the besieged Azovstal steelworks complex in Mariupol, a heavily-destroyed port city in southern Ukraine, remains unknown. Ukraine was tight-lipped about how many soldiers may still be in the plant.
Google's Russian subsidiary plans to file for bankruptcy, a company spokesperson told CNBC. "The Russian authorities' seizure of Google Russia's bank account has made it untenable for our Russia office to function," the company said.
Stay informed about local news and weather during the hurricane season. Get the NBC 6 South Florida app for iOS or Android and pick your alerts.
Meanwhile, Ukraine claims the Russian army has lost 27,900 soldiers since its invasion of Ukraine on Feb. 24, according to NBC News.
A Russian soldier also reportedly pleaded guilty in the first war crimes trial held as a result of the invasion.
Moscow is firing senior commanders for battlefield failures, says British government
Moscow over recent weeks has fired senior military commanders for failures in Russia's invasion of Ukraine.
The U.K. Ministry of Defence pointed to Lt. Gen. Serhiy Kisel, whose forces failed to capture Ukraine's second-biggest city, Kharkiv. Also suspended was Vice Admiral Igor Osipov, who commanded the Black Sea Fleet until its flagship, the Moskva, was sunk in April.
Valeriy Gerasimov, Russian Chief of the General Staff, "likely remains in his post," but it's unclear whether President Vladimir Putin retains confidence in him.
The press office of the Russian defense ministry did not immediately respond to a request for comment.
In an intelligence update, the British ministry predicted that Russia will face difficulty regaining the initiative in its war against Ukraine, because generals and other officials will want to seek cover by deferring to their superiors on key decisions.
"Many officials involved in the invasion of Ukraine will likely be increasingly distracted by efforts to avoid personal culpability for Russia's operational setbacks," the Ministry of Defence said.
— Ted Kemp
Google's Russian subsidiary planning to file for bankruptcy after bank account was seized
Google's Russian subsidiary is planning to file for bankruptcy after authorities seized its bank account, a Google spokesperson told CNBC.
But free services like search, YouTube, Gmail and maps will still be available for Russian users, the spokesperson said, adding that "people in Russia rely on our services to access quality information."
"The Russian authorities' seizure of Google Russia's bank account has made it untenable for our Russia office to function, including employing and paying Russia-based employees, paying suppliers and vendors, and meeting other financial obligations," the company said.
Russia has been pressurizing the subsidiary for months over its failure to remove content deemed illegal by the Kremlin and for restricting access to some Russian media on YouTube — but Moscow has not blocked access to the company's services, according to Reuters, which first reported this.
In April, a TV network owned by a sanctioned Russian businessman said 1 billion rubles ($15 million) had been seized from Google because it failed to restore access to its YouTube account, Reuters reported, adding that this is the first time the company has said its whole bank account has been seized.
— Chelsea Ong
Russia has fired more than 2,000 missiles, Zelenskyy says
Russia has already fired more than 2,000 missiles which were the "main part" of the country's stockpile of missiles, according to Ukrainian President Volodymyr Zelenskyy.
"That is, only the remnants are left," the president said in his latest nightly address.
He added that most of the missiles fired by Russia were used to destroy civilian infrastructure "without any strategic military outcome."
Zelenskyy noted Russia's claim that it has begun using laser weapons in Ukraine, but said that arose out of its need to supposedly "save" its dwindling missile supply.
A senior U.S. defense official said that however, the U.S. has not seen anything to corroborate Russia's claims that it has used laser weapons in Ukraine, the Associated Press reported.
— Chelsea Ong
New U.S. ambassador to Ukraine is confirmed by Senate
The Senate confirmed Bridget Brink late Wednesday as U.S. ambassador to Ukraine, filling the post as officials plan to return American diplomats to Kyiv during the nation's continuing battle against the Russian invasion.
The veteran foreign service officer, who has spent most of her career in the shadow of the former Soviet Union, was nominated to the position last month by President Joe Biden. She was confirmed unanimously by the Senate without a formal roll call vote.
American diplomats evacuated Kyiv when the war began three months ago, but the U.S. reopened the embassy Wednesday.
The ambassador's post has been vacant since former President Donald Trump abruptly forced out Ambassador Marie Yovanovitch in 2019. She later became a key figure in the first impeachment proceedings against Trump.
Brink had been the ambassador to Slovakia.
— Associated Press
Ukraine's presidential advisor says the war is unlikely to end by fall
The war in Ukraine is likely to continue through the summer and possibly beyond, despite signs that some parts of the country are returning to some normalcy, Ukraine's presidential advisor Oleksii Arestovych said, NBC News cited.
"It is quite clear to me that this war is unlikely to end by the fall," Arestovich said on Ukrainian TV, according to NBC News.
This comes as President Volodymyr Zelenskyy seeks to extend martial law for another 90 days, NBC News reported.
Since the war started on Feb. 24, martial law has been extended twice, with the current order set to end on May 25.
— Chelsea Ong
Blinken urges allies to compel Russia to open crucial Ukrainian corridors and ports for food security
Secretary of State Antony Blinken called on international allies to compel Russia to open up corridors in Ukraine to allow the flow of food in and out of the country.
"There are an estimated 22 million tons of grain sitting in silos in Ukraine right now. That could immediately go toward helping those in need if it can simply get out of the country," Blinken said.
For weeks, Russian forces have blocked roughly a dozen Ukrainian ports in the Black Sea and Sea of Azov, destroyed civilian infrastructure and targeted grain silos.
Blinken also said that the U.S. was also concerned about the disruption of fertilizer shipments.
"Consider Africa where the cost of fertilizer has already quadrupled since the start of the pandemic and skyrocketed further since the Russian invasion of Ukraine," he said.
Blinken said claims that global sanctions imposed on Russia were the reason for food and fertilizer shortages were false.
 — Amanda Macias
Four countries pledge tenfold rise in EU offshore wind power capacity
Germany, Belgium, the Netherlands and Denmark pledged to build at least 150 gigawatts (GW) of offshore wind capacity in the North Sea by 2050 to create a "green power plant" for Europe.
But the task will be challenging as the European wind supply chain is struggling to make money and the pace of build-outs is being slowed by long permitting times.
Some 150 GW would be enough to power 230 million European homes but the ambition is also to use the green power to make hydrogen and green fuels for heavy industries and transportation which cannot easily be directly electrified, Danish business minister Simon Kollerup said.
The declaration will be officially signed later Wednesday at an offshore wind summit in Denmark, where the European Commission's President Ursula von der Leyen and German Chancellor Olaf Scholz are among the participants.
The European Commission also unveiled a 210 billion euro plan for Europe to end its reliance on Russian fossil fuels by 2027, and to use the pivot away from Moscow to quicken its transition to green energy.
— Reuters
Biden optimistic about Finland and Sweden joining NATO, despite Turkey's concerns
U.S. President Joe Biden sounded optimistic that Turkey can be persuaded to support Finland and Sweden in their bids to join NATO.
"I think we're gonna be okay," Biden told reporters when asked if he could convince Turkey to change its mind.
Biden's remark came two days after Turkish President Recep Tayyip Erdogan doubled down on his country's opposition to the two new candidates for the international security alliance.
The White House nevertheless echoed Biden's optimism at a press briefing.
"We're confident that at the end of the day, Finland and Sweden will have an effective and efficient accession process, [and] that Turkey's concerns can be addressed," said Biden's national security advisor Jake Sullivan.
He noted that U.S. Secretary of State Antony Blinken was in talks with his Turkish counterpart. "We feel very good about where this will track to," Sullivan said.
— Kevin Breuninger
Blinken meets with Turkish counterpart amid attempts to block Sweden and Finland's NATO bids
Turkey's Foreign Minister Mevlut Cavusoglu told U.S. Secretary of State Antony Blinken that Ankara has "legitimate security concerns" about adding Finland and Sweden to the NATO alliance.
"Turkey has been supporting the open door policy of NATO even before this war, but with regards to these possible candidates we have also legitimate security concerns that they have been supporting terrorist organizations and there are also export restrictions on defense products," Cavusoglu said alongside Blinken at the United Nations in New York.
"What I'm trying to say is we understand their security concerns, but Turkey's security concerns should be also met," Cavusoglu added.
The two agreed to continue to "overcome the differences through dialogue and diplomacy."
 — Amanda Macias
U.S. reopens embassy in Kyiv after closing it for three months
The U.S. reopened its embassy in Kyiv after closing it for three months before and during Russia's invasion of Ukraine.
"When we suspended operations at the embassy, we made the point clear: while we would relocate U.S. embassy personnel for their safety and security, this would in no way prevent our engagement with and support for, the Ukrainian people, government and civil society as well as our allies and partners," Secretary of State Antony Blinken wrote in a statement.
As it raised the American flag over the compound, the U.S. became the latest Western country to resume diplomatic operations in Kyiv.
Blinken said the U.S. enhanced security measures and protocols at the embassy ahead of the reopening and return of American diplomats.
 — Amanda Macias
Russia expels more than 80 Western diplomats
Russia expelled at least 85 Western diplomats from the country as diplomatic tensions crumble over the Kremlin's ongoing war in Ukraine.
At least 24 diplomats from Italy and 34 from France were ordered to leave Russia. Another 27 representatives from Spain's mission in Russia were also ordered to depart the country.
The moves follow similar expulsions of Russian diplomats last month.
 — Amanda Macias
Turkey blocks initial NATO effort to fast-track Sweden and Finland applications, report says
Turkey blocked an early NATO attempt to fast-track the applications of Sweden and Finland to join the alliance, the New York Times reported, citing a senior diplomat.
Turkish President Recep Tayyip Erdogan has opposed the two countries' accession to the organization, taking issue with their support for Kurdish separatists that Ankara classifies as terrorist organizations. NATO ascension for a new member state requires consensus approval from all existing members.
Turkey laid out a list of complaints to NATO ambassadors, largely about Kurdish militant groups, preventing an initial procedural vote to begin acting on the applications, the Times wrote.
Analysts view Erdogan's actions as using his country's leverage to extract concessions from other NATO members. But the position risks alienating allies and damaging Turkish-Western relations.
— Natasha Turak
Yellen: We want the maximum negative impact on Russia
Responding to a question from CNBC's Annette Weisbach in Bonn, Germany, Treasury Secretary Janet Yellen discusses how sanctions are designed to have a maximum impact on Russia.
She said that lawmakers understood that Western nations would not be able to shield themselves entirely from the economic consequences of those sanctions. See the transcript below.
"So, inflation clearly is a concern in many parts of the world, in the United States, in the U.K., and in in the rest of Europe as well and clearly, higher energy prices, higher food prices are, and other commodity prices, really due to Putin's choice to launch a war against Ukraine are really responsible for much of that. And we understood that there would be consequences that we would not be able to shield ourselves entirely from economic consequences, but the principles that all of us have adopted."
"As we consider what sanctions packages to adopt, are, as I said, we want to have the maximum impact, we can on Russia the maximum negative impact to degrade their ability to wage war now and project power in the years ahead, and to minimize the negative spillovers to ourselves. As we contemplate energy sanctions and other sanctions, this is always the core of the conversations that we've had."
"So, the European Union has made clear that they intend to end oil imports by the end of this year. That gives a significant amount of time to make sure that it can be done in an orderly way, and so that there won't be price spikes associated with it."
"In the meantime, discussions are ongoing. All of us share the objective of diminishing the revenues that Russia will have to buy goods and services that will help their economy and enable them to wage war. We're doing a lot of things that are effective in diminishing their access to the goods and services that they need."
"Just very recently, it was announced that the two major tank producing firms who have had to shut down operations because of inability to get necessary parts and materials but shutting off oil and gas revenues are a very substantial source of revenues for Russia. We would like to do what we could to diminish those revenues going to Russia. And so a number of ideas have been discussed."
"You've probably heard tariffs, price caps are three possibilities that are on the table. We continue to look at those things, no decisions have been made. You know, this is important for Europe to decide what they think is best. But we continue to have those discussions there are a lot of options but those are the objectives."
—Matt Clinch
Biden welcomes Finland and Sweden applications to join NATO
U.S. President Joe Biden welcomed Finland and Sweden's applications to join NATO and pledged to work with Congress and the 30 members of the military alliance to swiftly bring the two countries into the group. 
"While their applications for NATO membership are being considered, the United States will work with Finland and Sweden to remain vigilant against any threats to our shared security, and to deter and confront aggression or the threat of aggression," Biden wrote.
Biden is slated to meet with the leaders of both countries at the White House on Thursday.
— Amanda Macias
Biden's top security advisor speaks to China's top diplomat about the war in Ukraine
U.S. national security advisor Jake Sullivan spoke with China's top diplomat on a range of security issues, including the war in Ukraine, the White House said in a readout of the call.
The call is the first known discussion between Sullivan and Yang Jiechi since their "intense" seven-hour-long discussion in Rome.
The Biden administration has previously signaled to China, the world's second largest economy, that it should not assist in blunting sanctions imposed on Russia.
— Amanda Macias
UN says at least 3,778 killed in Ukraine since start of war
The United Nations has confirmed 3,778 civilian deaths and 4,186 injuries in Ukraine since Russia invaded its ex-Soviet neighbor on Feb. 24.
The Office of the U.N. High Commissioner for Human Rights said the death toll in Ukraine is likely higher, because the armed conflict can delay reports.
The international body said most of the civilian casualties recorded were caused by the use of explosive weapons with a wide impact area, including shelling from heavy artillery and multiple launch rocket systems, as well as missiles and airstrikes.
— Amanda Macias
U.S. best positioned to deal with global economic uncertainty triggered by Russia's war, Yellen says
Treasury Secretary Janet Yellen said the war in Ukraine has triggered higher food and energy prices around the world, and described the globe's economic outlook as "challenging" and "uncertain."
"The United States in many ways is best positioned I think to meet this challenge given the strength of our labor market and the economy," Yellen said ahead of a meeting of the G-7 finance ministers and central bank governors in Bonn, Germany.
Yellen, who spent the week in Warsaw and Brussels, added that rising inflation also poses a significant challenge to the global economy.
She said that the sweeping global sanctions imposed on Russia by the U.S. and more than 30 countries are curbing the Kremlin's ability to finance its ongoing war in Ukraine.
"Russia is experiencing a recession, high inflation, acute challenges in their financial system and an inability to procure materials and products they need to support their war and their economy," she said, adding that two Russian tank manufacturers recently shut down due to a lack of supplies.
— Amanda Macias
Russian soldier admits killing unarmed Ukrainian in first war crimes trial
A district court in Kyiv has begun its first war crimes trial involving a Russian soldier who was a part of Russia's invading forces.
Vadim Shishimarin, a 21-year-old Russian tank commander held in Ukraine, is charged with murdering a 62-year-old civilian in the northeast Ukrainian village of Chupakhivka on Feb. 28. He told the court that he pleaded guilty, Reuters reported Wednesday.
Shishimarin could face a life sentence if convicted.
Ukraine has accused Russia of various war crimes during the three-month conflict with Russia. Investigations and evidence is being gathered to support those claims, against a backdrop of a very live conflict.
For its part, Russia has denied targeting civilians or civilian infrastructure, despite overwhelming evidence to the contrary. Early on in the conflict, Russia shelled a maternity hospital as well as a theater where hundreds of civilians were sheltering, for example.
Ukrainian state prosecutors have said the soldier and four other servicemen drove into the village of Chupakhivka where they saw an unarmed resident riding a bicycle and talking on his phone.
They said Shishimarin was ordered by another serviceman to kill the civilian to prevent him reporting on the Russians' presence and fired several shots through the open window of the car with an assault rifle at the civilian's head. The civilian died on the spot.
— Reuters
Former Finnish PM: Russia doesn't see Finland and Sweden NATO accession as a threat
Russia doesn't actually see Finland and Sweden's accession to the NATO alliance as a military threat, Former Finnish Prime Minister Alexander Stubb told CNBC, despite its warnings against any enlargement of the organization.
"[The] Russian reaction, actually it has been quite moderate, and I think the reason is quite clear," Stubb said. "Russia does not see Finnish and Swedish accession to NATO as a military threat or security threat. That was also said by Foreign Minister Sergei Lavrov yesterday," he said. "And it is because the profile that Sweden and Finland are going to take inside NATO is going to be a Nordic profile."
The former prime minister noted that three Nordic states — Iceland, Norway and Denmark — have been members of the alliance since 1949. While Finland and Sweden have been historically "nonaligned," they were not neutral, and have been allied partners of NATO since the mid-1990s, engaging in joint military exercises with NATO members.
"So with that profile I think the Kremlin has already counted Sweden and Finland as members of the alliance, even though we were not members and not under Article 5, the security guarantee collective defense umbrella. So I think the reaction was moderate and will continue to be moderate. This is not an aggressive enlargement."
Indeed, despite weeks of threatening "consequences" if the two countries joined NATO — which with Finland's 830-mile shared border with Russia would double the size of the NATO-Russia border — Putin has softened his tone, saying earlier this week that Moscow does not have problems with either country and that they are not a threat to Russia.
Stubb then made a final point: "We do not join NATO against anyone. We join it for ourselves. For us, foreign security policy is not a zero-sum game."
— Natasha Turak
As inflation slows, Russia is hoping to avoid a financial crisis
Russia believes it has swerved a financial crisis as the ruble rallies and economic data improves, but strategists say the numbers mask some ugly truths for Moscow.
Although still running hot, recent inflation figures have shown a sharp slowdown in monthly price increases, while the ruble has gone from an all-time low in March to the world's best-performing currency this year.
Economic activity indicators have improved, and Russia has thus far avoided defaulting on its foreign currency debt, despite Western sanctions freezing large swathes of its reserves.However, economists have cautioned that the exceptional measures taken by the Kremlin and the Central Bank of Russia to safeguard the currency have resulted in synthetic strength that could unravel if circumstances change.
Read more here: As inflation slows and the ruble rallies, Russia is hoping to avoid a financial crisis
— Elliot Smith
Photos show members of Azov battalion after apparent surrender in Mariupol
Photos below show servicemen of Ukraine's national battalion "Azov," which is an all-volunteer infantry military unit, being transferred to Yelenovka in Mariupol. The Azov Battalion is part of the Ukrainian National Guard, but also has historical links to neo-Nazis.
Ukraine has avoided using the word "surrendered" when referencing what it has called the "evacuation" of its soldiers who have been in the Azovstal steelworks for weeks. Ukraine has said that several hundred soldiers have been evacuated, it has not said how many people are left within the complex, however. In addition, the fate of the evacuees remains uncertain although a prisoner exchange appeared to be an option.
Russia's Ministry of Defence has claimed that almost a thousand Ukrainian soldiers who were holed up in the steelworks complex in the besieged city of Mariupol have "surrendered." Over the past day, the ministry said in an update Wednesday, "a total of 959 militants have surrendered ... including 80 wounded." Of those, it said 51 needed inpatient treatment and were placed in the hospital of Novoazovsk of the Donetsk People's Republic, a pro-Russian region of the Donbas.
—Anadolu Agency | Getty Images
Russian military analyst gives damning assessment of Ukraine war on state TV
In a country where independent media and commentary has all but disappeared from public view, it's rare to hear dissenting voices on the many state-controlled TV networks in Russia — particularly now with the country at war with Ukraine.
But one well-known military analyst and veteran has stood out this week after he appeared on state TV and gave a damning assessment of the Ukraine invasion, or what Russia calls its "special military operation."
"The situation, frankly speaking, will get worse for us," Mikhail Khodaryonok, a retired Russian army colonel, told the "60 Minutes" talk show on Rossiya-1 TV program hosted by Olga Skabeyeva, who's renowned for her pro-Kremlin stance.
Read the whole story here: 'The whole world is against us': Russian military analyst gives damning assessment of Ukraine war on state TV
— Holly Ellyatt
Ukraine says Russia is holding more than 3,000 civilians from Mariupol at a penal colony
The Russian army is holding more than 3,000 civilians from Mariupol at a former penal colony near Olenivka in the Donetsk region of eastern Ukraine, according to the Associated Press, which cited a Ukrainian human rights official.
A penal colony is used for exiled prisoners, who are separated them from the general population and isolated in a remote location.
Buses carrying an unknown number of Ukrainian soldiers from the Mariupol steel plant were also seen arriving at another former penal colony near Olenivka, the Associated Press said.
Earlier this week, the Ukrainian military said more than 260 Ukrainian fighters have been evacuated from the steel plant and taken to areas under Russia's control.  
Ukrainian official Lyudmyla Denisova said most civilians are held for a month, but those considered "particularly unreliable" — like former soldiers and police — are held for two months, according to an AP report.
Among those held were about 30 volunteers who delivered humanitarian aid to Mariupol while it was under Russian siege, Denisova said, according to the AP.
— Chelsea Ong
Finland and Sweden formally apply to join NATO
Finland and Sweden formally applied to join the NATO alliance on Wednesday, setting in motion an accession process that is expected to take only a few weeks.
Still, an approval of their applications by all 30 current NATO members, with some of them requiring approval from their parliaments, could take up to a year.
There is broad approval of the Nordic nations joining the Western military alliance with Turkey the only country to voice strong objections so far.
Finland's Mission to NATO tweeted that it was a "historic day."
— Holly Ellyatt
U.S. and Turkey officials to meet with NATO expansion on the agenda
U.S. Secretary of State Antony Blinken is to meet Turkey's Foreign Minister Mevlut Cavusoglu in New York on Wednesday amid tensions among NATO members following Ankara's objections to Finland and Sweden's bids to join the Western military alliance.
Turkey's President Recep Tayyip Erdogan has voiced strong opposition to the bids and have said neither country should "bother" to send delegations to Ankara to try to persuade Turkey to approve their membership applications. NATO requires a consensus among all its current 30 members for the countries to be able to join.
Briefing the press on the forthcoming meeting, U.S. State Dept. spokesman Ned Price refused to comment on Erdogan's comments, or on what the meeting might entail, but said "there is strong consensus there has been strong consensus for admitting Finland and Sweden" among NATO allies.
"We are confident we'll be able to preserve that consensus," Price said.
— Holly Ellyatt
Russia targeting military and civilian targets throughout Ukraine, army says
In their latest military update, Ukraine's forces say that Russia is continuing to launch missile strikes at military and civilian targets in Ukraine.
Ukraine said the Russian forces' "main focus is on maintaining previously occupied frontiers, conducting reconnaissance, engineering equipment positions, replenishing stocks, and trying to improve its tactical position" adding that they "continue to launch missile strikes on military and civilian targets throughout Ukraine."
The fate of the southern port city Mariupol is uncertain but is likely to come under complete Russian control soon, as Ukraine looks to evacuate the remaining forces from the Azovstal steelworks.
In its latest update, Ukraine's General Staff of the Armed Forces said Russia was "blocking" Ukrainian units near the plant, and "continues to inflict artillery and air strikes."
Meanwhile, Ukraine's forces said 12 enemy attacks had been repelled in the Donetsk and Luhansk areas over the past 24 hours, with three Russian tanks, three artillery systems, six units of armored combat vehicles and seven enemy vehicles destroyed.
— Holly Ellyatt
Ukraine says Russia's army has lost 27,900 soldiers since the war started
The Russian army has lost 27,900 soldiers since its invasion of Ukraine on Feb. 24, the Ukrainian Defense Ministry said in a video on Telegram, NBC News reported.
In March, NATO estimated between 7,000 and 15,000 Russian troops had died within the first month of the war, according to NBC News.
Last week, Ukraine announced that 501 members of its National Guard had died since the invasion started, NBC News reported. The National Guard serves as a military unit with law enforcement powers and was formed in 2014 when Russia annexed the Black Sea peninsula of Crimea.
— Chelsea Ong
Turkey will not block Sweden and Finland NATO membership requests: Luxembourg foreign minister
Luxembourg's foreign minister says he does not believe Turkey will block Sweden's and Finland's NATO membership bids despite the Turkish president's objections, the Associated Press reported.
Sweden and Finland are submitting their membership applications to the alliance as Russia's invasion of Ukraine continues. But all 30 NATO member countries, among them Turkey, must agree to let these countries join.  
However, Turkish President Recep Tayyip Erdogan has said he opposes the two countries joining NATO, referencing the hosting of members of the Kurdistan Workers' Party, which Turkey classifies as a terrorist group.
Nonetheless, Luxembourg's foreign minister, Jean Asselborn, told Germany's Deutschlandfunk radio he suspects Erdogan is "pushing up the price" for the countries to join the alliance, the Associated Press reported.
"At the end of the day, I am convinced that Turkey can't slam the brakes on this," Asselborn said, according to the Associated Press.
— Chelsea Ong
U.S. Senate advances nearly $40 billion Ukraine aid bill
The U.S. Senate advanced a nearly $40 billion aid package for Ukraine.
The chamber voted to move ahead with the bill by an 88-11 margin. All of the senators who opposed the measure were Republicans.
A final vote on the military and humanitarian assistance could take place as soon as Thursday. Once the Senate passes the bill, it will head to President Joe Biden's desk for his signature.
Senate leaders wanted to approve the bill quickly last week, but Sen. Rand Paul, R-Ky., blocked the unanimous consent needed to pass it.
— Jacob Pramuk
Amnesty International raises concerns following reports Ukrainian troops surrendered at Azovstal plant
Amnesty International raised concerns following reports that Ukrainian forces holed up in Mariupol's Azovstal steel plant surrendered to Russia's armed forces.
"Amnesty International has documented summary killings of captives by Russia-backed separatist forces in eastern Ukraine, as well as the extrajudicial executions of Ukrainian civilians by Russian forces in recent weeks. The Azov Battalion soldiers who surrendered today must not meet the same fate," wrote Denis Krivosheev, Amnesty International's deputy director for Eastern Europe and Central Asia.
Krivosheev added that prisoners of war should have immediate access to medical treatment and should not be subjected to "any form of torture or ill-treatment."
"The relevant authorities must fully respect the rights of prisoners of war in accordance with the Geneva conventions," he said, referencing international humanitarian law.
— Amanda Macias
Read CNBC's previous live coverage here:
Mariupol's fate in limbo after steelworks evacuation; Russia plays down NATO expansion
Copyright CNBCs - CNBC