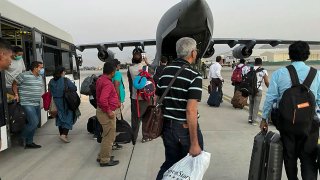 The crowds, who were trying to flee the country a day after Kabul fell to the Taliban, have thinned out.
"The situation is stabilizing but obviously we are monitoring it very carefully," U.K. Foreign Secretary Dominic Raab told Sky News on Tuesday.
A frenzied and panic-filled day on Monday saw thousands of Afghans swarm the tarmac, including some who fell off departing planes in desperate attempts to get out.
Download our app for iOS or Android to get the latest forecasts on the hurricane season— and sign up for alerts.
Evacuation flights resumed from Kabul's international airport Tuesday after a frenzied and panic-filled day that saw thousands of Afghans swarm the tarmac, including some who fell off departing planes in desperate attempts to get out of Afghanistan.
Images from Hamid Karzai International shared on social media and news outlets stunned the world, as evacuation flights took off with locals still clinging onto aircraft wheels.
The crowds, who were trying to flee the country a day after Kabul fell to the Taliban, have thinned out, reports say, though the ability to leave the country remains very limited for most Afghans, who face an uncertain future. Without passports or visas — which the majority of Afghans do not have — they cannot go anywhere.
The airport reopened early Tuesday local time, after U.S. forces closed it for several hours due to the chaotic security situation. Airport security and air traffic control have been taken over by the U.S. military, according to the Pentagon, in the absence of Afghan airport security authorities.
Commercial flights remain extremely limited, with some canceled. But a handful of flights are still scheduled to go to Istanbul and a few cities within Afghanistan, according to flight monitoring website FlightRadar24. Flydubai has suspended flights from Dubai to Kabul through at least Wednesday, while Emirates Airline said its Kabul flights are suspended "until further notice."
The only commercial airlines scheduled to depart are local carriers Kam Air and Ariana Afghan Airlines, according to FlightRadar24.
Some in Afghanistan have described extremely high ticket prices and being turned away by airlines due to flights being overbooked.
U.S. Army Maj. Gen. Henry Taylor, a logistics specialist on the Pentagon's Joint Chiefs of Staff, said at a press conference Tuesday that the U.S. was "in charge of air traffic control" for military and commercial flights, adding that there were about 4,000 U.S. troops in Kabul to help provide security and evacuate Americans and the Afghan nationals who worked alongside them.
Taylor added that the Pentagon's goal, which is slated to take about 24 hours to roll out, is to evacuate some 5,000-9,000 people out of Kabul daily. This plan would require flying one military cargo aircraft out of Kabul per hour.
Confusion for stranded Americans
U.S. troops have secured the military side of the airport, where the U.S. Embassy staff and operations were relocated on Sunday. It's unclear how many American citizens remain in Afghanistan, but some lawmakers in Washington say they have received hundreds of calls amid lack of clarity from the State Department.
State Department staff have set up their own hotline for people seeking emergency flights out of the country, but a deluge of requests means many calls go unanswered. The department's official advisory says: "Do not call the U.S. Embassy in Kabul for details or updates about the flight. Do not travel to the airport until you have been informed by email that departure options exist."
A Pentagon spokesman told MSNBC on Tuesday that the U.S. will continue to work to get as many U.S. citizens and Afghan interpreters as possible out of Afghanistan in coming weeks.
'Situation is stabilizing'
Meanwhile, U.K. Foreign Secretary Dominic Raab told Sky News on Tuesday: "The situation is stabilizing but obviously we are monitoring it very carefully."
"I do think that the airport is more stable today than it was yesterday, and we need to make sure that we consolidate that in the days ahead."

Raab said there were 600 extra personnel there among a surge of U.K. and U.S. troops sent in to ensure the evacuation of diplomatic staff. He also said Afghans who had helped U.K. forces were being evacuated as well.
The U.K. evacuated 150 British nationals on Sunday as well as "289 of those Afghan nationals who have served the U.K. so loyally in Afghanistan," over the last week, he said, adding that he expected over the next 24 hours "to have 350 more British nationals and Afghan nationals who have worked for us coming out."
But dozens of Afghans who worked for British organizations — but were not directly employed by the U.K. government — say they have been left out of the U.K.'s refugee visa program and are now fearing for their lives.
The comments came as many Afghans say they have been left behind and betrayed by the international community — and their own leaders.
Afghan President Ashraf Ghani fled the country on Sunday as the country's military, trained and equipped for two decades by the U.S., surrendered to Taliban militants.
Germany, which fielded the second-largest military presence in Afghanistan after the U.S., said it aims to evacuate thousands of German-Afghan dual nationals and lawyers, activists and individuals who worked with NATO forces.
However, the first German evacuation plane managed to take off with only seven people, due to the chaos on the ground, its government said Tuesday.
The transport plane performed a "breakneck landing" on Monday night, but had to take off with so few people on board because it could not spend much longer on the runway and the Germans trying to evacuate couldn't reach the airport without protection from military personnel.
"We have a very chaotic, dangerous and complex situation at the airport," Defense Minister Annegret Kramp-Karrenbauer told a local broadcaster, according to Reuters.
"We had very little time, so we only took on board people who were on site."
Fear and frustration for Afghans who helped U.S. forces
At least 10,000 Afghans who helped the U.S. military — contractors, interpreters and their families — remain in limbo. Terrified of targeted killings by the Taliban, many of them have begged the U.S. government not to leave them behind.

"My heart has broken," said Rep. Jason Crow, D-Colo., an Army veteran who served in Afghanistan. "Like most vets, I left part of me in Afghanistan."
"Later we'll debate the failures of the last 20 yrs, but today our mission is clear: hold the airport as long as possible and get all U.S. citizens and as many Afghan partners out as we can."
The Biden administration has faced criticism for the slow speed of the Special Immigrant Visa program, for which the vetting and approval process can take more than three years. James Miervaldis, chairman of the organization No One Left Behind, which helps Afghan and Iraqi interpreters resettle in the U.S., told National Public Radio that "things are going very, very poorly" for the evacuations of Afghans.
"We had dozens of SIV recipients, the interpreters who had their visas in hand and were waiting for the embassy to reach out to them about what evacuation flights they'd be on," he told NPR on Monday. "They never heard from the embassy, so we started flying them out commercially on our own dime." 

Miervaldis said that as of a few weeks ago, the total number of SIV applicants was over 20,000.
On Sunday, a State Department spokesperson said: "We are committed to relocating as many SIV applicants as possible out of Afghanistan, increasing the tempo from recent weeks where we have already relocated nearly 2,000 SIV applicants."
Biden has approved up to $500 million in aid to support refugees and others "at risk as a result of the situation in Afghanistan," the White House said late Monday. In a speech Monday addressing the predicament of Afghans who helped U.S. forces, Biden claimed that some Afghans were granted U.S. visas but previously chose to stay in Afghanistan.
To that, Miervaldis told NPR, "We strongly disagree with that assessment."
-CNBC's Amanda Macias contributed to this report from Washington.
Copyright CNBCs - CNBC