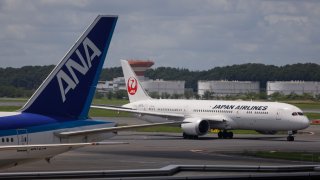 British Airways, Emirates, ANA and Japan Airlines were among the carriers to cancel some U.S. flights over concerns that new 5G service could interfere with some onboard systems.
AT&T and Verizon agreed to delay the deployment of 5G near airports temporarily but didn't provide additional detail.
U.S. airlines had also prepared to cancel flights before the telecom giants agreed on the delay.
Several foreign airlines are canceling flights to the U.S. over concerns about 5G cellular service interference, despite a last-minute commitment from telecom giants Verizon and AT&T to delay the deployment of the new networks near some airports.
Japan Airlines, All Nippon Airways and Emirates Airline said Tuesday that some flights to the U.S. will be suspended.
Boeing notified Japan Airlines that 5G signals for U.S. mobile phones "may interfere with the radio wave altimeter installed on the Boeing 777," the airline said.
That notification was sent before the telecom companies agreed to the new limitations. By Wednesday, Japan Airlines said it had resumed flights using the wide-body aircraft after clearance from the Federal Aviation Administration.
British Airways on Wednesday had canceled seven U.S.-bound flights that were scheduled with a 777, saying the deal does not cover all the airports it operates to.
The FAA didn't immediately comment.
Dubai-based Emirates on Tuesday said affected destinations are Boston; Chicago; Dallas/Fort Worth; Miami; Orlando, Florida; San Francisco; Newark, New Jersey; and Seattle. Service to Los Angeles, New York's John F. Kennedy International Airport and Washington, D.C., would operate as scheduled. Disruptions would continue through Thursday, it said.
"Emirates regrets any inconvenience caused," the airline said in a statement. "We are working closely with aircraft manufacturers and the relevant authorities to alleviate operational concerns, and we hope to resume our US services as soon as possible."
The FAA had warned that the 5G service could interfere with some sensitive equipment onboard certain aircraft such as radio altimeters, which measure the plane's distance from the ground. That instrument is especially crucial for low-visibility landings, which are common during winter snowstorms and other types of weather.
Airlines had warned the safety concerns would force them to cancel flights and repeatedly urged the White House to step in.
Some U.S. airlines were planning to cancel flights as early as Tuesday before the deal with AT&T and Verizon but were still reviewing the latest rules.
Delta Air Lines, for its part, said it is planning for the "possibility of weather-related cancellations caused by the deployment of new 5G service in the vicinity of dozens of U.S. airports, starting as early as Wednesday."
"The FAA, which regulates airlines, has issued numerous notices that restrict flight activity near airports where this new deployment of 5G service in the C-band spectrum could cause limited interference with altitude instruments on aircraft under various weather conditions that aircraft safely operate in today," the carrier said in a statement. "As such, Delta is taking the necessary steps to ensure safety remains the priority in compliance with FAA guidelines."
The airline, which scrapped change fees in 2020 for standard coach tickets, said it would waive fare differences if customers have to rebook.
United Airlines said Wednesday that it expects "minor disruptions at some airports due to the remaining 5G restrictions" and applauded the deal with AT&T and Verizon.
"We look forward to a higher level of coordination between the regulators, telecom companies and the aviation industry to ensure that customers are not faced with disruptions going forward," the airline said in a statement.
Copyright CNBC