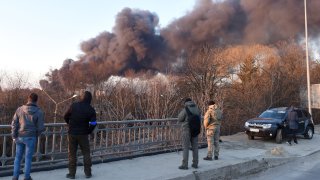 This has been CNBC's live blog covering updates on the war in Ukraine. [Follow the latest updates here.]
Several missiles have hit an aircraft repair center on the outskirts of Lviv, western Ukraine, the city's mayor said Friday.
The strikes suggest Russian forces are continuing to widen their attack. Lviv has, so far, not been the site of active hostilities, and many Ukrainians have fled to the city.
Meanwhile, U.S. President Joe Biden spoke with his Chinese counterpart Xi Jinping about the need for peace in Ukraine.
Russia also called a special United Nations Security Council meeting in New York City this morning to discuss the Kremlin's claims that the U.S. is developing biological weapons in Ukraine. The U.S. and Ukraine have denied those claims.
Zelenskyy calls for talks with Russia, says it's time to restore Ukraine's territorial integrity
Ukrainian President Volodymyr Zelenskyy has urged Russia to come to the table for talks.
"Meaningful peace and security talks for Ukraine are the only chance for Russia to reduce the damage from its own mistakes," he said a video address on Saturday.
"It's time to meet. Time to talk. It is time to restore territorial integrity and justice for Ukraine," Zelenskyy said. "Otherwise, Russia's losses will be such that you will not have several generations to rise."
— Joanna Tan
Biden warns Xi of global backlash
Biden held a nearly two-hour phone call with Chinese President Xi Jinping to discuss Russia's invasion of Ukraine.
Both Biden and Xi agreed on the need to promote peace and assist with the humanitarian disaster created by the invasion. But they disagreed deeply on who is responsible for the suffering in Ukraine, with the Chinese leader refusing to hold Russia singularly accountable for the unprovoked invasion.
Instead, official readouts from Beijing made it clear that Xi's position was that the U.S. and Europe had provoked Russian President Vladimir Putin into attacking Ukraine by expanding NATO into Eastern Europe.
During the call, Biden "described the implications and consequences if China provides material support to Russia," the White House said.
— Christina Wilkie
Canada welcomes Ukrainian refugees
Canadian Prime Minister Justin Trudeau said the country has opened a temporary residency program for Ukrainian refugees.
Canada is now taking applications that will allow Ukranians to stay as temporary residents for up to three years under an extended visitor visa program, as opposed to a six-month visa.
The program expedites processing and waives application fees.
— Dawn Kopecki
U.S. targets Abramovich plane, 99 others over Russia export violations
The U.S. Commerce Department will effectively ground 100 airplanes that have recently flown to Russia and are believed to violate U.S. export controls, including a plane used by Russian businessman Roman Abramovich, officials told Reuters.
The list, seen by Reuters, includes 99 Boeing airplanes operated by Russian passenger and cargo carriers including Aeroflot, AirBridge Cargo, Utair, Nordwind, Azur Air and Aviastar-TU — as well as Abramovich's Gulfstream G650 — and could further hinder Russian efforts to continue some international flights.
The Commerce Department will warn companies and other entities around the world that any refueling, maintenance, repair, or spare parts or services violate U.S. export controls and subject companies to U.S. enforcement actions that could include "substantial jail time, fines, loss of export privileges, or other restrictions," the department said.
— Reuters
Russia celebrates 8th anniversary of the annexation of Crimea
Russians celebrate the 8th anniversary of the annexation of Crimea.
— Adam Jeffery
Zaporizhzhya nuclear power plant expected to be working again next week
Ukrainian officials expect that the Zaporizhzhya nuclear power plant will be working again next week after the site was damaged by Russian shelling.
Ukrainian engineers are currently repairing one of three disconnected power lines linking the country's largest nuclear power plant to the electricity grid, International Atomic Energy Agency Director General Rafael Mariano Grossi wrote in a statement.
Russian forces took control of the Zaporizhzhya nuclear power plant on March 4. A week prior, Russian forces took control of the Chornobyl nuclear power plant.
– Amanda Macias
State Department denied access to Brittney Griner in Russia
U.S. officials are still working to get access to WNBA star Brittney Griner after she was arrested by Russian authorities nearly a month ago on accusations of smuggling drugs into the country.
State Department spokesman Ned Price said the U.S. has been consistently denied consular access to American citizens detained in Russia.
Earlier in the week, a Russian court denied the 31-year-old athlete house arrest amid an ongoing pre-trial investigation. Griner is being accused of smuggling hashish oil, a charge that carries up to 10 years in prison.
Griner's arrest came days after Russian President Vladimir Putin ordered an invasion of Ukraine triggering international backlash and a slew of punishing sanctions.
– Amanda Macias
Macron raises strikes on civilians on call with Putin
French President Emmanuel Macron spoke with Russian President Vladimir Putin for a little over an hour, an Elysee source confirmed to NBC News.
Macron, according to the person familiar with the details of the call, raised concerns over reports that Russian forces are launching attacks on civilian and nonmilitary sites.
The Elysee source said Putin again placed the blame for the ongoing war and any crimes against humanity in Ukraine on Kyiv.
The Kremlin's readout of the call said Putin stressed that "Russian Armed Forces are doing everything possible to save the lives of civilians, including by organizing humanitarian corridors for their safe evacuation."
Macron and Putin have spoken at least a dozen times in the past month.
– Amanda Macias
China says Biden and Xi discussed need for peace in Ukraine
President Joe Biden held a nearly two-hour phone call with Chinese President Xi Jinping to discuss Russia's invasion of Ukraine.
The call was seen as a critical test of whether Biden can convince China to stay on the sidelines of the conflict in Ukraine, and to turn down Russian requests for military or economic aid.
According to a readout of the call from the Chinese Ministry of Foreign Affairs, Xi told Biden that the United States and China each had an obligation to promote peace.
The White House has yet to issue a formal readout of the call, but said it began just after 9 a.m. and lasted just shy of two hours. That's an unusually long time for a presidential call with the leader of a U.S. adversary.
— Christina Wilkie
U.S. senators plan trip to Germany and Poland
A bipartisan delegation of 10 U.S. senators will travel to Poland and Germany this weekend to meet with U.S. military leaders, NGOs and Ukrainian refugees.
The delegation will include Sens. Joni Ernst, R-Iowa; Shelley Moore Capito, R-W.Va.; Susan Collins, R-Maine; John Cornyn, R-Texas; Steve Daines, R-Mont.; Kirsten Gillibrand, D-N.Y.; Angus King, I-Maine; Roger Marshall, R-Kan.; Jerry Moran, R-Kan. and Jacky Rosen, D-Nev.
"We will return with better insight on how Congress can and should continue to support the Ukrainian people and our NATO allies and see firsthand the heartbreaking humanitarian impact of Putin's war of aggression," the 10 senators wrote in a joint statement ahead of their trip.
– Amanda Macias
Injured children evacuated from Mariupol receive treatment
Editor's note: Graphic content. The following post contains photos of injured children.
Kids injured in Russia's attack on Mariupol receive treatment in Zaporizhzhia as evacuations from Mariupol continue.
— Adam Jeffery
U.S. accuses Russia of abusing its UN Security Council membership
Ambassador to the United Nations Linda Thomas-Greenfield accused Russia of abusing its power to convene the UN Security Council, moments before a meeting of the powerful body at which Russia was expected to falsely accuse Ukraine of developing biological and chemical weapons.
"It is Moscow that has long maintained a biological weapons program in violation of international law, not Ukraine. It is Moscow that has a well documented history of using chemical weapons, not Ukraine. And it is Moscow that started the senseless war," Thomas-Greenfield said.
"Russia is abusing his responsibilities and privileges as a permanent member of the security council," she added.
"Our mandate is to serve as a venue for achieving peace through diplomacy. Russia's subversion of our mission, and its horrific campaign of violence against the Ukrainian people, are deeply shameful," said Thomas-Greenfield.
--- Christina Wilkie
Biden speaks to China's Xi as war enters fourth week
President Joe Biden's call with Chinese President Xi Jinping began at 9:03 a.m. ET, a White House official confirmed to NBC News.
In the days before the call, Washington warned that the world's second-largest economy should avoid financial support to Russia as global sanctions levied in response to the Kremlin's war in Ukraine set in.
The call follows an intense seven-hour meeting between U.S. and Chinese officials in Rome on Monday. The U.S. delegation, led by national security adviser Jake Sullivan, conveyed to Beijing's top diplomat, Yang Jiechi, that China should not assist Russia as it attacks Ukraine.
– Amanda Macias
Lviv stages protest in fresh call for no-fly zone
Lviv Mayor Andriy Sadovyi posted a picture on Telegram Friday that showed a protest in the city's Rynok Square.
Empty strollers were placed in the square in memory of the 109 children that Ukrainian authorities say have been killed since the beginning of the war.
"We call on all adults around the world to stand as one shield to protect Ukrainian children and give them future." Sadovyi said. "Urge the governments of other countries to close the sky over Ukraine."
NATO members Lithuania and Estonia have formally called for a closure of Ukraine's skies in recent days. But the leaders of NATO, the U.S. and the U.K. have said imposing a no-fly zone would escalate the war and cause more suffering.
— Chloe Taylor
Ukraine's European path has begun, EU's von der Leyen says
EU Commission President Ursula von der Leyen said Friday that "Ukraine's European path has now begun."
In a tweet, von der Leyen also said she had told Ukrainian President Volodymyr Zelenskyy that the EU was disbursing a "second tranche of around €300 million of macro-financial assistance to Ukraine."
— Chloe Taylor
Colombian body-armor creator gears up to meet demand for Ukraine
The governments of the United States, United Kingdom, Spain and Belgium placed orders with MC Armor, a Colombian body-armor manufacturer based in Bogota, for bulletproof vests and helmets to be donated to Ukraine. 
-Adam Jeffery
222 people killed in Kyiv since Russia invaded, officials say
Kyiv city administration said on Telegram Friday that 222 people — including 60 civilians and four children — had been killed in Ukraine's capital since Russia invaded the country.
Officials added that 889 people had been wounded in Kyiv since the invasion began, 241 of whom were civilians. That figure included 18 children, three ambulance drivers and one ambulance doctor.
— Chloe Taylor
1,300 people stuck in basement of bombed Mariupol theater, Ukrainian official says
Liudmyla Denisova, Ukraine's human rights ombudswoman, said on Ukrainian television Friday that 130 people had been rescued from a bombed theater in Mariupol.
But 1,300 people were still stuck in the building's basement, she added.
The theater in the besieged city of Mariupol, where more than 1,000 civilians were said to be sheltering, was bombed on Wednesday.
Satellite images taken on March 14 by U.S. government-linked Maxar appear to show the theater prior to the bombing, with the word "children" spelled out — in Russian — in large letters in front of and behind the building.
Russia denied that its forces were responsible for the bombing, which was decried by Ukrainian officials as a war crime.
Michael Carpenter, U.S. ambassador to the Organization for Security and Cooperation in Europe, said in an address on Thursday that "the building was clearly marked as having children inside, but Russia bombed it anyway."
— Chloe Taylor
Russia trying to increase number of troops in direction of Kyiv, Ukraine says
Russian forces are "trying to take measures to increase the number of troops in the direction of Kyiv by moving uncoordinated and incompetent units from [Russia's] Central and Eastern military districts," Ukraine's armed forces said in a Facebook post Friday.
Russian troops were regrouping and trying to establish logistical support in the Slobozhansky and Sumy areas of Ukraine, the update said.
Russia was continuing to try to capture the city of Izyum, Ukrainian officials also said, adding that Moscow's forces were "trying to establish a strict administrative and police regime in the temporarily occupied settlements of the Kherson region."
Earlier this month, Kherson became the first major Ukrainian city to fall to Russia. Its residents have since taken to the streets on several occasions to protest the city's occupation.
— Chloe Taylor
IEA outlines measure to cut oil demand by 2.7 million barrels a day
The International Energy Agency has published a 10-point plan to cut oil use, saying its proposed actions could lower oil demand by 2.7 million barrels a day within four months — equivalent to the oil demand of all the cars in China.
Its plan outlined practical actions that individuals and governments in advanced economies can take to reduce the risk of a major supply crunch, reduce price pain and economic damage, and shrink Russia's hydrocarbon revenues.
The suggested actions included reducing speed limits on highways by at least 10 kilometers (6.2 miles), alternating private car access to roads in big cities, using high speed and night trains instead of planes where possible, and making public transport cheaper.
"As a result of Russia's appalling aggression against Ukraine, the world may well be facing its biggest oil supply shock in decades, with huge implications for our economies and societies," IEA Executive Director Fatih Birol warned in a press release Friday.
— Chloe Taylor
Putin holding calls with leaders of France and Germany
Russian President Vladimir Putin spoke with German Chancellor Olaf Scholz this morning, and will have a call with French President Emmanuel Macron this evening, the Kremlin said Friday.
Putin was also due to hold an operational meeting with Russia's Security Council on Friday, a Kremlin spokesperson told reporters.
— Chloe Taylor
Russian forces have made 'minimal progress' this week, UK says
Russian forces "have made minimal progress this week," the U.K. said in an intelligence update on Friday.
"Ukrainian forces around Kyiv and Mykolaiv continue to frustrate Russian attempts to encircle the cities," the British Ministry of Defense said. "The cities of Kharkiv, Chernihiv, Sumy and Mariupol remain encircled and subject to heavy Russian shelling."
The ministry warned that the number of Ukrainian refugees — which has already surpassed 3 million — would continue to rise "as a result of ongoing Russian aggression."
— Chloe Taylor
Ukraine foreign minister says he discussed 5th round of sanctions with EU
Ukrainian Foreign Minister Dmytro Kuleba said Friday that he had spoken to the EU's top diplomat about the preparation of the bloc's fifth sanctions package against Russia.
— Chloe Taylor
UN says humanitarian needs in Ukraine 'increasing exponentially'
Humanitarian needs in Ukraine are "increasing exponentially," a U.N. official said Friday.
Speaking in Geneva, Matthew Saltmarsh, a spokesperson for the U.N. Refugees Agency, said many people across Ukraine remained trapped in areas of escalating conflict, and were unable to meet their basic needs — including food, water and medicines — because essential services were being disrupted.
"With more than 3.1 million refugees forced to flee Ukraine over the past three weeks, and millions internally displaced within the country, the U.N. Refugee Agency is warning that humanitarian needs are increasing exponentially," Saltmarsh said.
"In addition to those who have had to flee, around 13 million people have been affected in the areas hardest hit by the war within Ukraine and are in need of humanitarian and protection assistance."
He noted that the humanitarian situation in cities like Mariupol and Sumy was "extremely dire," with residents facing potentially fatal shortages of food, water and medicines.
Earlier this month, Ukrainian officials said a child died of dehydration in the besieged city of Mariupol.
— Chloe Taylor
109 children have died in Ukraine since war began, Prosecutor General's Office says
Since Russia invaded Ukraine, 109 children have been killed in the conflict and 130 have been injured, Ukraine's Prosecutor General's Office said Friday.
"The largest number of victims was recorded in Kyiv region — 55 children," the office said in a statement.
It added that the number of children killed in the regions of Kharkiv, Donetsk, Chernihiv, Mykolaiv, Zhytomyr, Sumy, and Kherson, was also growing.
The Prosecutor General's Office noted that these figures were not final, as it was impossible to inspect conflict zones due to the continuation of hostilities.
More than 439 educational institutions across Ukraine had been damaged by Russian bombings, the office added, 63 of which were completely destroyed.
— Chloe Taylor
Mayor of Kyiv says 4 children were injured in airstrike on Ukraine's capital
Kyiv Mayor Vitali Klitschko said Friday morning that one person had been killed in airstrikes on the capital, while 19 people — including four children — had been injured.
Ukraine's State Emergency Services had already confirmed the death of a civilian earlier on Friday morning, saying in a statement that a fire had broken out in a five-story apartment block in the Podil district after the building was hit by a rocket.
Klitschko added in his statement that six houses, a kindergarten and a school were damaged in the shelling strike.
— Chloe Taylor
Japan announces fresh sanctions on Russia
Japan's foreign and trade ministries jointly announced on Friday that Tokyo would impose sanctions on 15 Russian individuals and nine organizations.
The move will raise the number of Russian individuals sanctioned by Japan to 76, and the number of organizations to 12.
The 15 additional individuals include Russian Foreign Ministry Press Secretary Maria Zakharova, Deputy Minister of Defense Alexey Krivoruchko, Rosoboronexport CEO Alexander Mikheev and Suleyman Kerimov, owner of financial and industrial group Nafta.
The additional organizations include Rosneft Aero, United Shipbuilding Corporation and Kurganmashzavod.
— Chloe Taylor
Attack on Lviv shows Russia is 'at war with Ukrainian population,' official says
Ukrainian forces shot down some Russian missiles fired from the Black Sea toward Lviv early Friday morning, an official has said.
But some of the missiles made it past Ukraine's defenses and struck an aircraft repair plant on the outskirts of the city.
"Today there was a strike to the city of Lviv," Maksym Kozytskyi, governor of Ukraine's Lviv region, said in a Facebook post translated by NBC News. "The air alert worked and the armed forces worked. Some of the missiles fired from the Black Sea were shot down. Four of them hit, as you already know, in the aircraft repair plant."
Lviv, in western Ukraine, has so far not been the scene of active hostilities, with many refugees flocking to the city to escape conflict in other parts of the country.
Kozytskyi said one person had been wounded in Friday's strike, and no one had been killed.
He noted that the Lviv region currently has "no working military facilities … at all," suggesting that this meant Russia was purposely targeting civilians.
"This is an attack on the city of Lviv, to the humanitarian hub, which now has at least 200,000 displaced people who have already left the war once," Kozytskyi said. "The enemy's attack on the city of Lviv is once again a confirmation that they are not at war with the Ukrainian army, but at war with the population: women, children, immigrants. They have nothing sacred."
A spokesperson for the Russian government was not immediately available for comment when contacted by CNBC.
— Chloe Taylor
British regulator bans Russia's RT from broadcasting in UK
British broadcasting regulator Ofcom has revoked RT's license to broadcast in the U.K. with immediate effect.
Ofcom said Friday morning that it did not consider RT's licensee, ANO TV Novosti, "fit and proper to hold a UK broadcast license." The decision came amid 29 ongoing investigations into the impartiality of RT's news and current affairs coverage of Russia's invasion of Ukraine.
"We consider the volume and potentially serious nature of the issues raised within such a short period to be of great concern — especially given RT's compliance history, which has seen the channel fined £200,000 for previous due impartiality breaches," Ofcom said in a statement.
These concerns prompted Ofcom to launch a separate investigation into whether ANO TV Novosti should retain its license.
"This investigation has taken account of a number of factors, including RT's relationship with the Russian Federation," Ofcom said. "[The investigation] has recognized that RT is funded by the Russian state, which has recently invaded a neighboring sovereign country."
The organization also said it had considered the new laws in Russia which "effectively criminalize any independent journalism that departs from the Russian state's own news narrative, in particular in relation to the invasion of Ukraine."
"We consider that given these constraints it appears impossible for RT to comply with the due impartiality rules of our Broadcasting Code in the circumstances," Ofcom concluded.
RT is currently off-air in the U.K. after EU sanctions disrupted its broadcast feed to Britain.
Anna Belkina, deputy editor in chief of RT, told CNBC in an emailed statement that Ofcom's decision painted the regulator as "nothing more than a tool of government."
"By ignoring RT's completely clean record of four consecutive years and stating purely political reasons tied directly to the situation in Ukraine, Ofcom has falsely judged RT to not be 'fit and proper' and in doing so robbed the UK public of access to information," Belkina said.
— Chloe Taylor
Watch: CNBC gets an inside look at NATO operations in eastern Europe
CNBC's Silvia Amaro reports from Estonia's Tapa military base — around 70 miles from the Russian border — where troops from NATO countries have been deployed in the wake of Moscow's invasion of Ukraine.
— Chloe Taylor
Ukraine opening 9 humanitarian corridors
Nine humanitarian corridors will be opened in Ukraine on Friday to allow the evacuation of civilians and the import of vital supplies, Ukraine's Deputy Prime Minister Iryna Vereshchuk has announced.
The plans for Friday include routes out of Mariupol, Sumy, and the villages of Krasnopillia and Velyka Pysarivka.
Vereshchuk said authorities were working on arranging humanitarian help for the Kherson region. Kherson, a key city in southern Ukraine, became the first major Ukrainian city to be captured by Russian forces earlier this month.
Residents of the city have since taken to the streets on several occasions to protest the Russian occupation.
— Chloe Taylor
1 person killed in Kyiv airstrike, officials say
Ukraine's State Emergency Services have said one person was killed this morning in an airstrike on Kyiv.
A fire broke out in a five-story apartment block in the capital's Podil district, the SES said, after the building was hit by a rocket.
— Chloe Taylor
Images show smoke in Lviv after airstrikes hit city's outskirts
— Chloe Taylor
Missiles hit western city of Lviv
Several missiles hit an aircraft repair center on the outskirts of Lviv, western Ukraine, the city's mayor said Friday.
The attack suggests Russian forces are continuing to widen their attack. Many Ukrainians have fled their homes elsewhere in the country to the relative safety of Lviv. The city's mayor, Andriy Sadovyi, has had to take action to stop landlords raising their rents as refugees flood into the city.
In a series of Telegram posts Friday morning, Sadovyi said Russian missiles had hit the area near Lviv airport.
"Several missiles hit the aircraft repair plant. Its buildings were destroyed by the blows," he said, according to an NBC News translation. "The active work of the plant was stopped in advance, so there are no casualties now. Rescuers and relevant utilities are working on the site."
He also clarified that the airport itself had not been hit.
NBC reporters on the ground in Lviv said an air alarm sounded in the city just after 6 a.m. local time, and three explosions were heard from the outskirts of the city at around 6:25 a.m.
— Chloe Taylor
Read CNBC's previous live coverage here:
You can read Thursday's live coverage here:
Pentagon says there was 24-hour period with no shelling observed in Ukraine; U.S. accuses Russia of war crimes
Chinese state media continues to blame U.S. ahead of Xi-Biden call
Chinese President Xi Jinping and U.S. President Joe Biden are set to speak Friday evening Beijing time, Chinese state media announced Thursday. The reports did not specifically mention Ukraine by name.
In the run-up to the call, Chinese state media have tacked away from primarily pro-Russian coverage of the war in Ukraine. Even Qin Gang, China's ambassador to the U.S., said up front in a op-ed in the Washington Post on Wednesday that the conflict is not good for China, and Beijing would have tried to prevent it if they had known ahead of time.
But one of the consistent state media messages has stuck to blaming the U.S. for making the tensions worse.
People's Daily, the Chinese Communist Party's official newspaper, put a headline about the upcoming Xi-Biden call in a prominent spot on its website's front page on Friday. Several lines below it was a headline for an editorial blaming the U.S. for holding double standards.
— Evelyn Cheng
Copyright CNBC