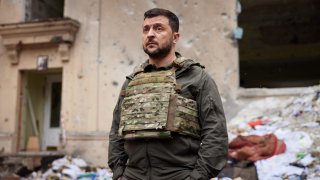 Russia's Feb. 24 invasion of Ukraine has displaced 6.4 million people and led to the deaths of approximately 3,838 civilians.
Photos from the region show the toll the war has taken.
It's been 100 days since Russian President Vladimir Putin marched troops into Ukraine. For the millions of Ukrainians whose homes and families have been shattered by war, the days before the invasion may feel like a lifetime away.
Putin's attack against its sovereign neighbor shocked the world, upending the geopolitical status quo virtually overnight and stoking fears of a new nuclear crisis. The war in Ukraine has produced seemingly endless scenes of carnage.
The war also fomented a historic refugee crisis: More than 6.8 million Ukrainians — mostly women, children and the elderly — have fled the country, with an estimated 8 million people displaced internally, according to United Nations' data.
They leave behind schools, jobs, communities and thousands of others who couldn't escape the conflict. As of Thursday, the U.N. confirmed 4,169 civilian deaths and 4,982 civilian injuries in Ukraine since Russia began its invasion on Feb. 24. The Office of the U.N. High Commissioner for Human Rights has said the death toll in Ukraine is likely higher. There have been 269 attacks on healthcare facilities and 1,837 attacks on education facilities, the human rights office said.
Russia's army dwarfs Ukraine's, but Moscow has faced significant setbacks on the battlefield and ignited even more global outrage after reports surfaced of a Russian massacre in Bucha and a missile strike on a crowded train station in Kramatorsk. The U.S. and E.U. have levied a number of economic sanctions, oil embargoes and has targeted Russian oligarchs to weaken their economy and military position while providing ongoing military aid to Ukraine.
Kyiv, meanwhile, has received billions of dollars in military and humanitarian aid from allied nations, especially the United States. Ukraine President Volodymyr Zelenskyy, who remained holed up in bunkers in Kyiv as Russia pounded the nation's capitol, has been hailed as a hero by Putin's enemies.
The invasion has reinforced the determination of the NATO alliance, instead of splintering it as Putin intended, and convinced Sweden and Finland to finally begin the formal process of joining NATO. The push comes as Russia's assault on Ukraine has raised fears for other countries in the region. Moscow, long wary of NATO expansion, has opposed the two nations' plans to join the alliance.
The following images look back on the past 100 days to show the destruction, pain and suffering of war, but also the strength, courage and determination of the Ukrainian people as they continue to push back against Putin's war of choice.
Editor's note: Graphic content. The following photos contain images of dead and wounded civilians and soldiers.
A woman carries a baby after evacuating from Russian troop-occupied town of Kupyansk
A police officer checks a school during an evacuation of local residents in the town of Marinka, Donetsk region
An elderly man reads a book as he sits on a fragment of Russian rocket Tochka-U in Kyiv
Ukraine soccer player Roman Yaremchuk celebrates after scoring during a FIFA World Cup 2022 qualifier match
Ukrainian soldiers watch the FIFA World Cup 2022 qualification playoff semi-final on a mobile phone in a shelter in Kharkiv
A woman walks out of a damaged apartment building after a strike in Slovyansk in the eastern Ukrainian region of Donbas
Bomb disposal experts remove a Russian BM-30 Smerch rocket from a field in Borodyanka
An elderly man stands next to the covered body of a woman after an attack in the city of Soledar
Clergy members of a branch of Ukraine's Orthodox Church discuss breaking ties with the Russian church
A girl looks on at a display of Russian weapons outside St Michael's Cathedral in Kyiv
A patient is carried on a medical evacuation train run by Doctors Without Borders at the train station in Pokrovsk
A young boy plays soldier in Stoyanka in the outskirts of Kyiv
Children living in an underground bomb shelter show heart signs in the town of Lysychansk
Local residents try to tow a damaged car in the Saltivka district in northern Kharkiv
A soldier sitting at the entrance of the headquarters of the battalion in Soledar
A video of Zelenskyy streamed at the 'Russia Warcrimes House' pavilion ahead of the World Economic Forum in Davos, Switzerland
People from Severodonetsk are seen on a van that will take them to Kramatorsk
People are looking at a destroyed Russian military armored vehicles at Dmytrivka village
Zelenskyy visits an area damaged by Russian military strikes in Kharkiv
An elderly woman stands in front of the shelter where she sleeps in Siversk
Destroyed buildings are seen after Russian attacks at Buzova village in Kyiv
A woman plants flowers at the grave of a Ukrainian serviceman at the Kharkiv cemetery
A mother shows pictures of her 38-year-old son who died when his car was allegedly hit by a shell of Russian tank in Mala Rogan
A cat slumbers on a war destroyed car in Irpin
A young boy sits in front of a damaged building after a strike in Kramatorsk
Relatives and friends mourn a Ukrainian soldier who was killed on the Eastern front
Two elderly people who can't walk are traveling in the baggage hold of an evacuation bus
Soldiers continue to patrol the area following Russian attacks in Zaporizhzhia Oblast
An elderly woman stands inside her heavily damaged house after it was hit by a missile in the city of Bakhmut
Soldiers in the Ukrainian armed forces who surrendered at the besieged Azovstal steel mill in Mariupol
People stand amid newly made graves at a cemetery in the settlement of Staryi Krym outside Mariupol
Uninhabitable apartment buildings stand in a former frontline neighborhood in Kharkiv
A kid climbs on a destroyed Russian tank in the village of Peremoha at Ukrainian held territory outside of Brovary
A Ukrainian soldier pats a dog at an undisclosed defense position on the outskirt of the separatist region of Donetsk
NATO Secretary-General Jens Stoltenberg attends a ceremony to mark Sweden's and Finland's application for membership in Brussels
A Ukrainian police forensics team outside the village of Mala Rogan exhume bodies said to be Russian soldiers
Employees raise the flag outside the U.S. embassy in Kyiv
A man, who lost his wife during shelling in nearby Severodonetsk, holds his 2-year-old twin daughters as they wait to be evacuated from the city of Lysychansk
A young girl is seen during celebration of Vyshyvanka Day in Krakow, Poland
Ukrainian children play territorial defense fighters patrolling in the village of Stoyanka, Kyiv region
Russian Sergeant Vadim Shishimarin listens translator's words in the defendant's box during his trial on charges of war crimes in Kyiv
People take refuge in an underground subway station in the Saltivska district in Kharkiv
A man sits next to his horse during nearby mortar shelling in Severodonetsk
Russian servicemen stand guard at the destroyed part of the Ilyich Iron and Steel Works in Ukraine's port city of Mariupol
A young girl waves a Ukrainian flag and poses for her mom as she celebrates World Vyshyvanka Day in central Kyiv
A view of destruction after Russian attacks in Kyiv
The Black Sea Ukrainian city of Odessa
A placard reading 'A Russian occupier is buried here' sits on a grave dug by local residents in village of Mala Rogan
Ukrainian soldiers are seen with new military weapons in Donetsk Oblast
An elderly woman takes refuge in the basement of an apartment during ongoing mortar shell explosions in Severodonetsk
A Ukrainian reads the book at the entrance of his vegetable cellar transformed into a shelter in Sydorove in eastern Ukraine
A local resident prepares meal outside a damaged building in the port city of Mariupol
Ukrainian soldiers moving to the frontline in the Donbas region
Residents carry water bottles in a wheelbarrow as they make their way from a water supply tank in Toretsk in eastern Ukraine
Wounded Ukrainian servicemen are seen in a bus as they are evacuated from the Azovstal steel plant in Mariupol
Arial view of Mariupol
A bus carrying wounded service members of Ukrainian forces from the besieged Azovstal steel mill in Mariupol
A serviceman offers the Ukrainian flag to the daughter of a Ukrainian serviceman, killed during the Russian invasion of Ukraine, at his funeral service in Lviv
Soldiers of the Kraken Ukrainian special forces unit talk to a man at a destroyed bridge on the road near the village of Ruska Lozova, north of Kharkiv
The remains of a Russian helicopter lies in a bomb-cratered field in Biskvitne, Ukraine
A poster with journalists killed during the Russian invasion of Ukraine is seen on the demonstration in Krakow, Poland
A relative of the Ukrainian fallen soldier prays at the Church of the Most Holy Apostles Peter and Paul in Lviv
Kharkiv residents spend the day underground in a metro station in Kharkiv
Ukrainians wait to board a train towards Zaporizhzia at the main train station in Lviv
A local resident looks at a destroyed Russian tank next to a residential house in the village of Mala Rogan, east of Kharkiv
A man poses as he visits his mother in her home in Lysychansk, eastern Ukraine
Relatives react next to the body of a Ukrainian military serviceman, who was killed in Donetsk province, during his funeral in Lviv
A Ukrainian serviceman patrols during a reconnaissance mission in a recently retaken village on the outskirts of Kharkiv
Kalush Orchestra from Ukraine celebrate after winning the Grand Final of the Eurovision Song Contest at PalaOlimpico arena, in Turin, Italy
A mannequin aims towards a former frontline position on the outskirts of Kharkiv, Ukraine.
U.S. Senate Minority Leader Mitch McConnell, R-Ky., Sen. Susan Collins, R-Maine, Sen. John Barrasso, R-Wyo., and Sen. John Cornyn, R-Texas, arrive for a meeting with Zelenskyy in Kyiv
A couple brings their luggage out of their destroyed house in the village of Vilkhivka, near the eastern city of Kharkiv
An injured Ukrainian serviceman inside the Azovstal iron and steel works factory in eastern Mariupol
A child watches grave diggers putting soil on the grave of a fallen sniper in Lviv
A Ukrainian policeman stands inside a school sports hall where, according to residents, Russian soldiers were based in the village of Vilkhivka
A man walks past unexploded Grad rockets in front of the Kharkiv Regional Government headquarters in the center of Kharkiv
A woman holds her dog after arriving from Russian-occupied territory at a registration and processing area for internally displaced people in Zaporizhzhia
An injured Ukrainian serviceman inside the Azovstal iron and steel works factory in eastern Mariupol
Soldiers carry a coffin of a senior soldier in the village of Kulchytsia, Lviv region
A Ukrainian woman cries in her house after 18 missiles hit the civil settlements of Komyshuvakha, Zaporizhzhia Oblast
A child milks a cow in Bakhmut
Ukrainian forensics experts carry the body of a Russian soldier exhumed in the village of Zavalivka, west of Kyiv
Russia's regime critical punk music group Pussy Riot member Maria Alyokhina performs with band members during a concert, after she escaped a house arrest in Russia, in Berlin
A woman carrying her baby is seen in front of damaged residential building in Mariupol
A priest of the Church of St. Andrew Pyervozvannoho All Saints guides Bono, activist and front man of the Irish rock band U2, and guitarist 'The Edge' visiting the site of a mass grave by the church in Bucha
A man plays piano in an abandoned photo studio in Severodonetsk
An elderly woman sits on her bed with her dog at an apartment damaged by a missile explosion in Kramatorsk
A territorial defense man poses for a photo next to cars destroyed during the Russian occupation in Irpin
Members of the Ukrainian military receive treatment for concussions and light injuries from Ukrainian military medics at a frontline field hospital in Popasna
Boots of Russian military forces are seen at the National Museum of the History of Ukraine in World War II in Kyiv
A woman seen inside a shelter on the outskirts of Kharkiv in Ukraine
A woman observes a huge crater made by an air bomb in Sloboda-Kukharivska
A nurse checks the wounds of a woman three days after her family's home was shelled by Russian forces in the village of Vysokopillya
First responders work at the site of a missile strike in Odesa
Russian servicewomen march on Dvortsovaya Square during the Victory Day military parade in Saint Petersburg
Russian President Vladimir Putin watches a military parade on Victory Day in Moscow
Participants carry flags during the Immortal Regiment march on Victory Day in Moscow
Russian Ambassador to Poland, Sergey Andreev, reacts after being covered with red paint during a protest in Warsaw
Mine-sniffing dog Patron and his owner received an award from Ukraine's president
First lady Jill Biden receives flowers from Olena Zelenska, Zelenskyy, in Uzhhorod
A pedestrian walks past a Russian rocket outside the National Museum of Military History of Ukraine in Kyiv
People take pictures of a sculpture depicting the President of Russia Vladimir Putin called 'Shoot yourself' in Kyiv
A child stands on a destroyed Russian tank near Makariv
A Ukrainian serviceman stands guard at an undisclosed location in Kharkiv Oblast
A daughter of a Ukrainian serviceman attends his memorial service in central Kyiv
The skeleton of a Russian is seen near a destroyed helicopter on a field outside of Makariv
Ukrainians gather around a destroyed Russian tank near Makariv
A man views the flower memorial wall for victims of Russia's attacks in Lviv
A man walks past destroyed and burned cars in Irpin
A Ukrainian woman evacuee from Mariupol at a registration center for internally displaced people in Zaporizhzhia
Funeral workers carry the body of a person killed in Mariupol
A woman stands in the yard of her house that she said was destroyed by shelling in Budy in the Chernihiv region
A family from Mariupol wait in their car to be registered by police after arriving at an evacuation point in Zaporizhzhia
A woman sits at a funeral home where she works and now lives with neighbors in Severodonetsk
A young child plays at the playground in front of a building, destroyed by shelling in Borodyanka
Residents are evacuated from a village retaken by Ukrainian forces near Kharkiv
Ukrainian soldiers ride in the back of a truck to a resting place after fighting on the front line for two months near Kramatorsk
Ukraine's president welcomes U.S. House Speaker Nancy Pelosi, D-Calif., before their meeting in Kyiv
A woman walks past a billboard advising where to target tanks when throwing molotov cocktails, in Zaporizhzhia
Relatives and friends attend the funeral of Ukrainian serviceman at Lychakiv cemetery in the western Ukrainian city of Lviv
A Ukrainian boy walks past temporary beds at a refugee center in Warsaw
An ederly woman, who fled from the village of Ruska Lozova, rests at an evacuation point in Kharkiv
A mother looks at her daughter as she visits the graves of her parents, who were killed by Russian army in Irpin
An elderly woman is carried on an improvised stretcher as she boards a train, fleeing the war in Severodonetsk
A man digs a grave at a cemetery in Irpin, on the outskirts of Kyiv
Satirical toilet paper featuring the face of Russian President Vladimir Putin is seen in Lviv
Children depict a Soviet monument to friendship between Ukraine and Russia after its demolition in Kyiv
A woman says goodbye to her relative aboard a train traveling to Przemysl, Poland
A woman cries inside her burnt house in Ozera
A Ukrainian serviceman looks at a Russian ballistic missile's booster stage that fell in a field in Bohodarove
A woman leans on her husband's coffin during a funeral at a cemetery in Irpin
A Ukrainian soldier crosses herself during an Orthodox Easter service in Kyiv
Ukrainian service members carry a coffin with the body of an officer
An armored convoy of pro-Russian troops moves along a road in the southern port city of Mariupol
An internally displaced 92-year-old woman lays downs in a bunker at a factory in Severodonetsk
Worshippers receive a sanctification during an Orthodox Easter service in Lyman
A Ukrainian serviceman rides atop an armored fighting vehicle in eastern Ukraine
A man walks next to the debris of a destroyed Russian tank near the village of Zalissya, northeast of Kyiv
A woman holds a child next to Russian soldiers in a street of Mariupol
Russian soldiers and volunteers distribute bread in Mariupol
Ukrainian soldiers talk to each other at a front line in the Donbas region
Zelenskyy and British Prime Minister Boris Johnson walk at the Independence Square in Kyiv
The mother of 20-year-old Russian serviceman Nikita Avrov grieves over his coffin in Luga
EU President Ursula von der Leyen meets Zelenskyy in Kyiv
Soldiers carry Avrov's coffin during his funeral at a church in Luga, south of St. Petersburg
A couple hugs while walking past a building that was heavily damaged by shelling in Kharkiv
A child waits on the train to Poland at the central train station in Lviv
Graves of civilians killed during the conflict are seen next to apartment buildings in Mariupol
A volunteer from the U.S. prays by a destroyed apartment building in Borodyanka
A Russian ballistic weapon lies in the middle of a Ukrainian farmer's field
A wounded woman looks out of a window of a medical evacuation train on its way to Lviv
People, mostly women and children, cross from war-torn Ukraine into Poland at the Medyka border
A woman waves to say goodbye to her husband as she leaves on a bus in Kramatorsk
A man lays flowers as volunteers look for traces to help identify the corpses at Kramatorsk railway station
Ukrainian police inspect the remains of a large rocket in Kramatorsk with the words 'for our children' in Russian
A resident reads a book near a building damaged in Mariupol
Funeral ceremony held in Lviv
The results of the votes to expel Russia from the UN Human Rights Council
Volunteers help rescuers to remove debris of a damaged building in Borodyanka
A teddy bear hanging from a tree in front of a building bombed by the Russian army in Borodyanka
Pro-Ukrainian activists in Berlin stage a 'die-in' during a protest
People charge their cellphones in a public building in Bucha
A damaged bridge in the city of Hostomel, which was recaptured by the Ukrainian army
Criminal investigators collect the bodies from a mass grave of civilians killed by the Russian army in Bucha
A young boy gives an offering of food to his mother's grave with his younger brother and a neighbor
An employee raises the Ukrainian flag at Bucha's city hall
Priests pray at body bags in a mass grave in the garden surrounding the Church of St. Andrew in Bucha
Cemetery workers unload bodies of civilians killed in and around Bucha
Pope Francis holds the Ukrainian flag that was sent to him from Bucha
A local resident plants tulips near a damaged apartment building in Mariupol
Zelenskyy walks in Bucha
Ukrainian soldiers inspect the wreckage of a destroyed Russian armored column on the road in Bucha
Newlyweds pose for a photo in a ruined courtyard of a shopping and office complex in central Kharkiv
Families arrive at the main train station as they flee Kramatorsk in the Donbas region
A woman carrying two shopping bags walks past a destroyed Russian army tank outside Kyiv
Civilians take shelter in Kharkiv
A civilian is evacuated from the Hostomel region
A worker releases the wrists of a dead man, with his hands tied behind his back, in Bucha
A man walks on a street with several dead bodies on the ground in Bucha
Dead bodies lie on a street in Bucha
A child is helped off a bus by humanitarian workers at the registration center in Zaporizhzhia
Police officers detain a woman during a protest against Russian military action in Ukraine
Ukrainian refugees shelter from the rain as they wait to board a bus, bound for Przemysl, Poland
A wounded civilian recovers in Chuhuiv hospital outside Kharkiv
A Ukrainian serviceman smokes a cigarette in a trench at the front line east of Kharkiv
Residents walk past a damaged Russian military vehicle in Trostianets
A young girl rests on a bus, bound for Przemysl after crossing the Ukraine-Poland border
A newly arrived wounded soldier waits for treatment at at a military hospital in Zaporizhzhia
A man stands in front of his son's house in Chuhuiv that was destroyed by shelling
Relatives of a Ukrainian military member mourn during his burial service in Lviv
Medics carry the body of a Russian soldier after Ukrainian troops retook the village of Mala Rogan
Ukrainian refugees wait to a board a bus, bound for Przemysl, Poland
A civilian is evacuated from Irpin
A Ukrainian soldier greets a dog on the road to Irpin
A couple welcomes their new daughter, who was born in a bomb shelter in a maternity hospital near Kyiv
A Ukrainian serviceman walks near a damaged train in Trostianets
Residents wait for food outside a church in Trostianets
Ukraine's UN Ambassador Sergiy Kyslytsya reads the book 'What's Wrong With Diplomacy'
A Ukrainian serviceman walks in the northeastern city of Trostianets
Relatives attend a funeral in Lviv
Ukrainian evacuees sit in a bus in Poland after the Medyka border crossing
A woman stands with a loaf of bread in a doorway in Mariupol
People walk down the sandbagged entrance to a bomb shelter after air raid sirens go off in Lviv
A child holds a loaf of bread in Mariupol
Musicians play for people living in a metro station used as a bomb shelter in Kharkiv
An elderly woman from Ukraine sits in a wheelchair, wrapped in a rescue foil against the frosty temperatures at the Medyka border
Ukraine Defense Minister Oleksii Reznikov, left, visits positions of Ukrainian service members outside Kyiv
A mother nurses her child as she reacts after a residential building was hit by debris from a downed rocket in Kyiv
Local residents sit on a bench near an apartment building destroyed in the besieged southern port city of Mariupol
President Joe Biden holds a child as he visits Ukrainian refugees at the PGE National Stadium, in Warsaw
Mourners grieve at a memorial and funeral service for fallen soldier Denys Snihur in Lviv
Newlyweds Roman and Ivanna kiss in central Kyiv
Evacuees from the villages occupied by Russian soldiers arrive in the town of Brovary
Pope Francis prays during a penitential celebration service at St. Peter's Basilica
An elderly couple are brought to a center near Irpin
A Ukrainian soldier is seen near a checkpoint with blockades in place in Kyiv
A young boy was injured during a Russian strike in Mykolaiv
A man looks out of the window of his destroyed house on the outskirts of Odesa
A woman smokes a cigarette after fleeing her home in the suburbs of Kyiv
Children are housed in an orphanage on the outskirts of the city in Lviv
A Ukrainian serviceman aims his weapon as he stands guard at a military checkpoint in Kharkiv
U.S. President Joe Biden, French President Emmanuel Macron and U.K. Prime Minister Boris Johnson talk as they arrive at NATO Headquarters in Brussels
A man and a woman walk through rubble on the premises of a shopping mall ruined by a missile strike
The internal components of a 300 mm rocket are embedded in the ground next to graves near Kharkiv
A civilian searched at a checkpoint by pro-Russian separatists as civilians are trapped in Mariupol
A baby looks out a window as people fleeing Lviv depart on a train for Poland
A resident carries a teddy bear out of his apartment in Kyiv
People attend a funeral for Sergei Sokolov, a 21-year-old serviceman who was killed during Russia's invasion
People stand in a long queue during the distribution of humanitarian aid in Mariupol
Amellia Anisovych, a 7-year-old refugee from Ukraine, sings the Ukraine national anthem at the start of a fundraising concert in Lodz, Poland
A participant in a civilian firearms training class in Odesa takes aim at a target
Firefighters make their way across debris following Russian shelling that destroyed the Retroville shopping mall in Kyiv
Ukrainian women head to the front line from Lviv
An elderly woman lines up to get into one of the buses headed for the Medyka Polish-Ukrainian border
A Ukrainian child looks out of a tent after crossing the Ukrainian-Romanian border in Siret
A firefighter embraces a woman outside a damaged apartment building in Kyiv
Injured civilians from Mariupol receive treatment in Zaporizhzhia
Firefighters try to extinguish a fire after a residential building in Kyiv is hit by a Russian attack
Empty strollers are seen placed outside the Lviv city council to highlight children killed in the war
A Ukrainian serviceman stands amid damage in a residential area after shelling in Kyiv
Police officers detain a man in Moscow during a protest against Russian military action in Ukraine
The mother of a Ukrainian officer cries over the coffin that holds her son's body in Lviv
Ukrainian soldiers walk hand in hand in Kyiv
A resident rides a bicycle past a charred armored vehicle in Volnovakha
An 86-year-old woman cries after her apartment was destroyed by a rocket attack in Kharkiv
Residents seeking refuge in a basement in Mariupol
First responders work in a building that was struck by a rocket attack in Kharkiv
A Ukrainian child arrives in Madrid
A person mourns next to a covered body near a residential building in Kyiv
A volunteer of the Ukrainian Territorial Defense Forces assists a woman crossing the street in Kharkiv
Zelenskyy meets with wounded soldiers in Kyiv
A father bids farewell to his wife and child fleeing Lviv
A man collects personal items from his destroyed residence in Kharkiv
A school gym converted into a shelter for Ukrainian refugees in the town of Suceava, Romania
Civilians take shelter in the Kharkiv Metro
Children take refuge in Taganrog in the Rostov region of Russia
A volunteer of the Ukrainian Territorial Defense Forces stands next to his armored personnel carrier in Kharkiv
Ukrainian refugees flee Lviv
Refugee children are given blankets by Slovakian rescue workers
Ukraine's youngest parliament member patrols the streets of Kyiv
A couple says goodbye before boarding trains
Wounded Ukrainian soldiers in the Luhansk Region
Musicians of the Kyiv-Classic Symphony Orchestra perform
Ukrainian refugees who fled to Krakow
A Lviv resident makes antitank obstacles
A woman kneels beside two graves at Lychakiv cemetery in Lviv
Civilians seeking to leave the city arrive at a train station in Lviv
Civilians fleeing Irpin killed by Russian shells
The first female volunteer to get a full military contract with the Territorial Defense Forces of Ukraine
Ukrainian Ambassador to the United Nations Sergiy Kyslytsya reacts during a Security Council meeting
Ukrainian refugee girl who arrived in Przemysl, Poland
Civilians flee from Russian attacks in Irpin
People fleeing gather at the train station in Lviv
Emergency workers and volunteers carry an injured pregnant woman from a shelled maternity hospital in Mariupol
A Ukrainian woman holds her 3-month-old baby at the Western Railway Station in Budapest, Hungary
Ukrainian refugees who fled to Krakow
A mother carrying an infant arrives in Poland at the Medyka border crossing
Servicemen carry coffins during funerals of two Ukrainian soldiers killed by Russian forces
Military training for civilians conducted in Ivano-Frankivsk
Russian President Vladimir Putin chairs a meeting on economic issues in Moscow
A woman walks in front of a damaged residential building in Volnovakha
Families board buses from Lviv to the border with Poland
Refugees make their way to the Krakovets border crossing with Poland
An abandoned doll next to a car riddled with bullets in Irpin
Ukrainian soldiers help an elderly woman to cross a destroyed bridge in Irpin
A woman reacts as her relatives cross a destroyed bridge while evacuating the city of Irpin
Members of the Jewish community of Odesa board a bus to flee Russia's invasion
A woman crosses the street near antitank constructions in central Kyiv
Members of the National Guard of Ukraine celebrate their wedding on the front lines
A child fleeing from Ukraine makes a heart gesture while waiting for transport at Nyugati station
Copyright CNBC