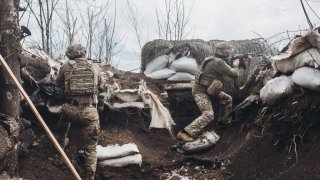 This has been CNBC's live blog covering updates on the war in Ukraine. [Follow the latest updates here.]
Russian forces are preparing for what is expected to be a large and more focused push on expanding control in the east and south of Ukraine. The shift in military strategy comes after a failure to capture the capital city of Kyiv.
President Vladimir Putin has appointed a new general to direct the next phase of the war in Ukraine. The U.S. has cast doubt, however, that a change in battlefield leadership will have much impact on Moscow's prospects.
Austrian Chancellor Karl Nehammer traveled to Moscow on Monday to meet with Putin, shortly after meeting with Ukrainian President Volodymyr Zelenskyy. Nehammer became the first European leader to hold talks with Putin since Russia's unprovoked onslaught began on Feb. 24.
Nokia announces exit from Russia
Nokia is exiting Russia, the telecommunications company announced on Tuesday.
"Over the last weeks we have suspended deliveries, stopped new business and are moving our limited R&D activities out of Russia," Nokia said in a statement.
The company said, however, it will provide the "necessary support" to maintain networks in Russia for humanitarian reasons. Nokia cited concerns about ensuring critical telecommunication infrastructure in Russia and ensuring Russians continue to have access to outside perspectives.
The company said it is applying for relevant licenses in compliance with current sanctions and does not expect its exit to impact its 2022 financial outlook.
— Chelsea Ong
More than 4,300 civilians killed or wounded in Ukraine, according to latest UN tally
There have been 4,335 civilians killed or wounded in Ukraine since Russia's invasion on Feb. 24, the Office of the U.N. High Commissioner for Human Rights reported.
A total of 1,842 civilians were killed in Ukraine and a total of 2,493 were injured, the OHCHR said, although it believes actual figures are considerably higher.
Most deaths and injuries were caused by the use of explosive weapons with a wide impact area, such as shelling from heavy artillery and multiple launch rocket systems, and missile and air strikes, the OHCHR reported.
— Chelsea Ong
Fighting will intensify over next 2 to 3 weeks, UK ministry predicts
Fighting will get worse in eastern Ukraine over the coming two to three weeks as Moscow redirects its attacks to that part of the country, the U.K. Ministry of Defence said Tuesday.
Russia is already focusing attacks on Ukrainian defenders near Donetsk and Luhansk in the east, the ministry said, with a renewed push toward the town of Kramatorsk.
Further fighting is now taking place around Kherson and Mykolaiv, which both lie near the Black Sea to the east of Odesa. Russian troops have been trying to break out of the Crimean Peninsula for weeks in that area, British mapping of the region shows. Those attempted advances threaten Ukraine's entire southern coastline and its outlet to the sea.
The British ministry said in a daily intelligence update that Russian forces which had retreated into Belarus following the failed attempt to take Ukraine's capital of Kyiv are now rotating toward the east.
Several military analysts have observed that Russian units defeated around Kyiv have taken heavy losses and are suffering from low morale.
— Ted Kemp
Japan has never felt any pressure from the U.S. to withdraw from Sakhalin projects, says minister
Japan's industry minister said the country has never felt any pressure from the U.S. to withdraw from the Sakhalin oil and gas projects, according to Reuters.
"We intend to continue to hold the concessions in Sakhalin 1 and 2 projects as they are stable sources of long-term and inexpensive energy and are important to the lives of the Japanese citizens and business activities," Koichi Hagiuda, Japan's industry minister, told a news conference on Tuesday.
Russia and Japan both own stakes in the Sakhalin 1 and Sakhalin 2 integrated oil and gas development projects. Japan's involvement has fallen under scrutiny since Russia invaded Ukraine and Western oil companies exited Russia.
"While ensuring a stable energy supply, Japan will work to reduce our dependence on Russian energy by diversifying energy sources, including renewable and nuclear power, and diversifying supply sources," Hagiuda said, Reuters reported.
He also said the ministry was not aware of any Japanese companies being asked by Russian state-owned companies to pay in rubles for natural gas transactions.
— Chelsea Ong
U.S. and Britain working to verify unconfirmed reports of Russian chemical weapons attack in Mariupol
British Foreign Secretary Liz Truss says that her government is working "urgently" to verify details of an alleged chemical weapons attack Monday on residents of the besieged Ukrainian city of Mariupol.
"Reports that Russian forces may have used chemical agents in an attack on the people of Mariupol. We are working urgently with partners to verify details," Truss tweeted.
 
"Any use of such weapons would be a callous escalation in this conflict and we will hold Putin and his regime to account," she added.
The original report was a Telegram message posted by the Azov Regiment, an ultra-nationalist part of the Ukrainian National Guard. The Azov message said Russian forces used "a poisonous substance of unknown origin." 
Pentagon Press Secretary John Kirby said the United States was also aware of the alleged attack.
"We cannot confirm at this time and will continue to monitor the situation closely," he told reporters.
"These reports, if true, are deeply concerning and reflective of concerns that we have had about Russia's potential to use a variety of riot control agents, including tear gas mixed with chemical agents, in Ukraine," said Kirby.
U.S. officials have been warning for several days that the Russian army will continue to commit what they call "atrocities" as it doubles down on attacks in the eastern regions of Ukraine.
---- Christina Wilkie
Ukrainian troops gather on the front lines in Donbas
Ukrainian soldiers are seen at a front line in the Donbas region of Ukraine.
— Anadolu Agency/Getty Images
Moscow police arrest Putin critic who decried Russian 'regime of murderers,' politician says
Vladimir Kara-Murza, a Russian politician and critic of President Vladimir Putin's government, was arrested by police in Moscow near his home, according to another Russian dissident.
The charges against Kara-Murza are unknown, Russian opposition politician Ilya Yashin said on Twitter. Yashin speculated that the arrest was related to "some kind of anti-war statement in the press," according to a translation of his tweets. Kara-Murza, a survivor of two suspected poisoning attempts, condemned the Kremlin in a CNN video that aired earlier Monday.
"This regime that is in power in our country today, it's not just corrupt, it's not just kleptocratic, it's not just authoritarian. It is a regime of murderers, and it is important to say it out loud," Kara-Murza said. He called it "tragic" that "it took a large-scale war in the middle of Europe, which Vladimir Putin is now conducting against Ukraine, for most western leaders to finally open their eyes to the true nature of this regime."
The Boris Nemtsov Foundation for Freedom, an advocacy group on which Kara-Murza had served as chairman, said it considered the arrest to be "persecution of the opposition" and demanded his immediate release.
Anti-Putin activist Bill Browder tweeted that he had "begged" Kara-Murza weeks earlier not to go back to Moscow. Kara-Murza replied, "how could he ask Russians to stand up to Putin if he was afraid to return himself," according to Browder's tweet.
— Kevin Breuninger
French bank Societe Generale ends its Russia business
Societe Generale has announced it is ending its Russian activities -- making it the first big Western bank to announce it's quitting Russia.
SocGen is also selling its entire stake in Rosbank to a company linked to a Russian oligarch, costing the French bank some 3 billion euros ($3.3 billion).
Rosbank is a heavyweight in the Russian banking sector, and Societe Generale was the majority shareholder.
"After several weeks of intensive work," the bank said in a statement, it had signed an agreement with Russian investment fund Interros Capital to sell all of its stake in Rosbank as well as its insurance subsidiaries in Russia.
Interros is one of the largest funds in the country, which holds assets in heavy industry and metallurgy.
— Associated Press
Mayor says more than 10,000 civilians have died in Mariupol
The mayor of the Ukrainian city of Mariupol tells The Associated Press that more than 10,000 civilians have died in the southeastern city since the Russian invasion in February.
Mayor Vadym Boychenko told The Associated Press by telephone that corpses were "carpeted through the streets of our city" and that the death toll could be more than 20,000.
Boychenko also said Russian forces have brought mobile crematoria to the city to dispose of the bodies and accused Russian forces of refusing to allow humanitarian convoys into the city in an attempt to disguise the carnage.
The mayor had previously claimed 5,000 dead. He explained that these data were on March 21, but "thousands more people were lying on the streets, it was just impossible for us to collect them."
About 120,000 civilians remain in Mariupol in dire need of food, water, warmth and communications, the mayor said.
— Associated Press
Indian Prime Minister Modi avoids blaming Russia for Ukraine war in Biden meeting
Indian Prime Minister Narendra Modi held a virtual meeting with President Joe Biden this morning. But Modi's opening remarks suggest he is still unwilling to hold Russia accountable for the death and destruction caused by Moscow's unprovoked invasion of Ukraine.
"The talks today are taking place at a time when the situation in Ukraine is very worrying," Modi said at the start of his virtual meeting with Biden.
"Recently, the news about the killings of innocent civilians in Bucha was very worrying," he said. "We instantly condemn the killings and have called for an independent inquiry. We hope that the ongoing discussions between Russia and Ukraine will lead to peace."
Biden tried to emphasize the positive elements of the relationship between the U.S. and India, saying the two countries "are going to continue our close consultation on how to manage the destabilizing effects of this Russian war."
India has so far refused to impose the sanctions against Russia that Europe, Asia and North America have. The reason for this is that New Delhi relies upon Moscow for military hardware and for oil. From the Modi government's perspective, China, not Russia, poses the greatest geopolitical threat to India.
— Christina Wilkie
UN says reports of rape, sexual violence are increasing in Ukraine
Reports of rape and sexual abuse are rising in Ukraine as millions of civilians attempt to flee Russia's military aggression, the United Nations said.
"We are increasingly hearing of rape and sexual violence," said Sima Bahous, executive director of UN Women, during a UN Security Council meeting on the conflict.
"The combination of mass displacement with the large presence of conscripts and mercenaries, and the brutality displayed against Ukrainian civilians, has raised all red flags," Bahous said.
She also noted that women comprise 80% of all health and social care workers in Ukraine "and many of them chose not to evacuate."
The risk of human trafficking is also on the rise, as 90% of refugees from Ukraine are women and children, according to U.S. ambassador to the UN Linda Thomas-Greenfield.
"When men like President Putin start wars, women and children get displaced, women and children get hurt, women and children get raped and abused, and women and children die," Thomas-Greenfield told the UNSC.
— Kevin Breuninger
The other side: Russian troops bury a 20-year-old soldier killed in Ukraine
After weeks of a Kremlin-ordered blackout on news about Russia's combat losses in Ukraine, new images are emerging of Russian troops burying a soldier killed in action in Ukraine.
In the photo above and the one below, soldiers carry the coffin of 20-year-old Russian serviceman Nikita Avrov during his funeral on Monday. Avrov was killed in Ukraine on March 27, according to Getty Images and Agence France-Presse, which released the four photos in this story.
On Friday, Ukrainian officials said that 18,600 Russian troops have been killed during the Kremlin's six-week long invasion.
NATO's most recent estimate is that Russia has lost between 7,000 and 15,000 soldiers in battle. But that figure is now almost three weeks old.
A spokesman for Russia's Ministry of Defense said on March 26 that 1,351 troops had died so far in the botched assault on Ukraine. Moscow has so far failed to capture Kyiv or any major northern cities.
In the photo above, Avrov's friends and family gather around his coffin at his funeral outside of St. Petersburg. The photo below shows Avrov's mother, who is not identified by name, weeping over her son's body.
— Christina Wilkie
Woman identifies her husband's body in Andriivka
EDITOR'S NOTE: The following post contains photos of dead civilians exhumed from graves in Andriivka, Ukraine.
The wife of a civilian identifies his body as it was exhumed from a shallow grave near their home in the village of Andriivka.
— Getty Images
UN finds at least 148 children killed and 233 injured in Ukraine
Russia's attacks on Ukraine have left at least 148 children dead and 233 injured since late February, according to the United Nations.
Those figures are nearly double what the UN human rights office, or OHCHR, reported less than three weeks earlier. The true child casualty tolls are "likely much higher" than the figures verified by the UN, UNICEF director of emergencies Manuel Fontaine added during a UN Security Council meeting.
Many of the reported deaths and injuries among children were "caused by crossfire, or the use of explosive weapons in populated areas," Fontaine said.
The threat to children in Ukraine extends far beyond death and injury, Fontaine noted. Nearly half of the estimated 3.2 million kids who remained in their homes during the Russian invasion "may be at risk of not having enough food," he said.
"A whole generation of children have already seen their lives and educations abandoned during the past eight years of conflict," he said.
— Kevin Breuninger
UN Security Council meets to discuss the war in Ukraine
The UN Security Council is scheduled to meet at 10 a.m. ET in New York City to discuss the war and the "maintenance of peace and security" in Ukraine, according to the organization's schedule.
Austrian leader meets with Putin on Moscow trip
Austria's Chancellor Karl Nehammer held "direct, open and tough" talks with Russian President Vladimir Putin in Moscow on Monday, in a visit that drew mixed European reactions including surprise, skepticism and condemnation.
Nehammer is the first European Union leader to meet Putin since he ordered his troops to invade Ukraine on Feb. 24.
While Austria generally maintains closer ties to Moscow than much of the European Union, that has not been the case recently.
Nehammer has expressed solidarity with Ukraine over the Russian invasion and denounced apparent Russian war crimes there, while his government has joined other EU countries in expelling Russian diplomats, albeit only a fraction of the large Russian diplomatic presence there.
In a statement after the meeting, Nehammer said the discussion with Putin was "very direct, open and tough." He added that his most important message to Putin was that the war in Ukraine must end because "in a war there are only losers on both sides."
A spokesman for Nehammer said on Monday afternoon that the meeting went ahead at Putin's official Novo-Ogaryovo residence outside Moscow.
— Reuters
Doctors Without Borders evacuate patients on train to Lviv
EDITOR'S NOTE: The following post contains photos of wounded civilians.
Doctors Without Borders (MSF), in cooperation with the Ukrainian railways and the Ministry of Health, has just completed a new medical train referral of 48 patients, coming from hospitals close to the frontline in the war-affected east of the country. They include some elderly patients from long-term care facilities, but also a majority of wounded patients. 
— Getty Images
Lavrov says Russia won't pause its military operation in Ukraine before peace talks
Russia Foreign Minister Sergei Lavrov has said the Kremlin will not pause its military operation in Ukraine before the next round of peace talks, Reuters reported.
His comments come on day 47 of Russia's unprovoked onslaught in Ukraine.
The Office of the U.N. High Commissioner for Human Rights has reported 4,232 civilian casualties in Ukraine since Russia invaded on Feb. 24. That figure, updated as of April 10, includes 1,793 deaths and 2,439 injuries.
— Sam Meredith
Images from the last 24 hours depict traces of Russia's war with Ukraine
— Getty Images
Russia says it destroyed S-300 missile systems given to Ukraine by European state
Russia said on Monday that it had used cruise missiles to destroy S-300 anti-aircraft missile systems which had been supplied to Ukraine by an unidentified European country.
Russia launched Kalibr cruise missiles on Sunday against four S-300 launchers which were concealed in a hangar on the outskirts of the Ukrainian city of Dnipro, the defence ministry said.
Russia said 25 Ukrainian troops were hit in the attack.
— Reuters
Ukraine says nine humanitarian corridors agreed for Monday
Ukraine's Deputy Prime Minister Iryna Vereshchuk says nine humanitarian corridors to evacuate people from besieged eastern areas of the country have been agreed for Monday.
The planned corridors include five in the Luhansk region, three in the Zaporizhzhia region and one in the Donetsk region, Vereshchuk said.
— Sam Meredith
Zelenskyy says tens of thousands killed in Mariupol; almost 300 hospitals destroyed
Ukrainian President Volodymyr Zelenskyy has addressed South Korean lawmakers, telling the country's Parliament that tens of thousands of people have likely been killed in Russia's offensive on the besieged port city of Mariupol.
"Even despite that the Russians haven't stopped the attack, they want to do so that Mariupol will be an example," Zelenskyy said, according to a translation.
He accused Russia of targeting and destroying Ukraine's infrastructure, including nearly 300 hospitals, and warned tens of thousands of Russian forces are being readied for the next offensive.
"There is no hope that Russian rational thinking will prevail and Russia will stop. Russia can only be forced to do this," Zelenskyy said.
— Sam Meredith
Germany sees 'massive indications' of Russian war crimes in Ukraine
German Foreign Minister Annalena Baerbock says there are "massive indications" of Russian war crimes in Ukraine, adding it is essential to secure all evidence, according to Reuters.
"We have massive indications of war crimes," Baerbock said ahead of a meeting with European ministers in Luxembourg, Reuters reported. "In the end, the courts will have to decide, but for us, it is central to secure all evidence."
"As the German federal government, we have already made it clear that there will be a complete phase-out of fossil fuels, starting with coal, then oil and gas, and so that this can be implemented jointly in the European Union, we need a joint, coordinated plan to completely phase out fossil fuels to be able to withdraw as a European Union," Baerbock said.
— Sam Meredith
Ukraine's northeast city of Kharkiv sees 66 strikes in the last 24 hours, governor says
The head of the Kharkiv regional administration, Oleh Sinegubov, said Russian forces had launched approximately 66 strikes in the northeastern city and nearby points within 24 hours.
Sinegubov said 11 civilians were killed in the attacks, including a 7-year-old, while 14 people were wounded. The affected areas include Saltivka, Pyatihatky, Kholodna Hora, Pisochyn, Zolochiv, Balakliya and Derhachi.
CNBC has not been able to independently verify this report.
"We are seeing the activity of enemy reconnaissance aircraft in the region," Sinegubov said via Telegram, according to a translation.
— Sam Meredith
'Don't fall for it': Ukraine warns Russian disinformation may target Western lawmakers
Ukraine's Foreign Minister Dmytro Kuleba has warned Western lawmakers about the prospect of a "massive" Russian disinformation campaign over the imposition of sanctions and the supply of weapons to Ukraine.
"Russia knows arms supplies are essential for Ukraine and mobilizes all efforts to undermine them," Kuleba said via Twitter.
"Moscow prepared a massive info campaign targeting foreign media and politicians. Their troll factory may spam emails and flood comments with [disinformation] on Ukraine. Don't fall for it," Kuleba said.
— Sam Meredith
France's Societe Generale to withdraw from Russia with sale of Rosbank stake; shares jump 5%
French bank Societe Generale has agreed to sell its stake in Rosbank and the Russian lender's insurance subsidiaries to Interros Capital, an investment firm founded by Russian billionaire Vladimir Potanin.
The bank's exit from Russia comes after mounting pressure to follow in the footsteps of other Western companies in the wake of the Kremlin's invasion of Ukraine.
SocGen said in a statement that it would have a 2 billion euro ($2.1 billion) write-off of the net book value of the divested activities and an exceptional non-cash item with no impact on the Group's capital ratio of 1.1 billion euros.
Shares of SocGen rose nearly 5% during early morning trade in London.
— Sam Meredith
UK fears Russia may use phosphorus munitions in Ukraine's besieged city of Mariupol
The U.K. Defense Ministry says Russian shelling continues in Ukraine's Donetsk and Luhansk regions, with Ukrainian forces seen "repulsing several assaults resulting in the destruction of Russian tanks, vehicles and artillery equipment."
The ministry warned Russian forces that prior use of phosphorus munitions in the Donetsk Oblast "raises the possibility of their future employment in Mariupol as fighting for the city intensifies."
It also said Russia's "continued reliance on unguided bombs decreases their ability to discriminate when targeting and conducting strikes while greatly increasing the risk of further civilian casualties."
— Sam Meredith
War to slash Ukraine's GDP output by over 45%, World Bank forecasts
Ukraine's economic output will likely contract by a staggering 45.1% this year as Russia's invasion has shuttered businesses, slashed exports and destroyed productive capacity, the World Bank said on Sunday in a new assessment of the war's economic impacts.
The World Bank also forecast Russia's 2022 GDP output to fall 11.2% due to punishing financial sanctions imposed by the United States and its Western allies on Russia's banks, state-owned enterprises and other institutions.
The World Bank's Eastern Europe region, comprising Ukraine, Belarus and Moldova, is forecast to show a GDP contraction of 30.7% this year, due to shocks from the war and disruption of trade.
For Ukraine, the World Bank report estimates that over half of the country's businesses are closed, while others still open are operating at well under normal capacity. The closure of Black Sea shipping from Ukraine has cut off some 90% of the country's grain exports and half of its total exports.
— Reuters
Read CNBC's previous live coverage here:
Ukraine economy seen being slashed in half; Austrian leader will meet Putin in Moscow on Monday
Copyright CNBC