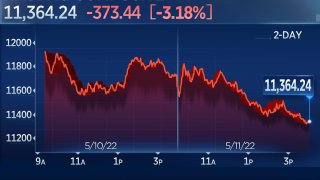 Stocks fell on Wednesday, dialing back earlier gains as investors continued to digest the latest U.S. inflation data.
The Dow Jones Industrial Average fell 326.63 points to 31,834.11, or 1.02%. The S&P 500 slipped 1.65% to 3,935.18, and the Nasdaq Composite dropped 3.18% to close at 11,364.24.
During the trading session, the S&P 500 touched a new 52-week low of 3,928.82. The broad-market index also closed at its lowest level of the year. The S&P 500 is down more than 18% off its 52-week high and off by more than 17% since the start of 2022.
"Everyone wants energy and food and labor costs to all come down, but at the same time, our mechanism for doing that is to increase interest rates," said Aviva Investors' Susan Schmidt. "You're working at countermeasures and it's worrisome for investors because they're trying to figure out how this impacts business overall and that's why I think you've seen such whipsaw action in the major indices."
Tech shares struggled on Wednesday, tempering gains for the Nasdaq. Meta Platforms, Apple, Salesforce and Microsoft fell about 4.5%, 5.2%, 3.5% and 3.3%, respectively, as investors continued their movement out of growth areas. Information technology and consumer discretionary sectors fell more than 3%, dragging down the S&P 500.
Meanwhile, Visa and Merck were the best-performing stocks in the Dow. While most sectors dipped into negative territory, energy rose about 1.4%. Utilities also fought to stay positive, closing up about 0.8%, while materials ended the session flat.
April's consumer price index showed an 8.3% jump, higher than the 8.1% increase expected by economists polled by Dow Jones. The price surge remained near the 40-year high pace of 8.5% seen in March.
Core CPI, which does not include food and energy prices, gained 6.2% compared to expectations of 6%. On a monthly basis, headline CPI rose by 0.3% and core rose 0.6%. It signaled that inflation may be peaking but price pressures will likely persist.
Not all analysts are convinced the data suggests inflation has reached a peak.
"With the annual rate ticking down from 8.5% to 8.3%, it can be tempting to say we've seen the peak, but we've also been head-faked before as was the case last August," said Bankrate chief financial analyst Greg McBride
Some analysts see the data as a sign that the Fed is behind the curve in curbing inflation, which could put pressure on the central bank to act more aggressively in tightening monetary policy.
Meanwhile, rising prices have been front-of-mind, particularly as the Federal Reserve hikes interest rates and trims its balance sheet to address inflation.
Following the data release, the 10-year Treasury yield briefly jumped back above the 3% mark but traded down and settled at 2.93%.
The initial negative market reaction to the inflation print was "totally understandable," but as prices continue to rise, the U.S. is on the brink of a "cost of living crisis," Allianz chief economic advisor Mohamed El-Erian told CNBC's "Squawk on the Street."
"It's just a matter of time until we talk about a cost of living crisis and this is what it is," he said. "Everybody is focusing on the headline number, that's understandable but look at the core, 6.2%, and look at the composition of inflation that suggests there are many drivers now. This is no longer an issue about just the Ukraine war, this is a broad-based inflation process that the Fed has fallen behind in a major way."
On the earnings front, shares of Coinbase slumped 26.4% after the crypto exchange posted its latest quarterly results. Investors are looking ahead to reports from Walt Disney, Rivian and Beyond Meat after the bell.
Wednesday's moves come after the Dow fell for a fourth consecutive day Tuesday in a volatile trading session, alternating between gains and losses. The S&P 500 ticked up 0.25% and the Nasdaq Composite gained about 1%.
— CNBC's Yun Li contributed reporting
Copyright CNBC