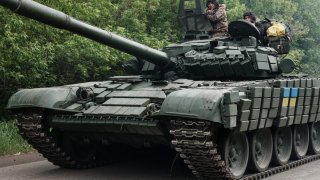 This was CNBC's live blog tracking developments in the war in Ukraine on Monday. See here for the latest updates. 
Russia will likely continue relying heavily on massed artillery strikes as it tries to regain momentum in its advance on the eastern Donbas region, said the U.K.'s Defence Ministry in its daily intelligence update.
Meanwhile, Ukrainian forces say they have pushed back the Russian military in the region around Kharkiv in northeastern Ukraine, and near the border with Russia, continuing a counteroffensive that has prompted Russian troops to withdraw from around Ukraine's second-largest city.
NATO's Secretary-General Jens Stoltenberg said Sunday that "Ukraine can win this war" following an informal meeting of the group. His comments came after Finland announced it would apply to join the military alliance in what marks a historic move for the traditionally neutral Nordic country.
Stay informed about local news and weather during the hurricane season. Get the NBC 6 South Florida app for iOS or Android and pick your alerts.
Joining the military alliance will "maximize" Finland's security after Russia's unprecedented invasion of Ukraine in February, President Sauli Niinisto said.
Sweden is expected to follow suit, with both applications likely to enflame tensions between NATO and Russia further. Moscow warned last week of "retaliatory steps" if Finland joined the alliance.
Ukraine war could cause 'catastrophic' levels of malnutrition in children, UNICEF warns
The war in Ukraine, along with other global shocks to food security, is creating conditions for a significant increase in life-threatening malnutrition for children, according to UNICEF.
The United Nations agency said in a statement that soaring food prices caused by the war is set to drive up the cost of "life-saving" therapeutic food treatment. It added that severe malnutrition in children could go to "catastrophic levels."
Around 13.6 million children under five suffer from severe wasting — a condition where children are too thin for their height, leading to weak immune systems, the UN agency said in a press release.
The most effective treatment is a ready-to-use therapeutic food, but the price of that is expected to increase by up to 16% in the next six months due to a sharp rise in the cost of ingredients.
"For millions of children every year, these sachets of therapeutic paste are the difference between life and death," said UNICEF Executive Director Catherine Russell.
Around 10 million severely wasted children do not have access to the treatment, and another 600,000 children may lose access at current spending levels, Unicef added.
Before the war in Ukraine began, conflict, climate change and Covid were already making it difficult for families to feed their children, said Russell.
"The world is rapidly becoming a virtual tinderbox of preventable child deaths and child suffering," she said.
"There is precious little time to reignite a global effort to prevent, detect and treat malnutrition before a bad situation gets much, much worse," she added.
— Abigail Ng
Russia likely to use artillery strikes heavily in its advance on eastern Donbas region, UK's Defence Ministry says
Russia will likely continue relying heavily on massed artillery strikes as it tries to regain momentum in its advance on the eastern Donbas region, said the U.K.'s Defence Ministry in its daily intelligence update.
The update added that Russia had proven it was willing to use strikes against inhabited areas.
Around 3,500 buildings were estimated to have been destroyed or damaged in the Chernihiv region north of Kyiv, during Russia's abandoned advance towards the Ukrainian capital, the ministry said in its update, posted on Twitter. As much as 80% of the damage was caused to residential buildings.
"The scale of this damage indicates Russia's preparedness to use artillery against inhabited areas, with minimal regard to discrimination or proportionality," the ministry said in its update, posted on Twitter.
Russia has possibly relied more heavily on such "indiscriminate" shelling because of its "unwillingness to risk flying combat aircraft routinely beyond its own frontlines," the ministry said.
— Weizhen Tan
More than 260 fighters evacuated from Mariupol steelworks
More than 260 Ukrainian fighters, including some who are badly wounded, were evacuated Monday from a steel plant in the ruined city of Mariupol and taken to areas under Russia's control, the Ukrainian military said.
Deputy Defense Minister Hanna Maliar said 53 seriously wounded fighters were taken to a hospital in Novoazovsk, east of Mariupol. An additional 211 fighters were evacuated to Olenivka through a humanitarian corridor. An exchange would be worked out for their return home, she said.
Malyar said missions are underway to rescue the remaining fighters inside the plant, the last stronghold of resistance in the devastated southern port city.
"Thanks to the defenders of Mariupol, Ukraine gained critically important time to form reserves and regroup forces and receive help from partners," she said. "And they fulfilled all their tasks. But it is impossible to unblock Azovstal by military means."
Ukrainian President Volodymyr Zelenskyy said the evacuation of the fighters from Azovstal to separatist-controlled territory was to save their lives. He said the "heavily wounded" were getting medical help.
"Ukraine needs Ukrainian heroes to be alive. It's our principle," he said. "The work continues to bring the guys home, and it requires delicacy and time."

—Associated Press

Police officers document the destruction at one of Europe's largest clothing markets in Kharkiv
Ukrainian police officers document the destruction at one of Europe's largest clothing markets, Barabashovo in Kharkiv.
Black smoke rises into the sky from the Barabashovo market which was reportedly hit by shelling, in Kharkiv on March 17, 2022, amid the ongoing Russia's invasion of Ukraine.
Polish agriculture minister says Ukraine could route grain exports through Poland
Poland's agriculture minister that Ukraine's grain exports could be routed through Poland as long as Russia's war prevents them from departing Black Sea ports.
Henryk Kowalczyk, the agriculture minister and a deputy prime minister, spoke in Warsaw alongside U.S. Secretary of Agriculture Tom Vilsack, Ukraine's agriculture secretary and the European Union's commission for agriculture, who is Polish.
Ukraine is a bread basket whose exports to world markets have been disrupted, threatening to exacerbate food shortages, hunger and inflation across the world.
Vilsack denounced Russia's theft of Ukraine's grain and its use of hunger as a tool of war. He said the U.S. would do what it could to prevent Russia from profiting from the theft.
Kowalczyk said that Poland's ports on the Baltic Sea are prepared to be put to use to transport Ukraine's grain abroad.
— Associated Press
Kalush Orchestra returns to Ukraine after winning the 2022 Eurovision Song Contest
Kalush Orchestra, the winners of the 2022 Eurovision Song Contest, are welcomed by members of Ukraine's State Border Guard Service as they arrive at the Ukraine-Poland border crossing point near the village of Krakovets in the Lviv region of Ukraine.
— Pavlo Palamarchuk | Reuters
Discussions ongoing to open crucial Ukrainian corridors and ports for food security
The U.S. Ambassador to the United Nations said there are ongoing talks with Russia to reopen critical food pathways in Ukraine.
"There are discussions ongoing at this moment to see how those corridors can be unblocked," Linda Thomas-Greenfield said, adding that U.N. Secretary-General António Guterres raised the issue with Russian officials.
"I can say that the situation is urgent and that we need to address it now. Because we're already seeing the impact," she added.
For weeks, Russian forces have blocked roughly a dozen Ukrainian ports in the Black Sea and Sea of Azov, destroyed civilian infrastructure and targeted grain silos.
David Beasley, the head of the United Nations' top food agency, said last week that "millions of people around the world will die" if Ukraine's ports, namely Odesa, are not reopened.
— Amanda Macias
Erdogan says Swedish, Finnish delegations should not bother coming to Turkey
Turkish President Tayyip Erdogan said that Swedish and Finnish delegations should not bother coming to Ankara to convince it to approve their NATO bid.
Sweden's government has formally decided to apply for NATO membership, Prime Minister Magdalena Andersson said, a day after Finnish President Sauli Niinisto confirmed that Helsinki will also apply for membership.
Turkey surprised its NATO allies last week by saying it would not view their applications positively, mainly citing their history of hosting members of groups Ankara deems terrorists.
In a news conference, Erdogan repeated that Turkey would not approve their bids to join NATO, calling Sweden a "hatchery" for terrorist organizations, and adding it had terrorists in its parliament.
"Neither of these countries have a clear, open attitude towards terrorist organization," Erdogan said. "How can we trust them?"
— Reuters
Kraken Ukrainian special forces soldiers survey a destroyed bridge outside Kharkiv
Ukraine has said its troops have regained control of territory on the Russian border near the country's second-largest city of Kharkiv, which has been under constant fire since Moscow's invasion began in late February.
Soldiers of the Kraken Ukrainian special forces unit stand by a destroyed bridge outside the city:
— Dimitar Dilkoff | AFP | Getty Images
Howitzers proving to be 'very effective' in Ukraine's fight against Russia, U.S. Defense official says
Howitzers that the U.S. provided to Ukraine have proven to be "very effective" in the country's fight against a Russian invasion, a senior U.S. Defense official said.
Ukrainian forces have used about 74 of the 90 howitzers given from U.S. stockpiles, said the official, who declined to be named. The official also said that the U.S. has delivered about 60% of the approximately 209,000 artillery rounds set out for Ukraine.
Ukrainian forces trained alongside U.S. troops in a location outside of the country before operating the howitzers.
Read more about the weapons the U.S. has sent to Ukraine thus far.
— Amanda Macias
A look Inside a trench left by Russian soldiers in Ukraine
A woman inspects a trench left by Russian soldiers next to civilian houses in Kozarovychi village, north of Vyshhorod, a city near Kyiv which was captured by the Russian army in the first days of the war.
— Anadolu Agency | Getty Images
Zelenskyy says he spoke with IMF chief about financial support for Ukraine
Ukraine President Volodymyr Zelenskyy wrote that he spoke with International Monetary Fund Director Kristalina Georgieva about financial support for his country.
Zelenskyy said in a Twitter post that he and Georgieva discussed the need for financial support for the Ukrainian economy. He added that he looks forward to "further fruitful joint work in maintaining financial stability of Ukraine."
The update from Zelenskyy comes a month after the two talked about Ukraine's economic stability and "preparations for post-war reconstruction," according to a social media post from Zelenskyy dated April 17.
In a reply to that April post on Twitter, Georgieva said that "continued economic support by Ukraine's partners is essential to lay the foundations for rebuilding a modern competitive #Ukraine."
Ukraine's economy and finances have whipsawed in recent months amid the Russian invasion and subsequent support from Western allies. Moscow's blockades of Ukrainian ports, for example, has disrupted trade routes and halted a major source of global food exports.
— Thomas Franck
Lockheed Martin wins $309 million contract for Javelin missiles, which Ukraine is using against Russia
Lockheed Martin has been awarded two contracts worth $309 million by the U.S. army for its Javelin missiles, the antitank weapon that has helped Ukraine fight Russia's invasion, the company said.
The Javelin missiles are made jointly by Lockheed and Raytheon Technologies' missile unit.
Demand for Javelin missiles remains high as the war in Ukraine worsens, where they were used to stop Russian tanks from advancing on the capital, to an artillery battle in Ukraine's east.
So far, the United States has sent more then 5,500 Javelin systems to Ukraine.
— Reuters
U.S. to send delegation to Moldova, Georgia and the UK
The United States will send a delegation to Moldova, Georgia and the United Kingdom this week as Russia continues its assault on eastern Ukraine.
State Department Counselor Derek Chollet will lead the group representing the U.S. In Moldova, one of the countries considered most vulnerable to a potential expansion of Russia's war, he plans to meet with government officials and "reinforce U.S. support for Moldova's democracy, prosperity, and security," the State Department said.
Chollet will then head to Georgia, where he "will meet with government, opposition, and civil society representatives for discussions on Russia's continuing occupation of parts of Georgia, on the Kremlin's brutal war against Ukraine, and on how to advance the people of Georgia's aspirations for a democratic, peaceful, prosperous, and Euro-Atlantic future," according to the department.
In the U.K., Chollet plans to discuss the countries' response to the war in Ukraine along with other global security concerns.
— Jacob Pramuk
In Poland, U.S. Treasury Secretary Yellen pushes global minimum tax, applauds refugee efforts
U.S. Treasury Secretary Janet Yellen thanked Polish leaders for sheltering millions of Ukrainian refugees and pushed officials to support the European Union's plans to introduce a 15% global corporate minimum tax.
Yellen, whose comments came during her trip to the Polish capital of Warsaw, spoke with Ukrainian refugee cooks during her visit to the Wilcza Hostel and the World Central Kitchen facility for Ukrainian refugees.
The U.S. Treasury Department said that Yellen would use the trip to Warsaw to discuss the war's effect on Poland's economy, particularly on inflation, fiscal policy, and supply chains.
"Secretary Yellen will also express her gratitude for the generosity Poland has shown in welcoming refugees, address the rising threat of food insecurity, and discuss the agreement on new international tax rules," the department said.
Poland is the sole holdout in the EU's plan to introduce a global corporate minimum tax. It vetoed a compromise in April to launch the 137-country deal that sought to end a downward competitive spiral in business tax rates.
— Thomas Franck
UN says 3,668 killed in Ukraine since start of war
The United Nations has confirmed 3,668 civilian deaths and 3,896 injuries in Ukraine since Russia invaded its ex-Soviet neighbor on Feb. 24.
The Office of the U.N. High Commissioner for Human Rights said the death toll in Ukraine is likely higher, because the armed conflict can delay reports.
The international body said most of the civilian casualties recorded were caused by the use of explosive weapons with a wide impact area, including shelling from heavy artillery and multiple launch rocket systems, as well as missiles and airstrikes.
— Amanda Macias
President Putin says NATO expansion 'is a problem'
Moscow has wasted no time in making its feelings known about the likely expansion of the Western military alliance NATO, with President Putin saying Monday that it "is a problem."
Putin claimed that the move was in the interests of the U.S., in comments reported by Reuters, and said Russia would react to the expansion of military infrastructure to Sweden and Finland, although he insisted Moscow had "no problems" with the countries.
Putin's comments come after other top Kremlin officials deplored the future expansion of NATO, with one describing it is a "grave mistake" with global consequences.
— Holly Ellyatt
McDonald's says it will sell its Russia business
McDonald's said Monday that it will sell its business in Russia, a little more than two months after it paused operations in the country due to its invasion of Ukraine.
"The humanitarian crisis caused by the war in Ukraine, and the precipitating unpredictable operating environment, have led McDonald's to conclude that continued ownership of the business in Russia is no longer tenable, nor is it consistent with McDonald's values," the company said in a news release.
Russian forces, directed by President Vladimir Putin, have been accused of an array of war crimes during their assault on Ukraine.
McDonald's exit from Russia is a bitter end to an era that once promised hope. The company, among the most recognizable symbols of American capitalism, opened its first restaurant in Russia more than 32 years ago as the communist Soviet regime was falling apart.
— Mike Calia
How could Russia react to Finland and Sweden's NATO move?
With Finland and Sweden both announcing their bids to join the Western military alliance NATO on Sunday, ending a long modern history of military non-alignment, all eyes are on Russia's reaction.
Moscow has already expressed outrage at the idea of its old foe NATO's potential imminent expansion, warning it would take "retaliatory steps" against the country.
Geopolitical experts are assessing the possible actions Russia could take, saying these could range from an increase in provocative acts against NATO members, such as incursions into the alliance's airspace, or cyberattacks and more soldiers placed along the borders Russia shares with NATO members: Latvia, Estonia, Lithuania, Poland and Norway.
Read more here: NATO is about to get bigger and Putin is unhappy: Here are 3 ways Moscow could react
— Holly Ellyatt
Belarus deployment along Ukraine border could 'fix' Kyiv's forces, UK says
Belarus' announcement last week that it will deploy special operations forces along the Ukraine border — as well as air defence, artillery and missile units to training ranges in the west of Belarus — is likely designed to pin down Ukraine's forces away from eastern Ukraine where fierce fighting is taking place with Russia, the U.K. military has said.
"The presence of Belarusian forces near the border will likely fix Ukrainian troops, so they cannot deploy in support of operations in the Donbas," the U.K.'s Ministry of Defence said in an intelligence update on Twitter Monday.
Despite early speculation, to date Belarusian forces have not been directly involved in the conflict but Belarusian territory has been used as a staging post for Russia's initial advance on Kyiv and Chernihiv, the ministry noted, added that Russia has also launched air sorties and missile strikes from Belarus.
"Belarusian President Lukashenko is likely balancing support for Russia's invasion with a desire to avoid direct military participation with the risk of Western sanctions, Ukrainian retaliation and possible dissatisfaction in the Belarusian military," the ministry said.
— Holly Ellyatt
Finland and Sweden will bring 'real military capability' to NATO, says ex-Army commander
Finland and Sweden will both bring "real military capability" if they become members of NATO, according to Ben Hodges, a former commander in the U.S. Army in Europe.
The two nations have strong, liberal, democratic governments and resilient societies, he told CNBC's "Capital Connection."
"They will be security providers, not consumers," he added, saying the move changes the security environment for the North Atlantic Alliance.
"This is so good for the alliance, but it's also good for both countries and for all of Europe," he said.
Hodges said Russia's attack on Ukraine made Finland and Sweden feel the need to join the 30-nation strong military alliance. "This is going to go down on a list of huge blunders by President Putin and the Kremlin," he said.
Ultimately, besides threats and complaints, there's nothing the Russian president can do because his military is tied up at the moment, Hodges added.
— Abigail Ng
Ukraine says it's counterattacking in the east, pushing Russian forces back
Ukrainian forces say they have pushed back the Russian military in the region around Kharkiv in northeastern Ukraine, and near the border with Russia.
"The 227th Battalion of the 127th Brigade of the Territorial Defense Forces of the Armed Forces of Ukraine of Kharkiv city pushed back the Russians and reached a section of the state border," the Ministry of Defense of Ukraine posted on Facebook on Monday morning.
Ukrainian forces have been carrying out a successful counter-offensive north of Kharkiv toward the border with Russia over the last week, while heavy fighting also continues in the eastern Donbas region.
Ukrainian air defense forces and anti-aircraft missile forces said on Facebook Sunday they had downed 11 enemy targets over the past 24 hours, including two helicopters, seven drones and two cruise missiles.
On Sunday, Ukraine's military said it is preparing for more Russian attacks around Izyum, a city to the south of Kharkiv that's become a focus of fighting in recent days.
Moscow's forces have been trying to fight their way south from Izium as part of a pincer movement aimed at outflanking Ukrainian forces dug in to defend the eastern frontline, Reuters reported.
— Holly Ellyatt
Ukraine can win this war, NATO chief says
Ukraine can win the war against Russia, NATO's secretary general said on Sunday, adding that Russia's invasion is "not going as Moscow had planned."
Speaking virtually after an informal NATO meeting in Berlin, Jens Stoltenberg said "Ukraine can win this war."
"Russia's war in Ukraine is not going as Moscow had planned," he said at a press conference. "They failed to take Kyiv. They are pulling back from around Kharkiv. Their major offensive in Donbas has stalled" and "Russia is not achieving its strategic objectives," he added.
— Holly Ellyatt
McConnell expects Wednesday Senate vote for $40 billion Ukraine aid
U.S. Senate Republican Leader Mitch McConnell said he expected the Senate to vote on $40 billion in proposed aid to Ukraine on Wednesday after holding a related procedural vote on Monday.
"We expect to invoke cloture - hopefully by a significant margin - on the motion to proceed on Monday, which would set us up to approve the supplemental on Wednesday," McConnell told reporters on a conference call from Stockholm after visiting the Ukrainian capital on Saturday. He was referring to a procedural "cloture" vote that caps further debate on a matter to 30 hours.
— Reuters
Sweden's ruling party backs joining NATO
STOCKHOLM — Sweden's ruling Social Democrats said on Sunday they backed the country joining NATO, abandoning decades of opposition in the wake of Russia's invasion of Ukraine and creating a large parliament majority in favor of membership.
With neighboring Finland already set to hand in its application, Prime Minister Magdalena Andersson is now all but certain to launch a formal application within days.
— Reuters
Ukraine not 'overoptimistic' despite Russian troops pulling back near Kharkiv, official says
Ukraine's deputy prime minister for European and Euro-Atlantic integration, Olga Stefanishyna, said she sees a "cautious amount of great news" in the country's defense against Russia. In particular, she pointed to Russian troops pulling back from around Kharkiv, Ukraine's second-largest city, in recent days.
"But we are not overoptimistic in that regard," she said in an interview on ABC's "This Week." "We see that Putin has readjusted his strategy, and the only possible winning scenario for him is a long-lasting war, which is not the case for us and the democratic world. ... The unconditional victory still remains the way forward."
Russia's navy remains in "full preparedness to continue shelling," Stefanishyna said, adding that "the bombarding of the eastern part of Ukraine, which are the major supply chains for the humanitarian and defense assistance, have been attacked over these nights."
— Kevin Stankiewicz
Read CNBC's previous live coverage here:
Finnish president says his country will apply to join NATO; more U.S. weapons 'on the way' to Ukraine
Copyright CNBCs - CNBC