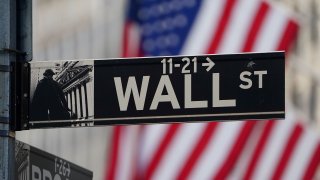 BY THE NUMBERS
Dow futures initially turned lower and then surged higher Friday after the government reported much better than expected jobs growth in February. Stocks bounced despite bond yields pushing even higher. Fed Chairman Jerome Powell on Thursday failed to reassure investors that central bankers would keep surging bond yields and inflation in check. (CNBC)

The Dow closed 345 points, or 1.1%, lower Thursday, in a wild session that saw the 30-stock average down more than twice that at one stage. The S&P 500 fell 1.3%. The Nasdaq was the big loser on the day, sinking more than 2%, and closing nearly 10% off its Feb. 12 record high. The index also went negative on the year. As of Thursday's close, the Dow and S&P 500 held onto slim 2021 gains. (CNBC)
Be prepared for the 2021 hurricane season! Download our our mobile app for iOS or Android to get the latest forecasts and alerts.
The Labor Department this morning reported that the U.S. economy generated 379,000 new jobs in February, well above forecasts. The unemployment rate dipped to 6.2%, a bit lower than estimates of 6.3%. Nearly all of last month's job gains came from the battered leisure and hospitality sector, as some states started to relax Covid dining restrictions in some areas. (CNBC)

The 10-year Treasury yield moved higher Friday, trading above 1.62% and hitting a new one-year high, before backing off a bit. Yields have increased rapidly since the end of January, stoking inflation fears. Powell did little to allay those concerns, acknowledging he sees some inflationary pressures ahead. However, he also said that rising prices won't likely be enough to spur the Fed to hike interest rates. (CNBC)
IN THE NEWS TODAY
Debate in the Senate on Democrats' $1.9 trillion coronavirus relief package is set to continue, setting the stage for its approval as soon as this weekend under rules that allow for passage with a simple majority. As soon as the Senate began considering the bill Thursday, Sen. Ron Johnson, R-Wis., forced the chamber's clerks to begin reading the entire 628-page measure aloud. (CNBC & AP)
Connecticut will be relaxing many Covid mitigation restrictions in two weeks on businesses, theaters, churches and travel. But Democratic Gov. Ned Lamont said Thursday the statewide mask mandate will remain in effect. This week, the Republican governors of Mississippi and Texas went a step further, ending all Covid restrictions, including mask mandates. (CNBC)

Ex-CDC director: 'I worry we're getting numb' to Covid numbers as states reopen (CNBC)
Gap (GPS) is predicting an apparel sales rebound this year, as the Covid-19 pandemic recedes and people return to offices and schools. Sales in its most recent quarter came in below Wall Street forecasts, though an online sales surge help offset a pandemic-related decline in-store traffic. Shares of the parent company of Gap, Old Navy and Banana Republic jumped 3.2% in premarket trading. (CNBC)

* Activist group says Kohl's earnings show 'best of worst' in retail, urges change (CNBC)
Virgin Galactic (SPCE) Chairman Chamath Palihapitya sold his remaining personal holdings of 6.2 million shares for about $213 million, according to a Securities and Exchange Commission filing. He still owns 15.8 million shares with investment partner Ian Osborne. The space company's shares fell 7% in the premarket. (CNBC)
Pope Francis arrived in Iraq on Friday to urge the country's dwindling number of Christians to stay put and help rebuild the country after years of war and persecution, brushing aside the coronavirus pandemic and security concerns to make his first-ever papal visit there. (AP)
STOCKS TO WATCH
Imax (IMAX) lost 21 cents per share, one cent more than analysts had anticipated. The movie theater operator's revenue came in above Wall Street estimates. Sales were helped by stronger performances in Asian markets, and the company is anticipating improved results as consumers return to theaters this year. Imax shares lost 3.7% in premarket trading.
Big Lots (BIG) reported quarterly profit of $2.59 per share, 9 cents a share above estimates. Revenue matched forecasts, however, and a comparable sales increase of 7.9% was shy of the consensus FactSet estimate of 8.4%. The discount said it expected its results this year to be significantly affected by the pandemic. Shares rose 1.3% in premarket trading.
Costco (COST) reported quarterly earnings of $2.14 per share, falling short of the $2.45 per share consensus estimate. The warehouse retailer's revenue came in above forecasts. Costco's comparable sales rose 13%, while its digital sales surged 76%. The company also experienced supply chain issues resulting in higher costs. Costco shares fell 1.9% in premarket trading.
Norwegian Cruise Line (NCLH) shares tumbled 7% in premarket trading after it announced a public stock offering of 47.58 million shares. Norwegian plans to use the proceeds to retire exchangeable debt held by private-equity firm L Catterton.
The Trade Desk (TTD) shares fell in Friday's premarket after losing 20% over the past two days. The provider of programmatic advertising technology was hit after Alphabet's (GOOGL) Google said it would not use ad tracking technology to follow people individually across the internet.
CoStar Group (CSGP) dropped its bid to buy CoreLogic (CLGX), with the commercial property data provider saying rising interest rates will hurt CoreLogic's value. CoStar's latest bid had been worth $6.6 billion or $90 per share, compared to a prior higher bid of $6.9 billion or $95.76 per share. CoStar jumped 5.5% in premarket trading, while CoreLogic fell 3.4%.
Boeing (BA) has approached a group of banks seeking a new $4 billion credit facility, according to reports from Bloomberg and Reuters. Boeing had told analysts in January that the company had sufficient liquidity, but was open to raising more debt as it considers options to strengthen its balance sheet.
Van Eck Vectors Social Sentiment ETF (BUZZ) bounced a bit in the premarket after the new exchange-traded fund fell 3.6% in its Wall Street debut Thursday. The ETF is designed to receive attention from investors on Reddit, Twitter (TWTR) and other social media platforms.
Copyright CNBCs - CNBC