A Star is Born: Rubio Wins U.S. Senate Race
Rubio defeats Crist and Meek to become new U.S. Senate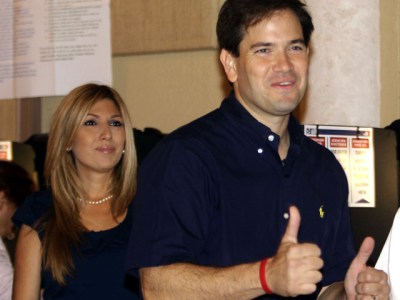 Marco Rubio looks like he will be Florida's newest senator as NBC News is calling the Republican the projected winner in a three-way Senate race.
The Miami-native, who was seen as little more than a fly in the Senate anointing oil of Gov. Charlie Crist less than a year ago, had a sizable lead over Crist and Democratic candidate Kendrick Meek in one of the most watched races in the nation.
"We make a grave mistake if we think this election is an embrace of Republicans," Rubio said during his victory speech in Coral gables. "These results are a second chance for the Republican Party to be what they said they were going to be not so long ago. This is about the great future that lies ahead for our country."
Rubio used a platform that centered on returning the nation to conservative values and away from the Obama Administration to garner the support of the rising Tea Party and other Republicans alienated by Crist.
But even before the likely victory, supporters were looking at Rubio to have higher aspirations: the White House.
Rubio says his first order of business is to fight to extend tax cuts instituted by the Bush Administration to spur the economy and fight against the GOP-dubbed ObamaCare health insurance policies.
Meek was one of the first to give Rubio a call to congratulate him on the win.
"For someone who came from the outside to come inside and take a commanding lead the way he did should be commended," Meek said. "We disagree on the issues, but we agree on principle."
Meek also went out of his way to thank Obama and former President Bill Clinton for their support, which became the centerpiece of a controversy in recent weeks. Clinton allegedly asked Meek to quit the race so that Crist could go head-to-head with Rubio, but Meek said it was Crist who started the rumor.
Rubio's rise was as much a result of former governor Crist's fall than the Republican's own political prowess.
Crist's willingness to go along with President Obama's policies doomed him during primary campaigning and then he delivered the ultimate self-inflicted wound when he dropped the GOP and declared he was running as an independent.
"This has been an interesting race to say the least," Crist said during a brief concession speech in St. Petersburg. "It's a tough night."
Rubio used Crist's flip-flop to his advantage and attacked Crist at every turn for his decision, while pushing a message of conservatism. That endeared him with the Tea Party and powerful Republicans around the nation, some whom now see the Cuban-American as the GOP's answer to Obama himself.
Young, handsome and charismatic, Rubio is already fending off rumors that Tuesday's win is just a stepping stone to a presidential campaign, possibly as early as 2012. Not too long ago, people were saying the same thing about Crist.