President Obama Visiting Florida Thursday
President Obama is campaigning in the Sunshine State for two days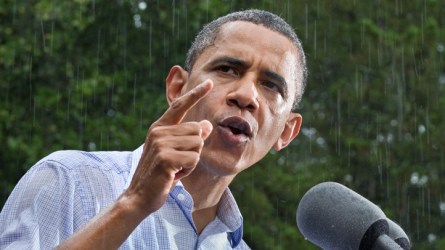 President Obama made a pair of stops in Florida Thursday to kick off a two-day Sunshine State campaign trip.
After an event in Jacksonville, the president traveled to Century Village in West Palm Beach. He was greeted by supporters and signed some autographs after Air Force One landed on the tarmac at Palm Beach International Airport.
Obama is hoping to court retirees, a key voting bloc in a swing state that will be up for grabs in November.
At Century Village he was applauded for the signature domestic policy of his term, health care reform – and said that his Republican challenger Mitt Romney would gut the law and turn Medicare into a voucher program.
"If the voucher isn't worth what it takes to buy health insurance in the private marketplace, you're out of luck. You've got to make up the difference. You're on your own," Obama said.
Presumptive GOP nominee Romney has proposed providing subsidies to help future retirees buy private insurance, or let them use traditional Medicare, with a gradually increasing age to qualify for benefits. Current retirees would not be affected.
The Romney campaign's policy director, Lanhee Chen, said that Obama "has offered no serious plan of his own to save Medicare and is content to use it as nothing more than a political issue."
Meantime, Romney fired away in remarks to reporters near Boston, accusing the Democratic incumbent of caring only about saving his own job, and not the jobs of Americans.
Romney kept his focus on the sluggish economic recovery in Obama's years in the Oval Office. He highlighted that the number of Americans seeking unemployment benefits rose by 34,000 last week – a figure that may have been skewed higher by seasonal factors.
In West Palm Beach, Obama also touched on the economy and middle-class security, and discussed his call on Congress to prevent a scheduled tax increase on 98 percent of Americans.
The president will spend the night in Manalapan, then head to campaign events in Fort Myers and Orlando on Friday.
Before Obama's Florida appearances on Thursday, the White House announced the acceleration of dredging projects at five ports on the East Coast, including the Port of Miami. The goal is to deepen the port to ready it for larger ships that will come through a widened Panama Canal in 2014.
Jacksonville would also benefit from the ports expansion plan.
White House spokesman Jay Carney said that accelerating such projects was a recommendation from the President's Council on Jobs and Competitiveness. But Obama's Republican rival, Mitt Romney, has criticized him for not meeting with the jobs council for six months.
With the 2012 election just months away, polls have shown Obama and presumptive GOP nominee Romney in a dead heat in the state, which has struggled with an unemployment rate of 8.6 percent, above the national average, and a still-recovering housing market.
As he frequently mentions in campaign speeches, Obama told his audience at Century Village that he is not a perfect president – but he said he fights every day for them.
He wrapped up his speech by saying that if they still believe in him and are willing to knock on doors and make phone calls, "I promise you, we will win Florida, we will win this election, and together we will finish what we started and remind the world why America is the greatest nation on Earth!"
Obama's trip comes on the heels of First Lady Michelle Obama's visit to Orlando and Miami earlier this month. Obama was also in Miami last month for two separate fundraisers.
Romney also visited Florida last month.
Obama frequently took on a breezy tone in his speech to supporters in West Palm Beach. He joked about what he said would be predictable attack ads against him in the coming months, urging seniors to hit the mute button when they come on television.
"That's the good thing about the remote. Or you can use the DVR and fast-forward," he said.
He added that he won't look good in the ads, either.
"You know, my face is all distorted. One eye's all droopy. I'm looking all grim," Obama said.