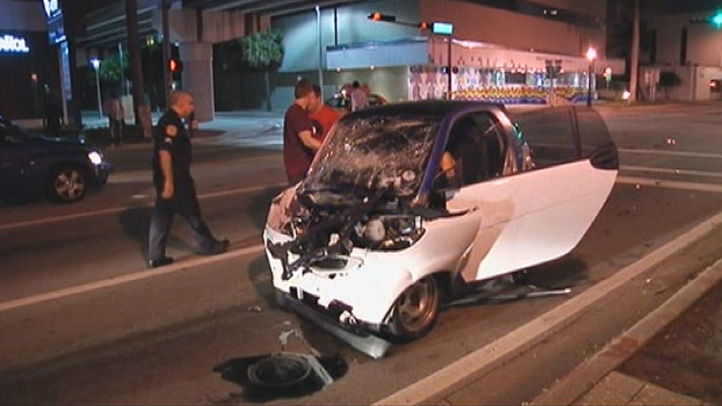 One person was killed and two others were hospitalized following a crash in downtown Miami Wednesday morning, police said.

The crash happened just before 5 a.m. Wednesday on Biscayne Boulevard at Northeast 15th Street and closed traffic between Northeast 14th and Northeast 16th Streets throughout the morning.

Miami Police said the Smart Car passenger, identified as Irina Reinoso, 22, was killed at the scene. The driver, Mila Anjelika Dago, 22, was taken to Ryder Trauma Center in critical condition.
Police Release Sketch of Man Wanted in Father of Five's Murder

A witness said the car, part of the Car2Go car rental program, ran a red light and collided with a pickup truck. Police said it was a Chevy Silverado.
"The little car here just had a red light on Biscayne Boulevard, ran the red light and T-boned the truck," witness Daniel Tyree said.
The truck driver, Benjamin Cohoon Byrum, 49, was also injured and taken to the hospital in critical condition, but he was treated and later released, police said.
Detectives believe the woman behind the wheel may have been impaired at the time of the crash.
Boy Fights Brain-Eating Amoeba in Miami Hospital
"We believe that this may be alcohol-related," Miami Police spokeswoman Kenia Reyes said.
Toxicology tests are being performed and detectives are still investigating the crash, Reyes said.
Car2Go released a statement regarding the crash Wednesday afternoon.
"Obviously we are deeply saddened upon hearing of this tragedy. Our main concern is always with our members' safety. We will assist the local authorities in the investigation," said J. Paul Delong, Car2Go's director of North American marketing and sales.

Check back with NBC 6 South Florida and NBC6.com for updates.
More Local Stories: