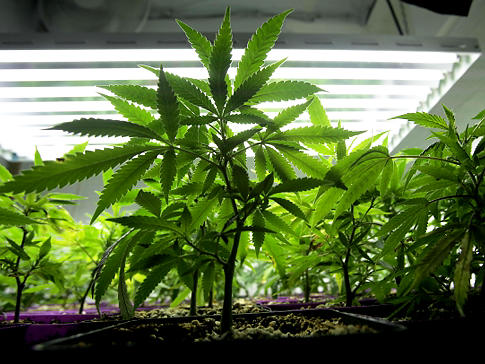 So much for the high life in South Florida.
Federal investigators arrested a dozen Miami and Miramar residents Friday as part of a probe into a nation-wide, multi-million-dollar pot ring that also brought charges against an advertising rep for marijuana mag High Times and a man who founded Roc-a-Fella Records along with rapper Jay-Z.
The role of the South Florida smugglers was considerably less glamorous than those of writer Matthew Woodstock Stang and music man Kareem "Biggs" Burke: prosecutors say they grew the marijuana hydroponically in Florida, and then smuggled it to New York stashed amid legitimate goods on flatbed trucks.
Stang was allegedly the supplier to the man who ran the pot ring, identified as New Yorker Geovanny "Manny" Rodriguez Perez. Burke, who is said to have joined the ring in 1991, was caught on wiretaps with Perez referring to the "grow houses" in Florida.
ICE officials say the syndicate has dominated the marijuana market in New York for decades, bringing in an estimated $20 million in profits and several tons of the drug into New York.
10 of the dozen South Florida suspects were arrested in Miami; the other two were apprehended in New York. They are identified as Arturo Mena-Sifonte, Osmel Vazquez-Perez, Javier Falcon, Jose Betancourt, Edwing Alberto Herrera, Idael Mena-Hernandez, Daniel Fernandez, Jesus Sanchez, Adel Santana-Zamora, all of Miami-Dade, and Leticia Raposo of Miramar.
Altogether, 45 people were taken into custody in "Operation Green Venom," a sting that has netted about 225 pounds of marijuana and $1.85 million in pot proceeds since 2008. Federal agents say they seized an additional $2 million and more than 360 pounds of marijuana Friday.
The South Florida smugglers are charged with conspiracy to distribute and possess with intent to distribute 1,000 kilograms of marijuana. They face up to life in prison and a mandatory minimum of 10 years in prison if convicted.