Pembroke Pines Police arrested a 13-year-old student Friday morning after stabbing a classmate at Pines Middle School.
Officials said the teen suspect stabbed the 13-year-old victim with a pair of scissors. The fight started in the hallway.
"She grabbed the scissors out of her back pocket, and she repeatedly stabbed the girl," sauid Hairo Ojendo, who witnessed the attack.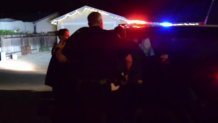 Police said another 13-year-old male student and a teacher jumped in to break up the fight, but they were also injured in the process. Dorethea Oatt, 59, was hailed a hero for intervening.
[[416483213, C]]
"From our point of view how she shielded the student; she's definitely a hero. She saw friction in the hall, an altercation and loudness and she saw a student going after another student with some type of an object," said Anna Fusco, President of Broward Teachers Union.
Mrs. Oatt, a Language Arts teacher, and the teen girl suffered stab wounds to their shoulders. The two were taken to a nearby hospital. The male student suffered a cut on his hand; he was treated on scene. All the victims are expected to be okay.
Fusco said Mrs. Oatt needed nine stitches under her shoulder. The teacher has since been released from the hospital.
A police school resource officer said the fight stemmed from a dispute that occurred on social media. The 8th grader was arrested on campus and charged with aggravated battery. She was being held at the Juvenile Assessment Center. The teen will be expelled from the school.
Pines Middle School released a statement regarding the incident:
Broward County Public Schools takes all matters concerning student safety very seriously. This morning at the start of the school day, two students were involved in an altercation. The incident was determined to be a mutual altercation and the result of a personal conflict between the two students. School staff and the SRO responded immediately to the incident and followed all proper protocols. Pembroke Pines Police and the District's Special Investigative Unit also responded. Three individuals (one staff member and two students) were transported to the hospital.
The safety of our students and staff is always our highest priority. Based on the school's investigation and review of the altercation, the students involved will receive the appropriate disciplinary actions as outlined in the Student Code of Conduct Disciplinary Matrix.