Two people were killed and three injured after a car fleeing a traffic stop caused a crash Thursday evening in Palmetto Bay, police said.
The incident happened at around 6 p.m. near U.S. 1 and 152nd Street, according to the Miami-Dade Police Department.
Miami-Dade Police spokesman Alvaro Zabaleta said officers attempted to conduct a traffic stop of a driver in a white Lexus in the area of 172nd Street and U.S. 1.
The Lexus fled northbound on U.S. 1, where officers lost sight of the vehicle. When the Lexus crossed the intersection, it hit a Chevy Trailblazer.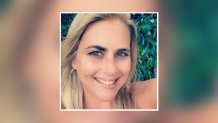 The 43-year-old woman who was driving the Chevy, Amy Whitelock, and 23-year-old Tyrese Grace, who was inside the Lexus, both died. Three other men who were inside the Lexus were taken to the hospital in unknown condition.
"We're still trying to determine what the person that's deceased from the white Lexus, if they were the driver or the passenger, investigators are still trying to determine that," Zabaleta said.
Lanes on U.S. 1 between SW 148 Street and 155 Street were closed in both directions Thursday night. Zabaleta said drivers should expect the shutdown to last through early Friday.
The crash remains under investigation.
This is a developing story. Check back with NBC 6 for updates.