A Miami Gardens shooting Sunday night left two people dead and police searching for whoever pulled the trigger.
Police identified the victims as 28-year-old Oliver Portieles and 16-year-old Janet Francois. Officers say someone approached the two victims around 8:30 PM while they were sitting inside a car near NW 38th Avenue and 206th Street. The person opened fire and the driver of the car drove off before eventually losing control, hitting a mailbox and two cars.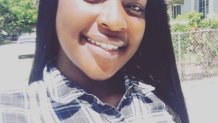 Portieles was in the driver seat and Francois was in the passenger seat. Both were pronounced dead at the scene. An officer was driving by the area when they heard the shooting. Their car was also struck by bullets, but the officer was not hit.
One nearby resident told NBC 6 they heard the people in the car also opened fire, but that has not been confirmed by police.
Investigators continue looking for whoever was involved. Anyone with information is asked to call Miami-Dade CrimeStoppers.