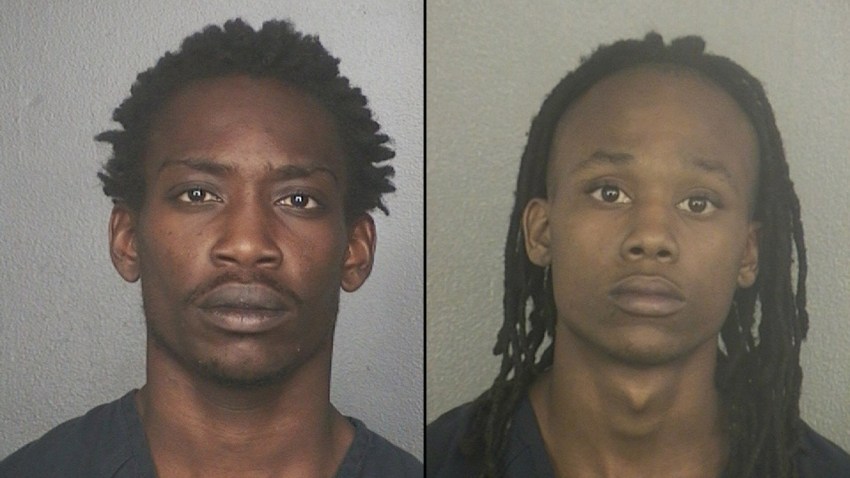 Two burglary suspects ransacked 40 storage units at an Oakland Park warehouse, fled to a building's roof and barricaded themselves there, authorities said.
An arrest team used a fire truck to ascend to the roof, where a standoff ensued with Jivonnee Jackson, 21, of Lauderhill and Tyrin Terrell Neal, 19, of Coral Springs before they finally surrendered on Wednesday, according to a Broward Sheriff's Office complaint affidavit.
They were lowered off the roof by the ladder truck, the affidavit said.
The two suspects drove to the Public Storage business at 1650 W. Oakland Park Blvd. in the middle of the night, the affidavit said.
"The defendant and co-defendant stealthily turned off their headlights and parked their vehicle just outside the business in the dark shadows," it said.
They forced their way inside the second story of the warehouse, using bolt cutters and gloves to cut the locks off 40 separate storage units, the affidavit said. They ransacked the units, stockpiling items at the exit door, and stole and used a wheeled car to help them "carry the large amount of stolen loot," the affidavit said.
Deputies arrived and established a perimeter, but Jackson and Neal fled and scaled a two-story building, where they hid on the roof and refused orders to climb down, according to the affidavit.
They ultimately surrendered. In all, the search and standoff lasted over two hours, with the suspects' actions putting the arresting deputies in extreme danger, the affidavit said.
The suspects temporarily took property worth between $20,000 and $100,000 from the storage units, the affidavit said.
They both face 40 counts of burglary of an unoccupied structure, one count of possession of burglary tools with intent to use, one count of grand theft between $20,000 and $100,000, and one count of resisting an officer without violence, online BSO jail records said.
Jackson is being held at the Broward County Main Jail on $31,000 bond. Neil, who is in the same facility, had his bond set for the new charges at $71,000 – but he is being held on no bond due to a court order, jail records said.
It wasn't immediately known whether either of them has an attorney.
More on NBC6.com: