Two men with ties to a Miami-Dade commissioner are among three people facing charges related to a $640,000 theft of county money, authorities said.
Miami-Dade State Attorney Katherine Fernandez Rundle announced the charges at a Monday afternoon news conference.
"With these arrests we are alleging that these three individuals appear to have fallen prey to a temptation to steal Miami-Dade County money and property," Fernandez Rundle said. "It's disappointing to see that there are still individuals who think that they can get away with stealing from the public."
Authorities said the trio are accused of manipulating the county's grant awarding process by utilizing the prestige of a commissioner's office.
Stay informed about local news and weather. Get the NBC 6 South Florida app for iOS or Android and pick your alerts.
Arrested in the theft are 48-year-old Evelt Jeudy and 55-year-old Mackinley Lauriston, Fernandez Rundle said.
Jeudy is an aide for Miami-Dade County Commissioner Jean Monestime, and Lauriston is Monestime's former chief of staff, according to Fernandez Rundle.
The third suspect, 51-year-old Nadeine Chery, was arrested in St. Lucie County, and is a former Well Fargo bank branch manager.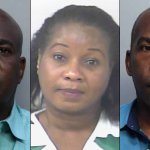 All three face charges including racketeering, organized fraud, grand theft, and unlawfully filing a false document.
Fernandez Rundle said the scheme to defraud the county revolved around misuse of the commissioner's discretionary budget, which is generally used to go to groups, individuals, and institutions to benefit the community.
According to a 54-page arrest warrant released Monday, one or more of the suspects was fraudulently awarded and then misappropriated discretionary grant funds from two charitable organizations, by telling them they were "fiscal agents," then ordering the bulk of the grant funds paid instead to third parties, including their own businesses.
The suspects also misappropriated grant funds from a county cultural affairs reimbursement grant and illegally obtained county surplus property, including two homes and a van, the warrant said.
They also solicited vendors to donate to a fraudulent charitable entity controlled by them, using the commissioner's letterhead and county email, then misappropriated the donations for the benefit of themselves and others, the warrant said.
Fernandez Rundle said there was no evidence that Monestime was aware of the illegal activities.
Miami-Dade Inspector General Felix Jimenez said 10 community-based organizations and taxpayers were the victims.
"They were held hostage, if they did not participate, they would be cut off, and these are agencies that are trying to help the community, that are fearful that they are going to lose their funding, so they went along," Jimenez said.