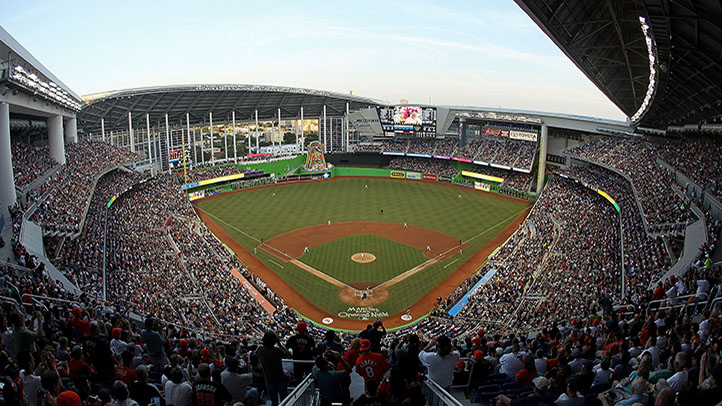 The Miami Marlins spent the past off-season trying to find a way to turn things around after 100 losses and a third straight last place finish. A lot of work was needed and it remains to be seen if the team made the right decisions.
Championship teams are often built on strong starting pitching and that just happens to be the strength of the Marlins going into the 2014 season. With a rotation led by reigning Rookie of the Year Jose Fernandez, the Marlins are poised to surprise those who doubt their talent. Fernandez can only do so much himself but there is a great amount of talent behind him as well. More importantly, there is tremendous talent in the minor leagues led by Andrew Heaney who could be mere months from his own big league debut. For the first time in a while, the Marlins are able to feel confident about their pitching even if an injury or two should occur at the big level.
Starting pitching can only do so much and it needs help from a solid bullpen and an offense that can tally rally runs consistently. The 2013 Marlins learned this the hard way and it's part of the reason that team lost 100 games. Day in and day out, the offense was unable to pick up the big hit with a runner in scoring position. When the offense would find that clutch moment, the bullpen would often falter and give back what looked like a victory. That simply cannot happen if a team is to contend and it shouldn't be as much of an issue in 2014. The Marlins have an improved bullpen on paper and invested money and effort into rebuilding a subpar offense.
One more factor that should be considered is the coaching staff and manager which far too often is given too much of the blame and not enough of the credit. The 2013 Marlins battled until the final day of the season despite being in the basement. Manager Mike Redmond did a terrific job in his first year at the helm in terms of keeping his team as competitive as possible. He made some questionable moves along the way and wasn't perfect but no manager is. Redmond should only improve his sophomore season. Along with the skipper, the Marlins made a change at hitting coach and third base coach for the upcoming season. Former big leaguers Frank Menechino and Brett Butler should bring a high level of expertise and experience to those roles. Menechino especially will be critical to the success of the team as he takes over a role that saw turmoil and inconsistency in 2013 after the much-maligned Tino Martinez experiment.
Some media outlets have penciled the Marlins in for a fourth straight last place finish while others have mentioned the word "playoffs" while discussing the Marlins. It's a testament to the fact that this team could go a number of ways. Coming off 100 losses, they are an easy team to write off especially in a world with so-called sophomore slumps. It's easy to say that the new players are cast-offs and won't make an impact. It's also easy to assume that the young pitchers will be inconsistent and falter along with an offense that could struggle to put runs up still. However, it is also possible that things fall in place in the opposite direction. It's hard to imagine that Fernandez suffers a normal sophomore slump and has an average year. It's also hard to believe that Giancarlo Stanton does not bounce back with a bigger year if he can stay healthy. Stanton has a better lineup around him than he did in 2013 and a better environment in the locker room as well.
This off-season, the Marlins signed several players highlighted mainly by Jarrod Saltalamacchia who is coming off a World Championship with the Boston Red Sox. The Marlins clearly made improving their catching position a priority which was wise after a terrible year in 2013 behind the plate. Saltalamacchia should be a big improvement at backstop even if he likely won't duplicate what he did in 2013. This is the biggest multi-year commitment the Marlins have made to a catcher since signing John Buck. That contract didn't work out so well for the team but Saltalamacchia does have more career success coming into this contract than Buck did when he signed his. Most importantly beyond his contributions statistically, Saltalamacchia brings with him a winning pedigree and the ability to be a mentor to a young talented team. He also brings with him the fact that the 2013 Red Sox in a lot of ways were similar to the 2014 Marlins. They were also a team coming off a terrible season and were not picked to win the World Series in 2013. Boston improved their roster prior to 2013 and Miami did as well. Boston's additions were arguably more impactful on paper but the game isn't played on paper and Saltalamacchia will likely remind his new teammates of that.
At first base the Marlins made a change by signing Garret Jones to replace Logan Morrison who was dealt to Seattle. Jones brings with him a powerful bat that could protect Stanton and help a team that had a major power outage in 2013. The one major flaw with Jones however is his talent against left-handed hurlers. When he is allowed to face only right-handers, Jones has career numbers that would place him in perennial All-Star games. As of now, Miami intends to use Jones on an everyday basis but that could change if his track record against lefties holds true. A platoon with fellow newcomer Jeff Baker may prove to be the best move for both players and the team. Baker is almost a mirror image of Jones as he has All-Star type numbers against southpaws. The combination could be deadly for Miami and could provide them with an everyday ability to pick up hits and bring home runs.
At second base the Marlins are going with a shortstop. Rafael Furcal who missed all of 2013 will be changing positions after serving as a shortstop for his entire big league career. This position change will allow for Furcal to make shorter throws and could keep him healthy longer. Unfortunately for the veteran and the team, that health aspect has already come into play. Furcal is beginning the year on the disabled list with a hamstring strain and could miss a couple weeks if rehab games are needed. Once he's back on the field, inconsistency in the field and at the plate can be expected due to the new position and year long layoff.
Shortstop will see incumbent Adeiny Hechavarria back at the position as he looks to improve on his subpar offensive statistics. Hechavarria slashed .227/.267/.298 and failed to make Marlins' fans forget about Hanley Ramirez and Jose Reyes. Defensively, Hechavarria also committed 15 errors and his WAA was -3.5 which was good for worst among all major leaguers. That statistic which stands for Wins Above Average measures the wins added by a player above that of an average player. Hechavarria from the naked eye appeared more valuable than his stats may show but he needs to improve those numbers regardless to become an asset in 2014.
Third base was a disaster for the Marlins in 2013, in a position primarily known for power; the team tallied three home runs and 44 runs batted in total per
Baseball-Reference.com
. Casey McGehee had a big year in 2013 but it was in Japan and it came after struggles in MLB. Whether he has revitalized his career is a question mark but it won't take much to improve on what the Marlins got from the position last season. McGehee is also mostly just keeping the position warm for top prospect Colin Moran who could be a year away from taking over.
In left field, Christian Yelich will be starting the year in the big leagues for the first time in his career after a successful rookie season. Yelich wound up slashing his way to .288/.370/.396 in 240 at-bats during
2013
. Yelich will be looked at as a major part of the lineup and his success or failure could end up being one of the biggest factors to the success of the team. Yelich will also need to provide solid defense in left field which shouldn't be a problem for the sure-handed 21-year old.
Center-field is a major question mark for the Marlins with Marcell Ozuna starting the year as the primary guy in the position. During spring training, Ozuna struggled mightily and at times seemed destined to lose his job to Jake Marisnick who had a tremendous Grapefruit League. Ozuna got off to a hot start in 2013 but then slumped before an eventual injury ended his season prematurely. In the spring, Ozuna struck out often and showed a lack of plate discipline overall. If he is going to factor into the offense in a positive way, Ozuna will need to improve his pitch selection in a meaningful way.
Stanton will roam right field for the Marlins once more in 2014 and not much needs to be said about the slugger. His ability to play in 150 or more games is the biggest question. With consistent at-bats, he could set his career highs across the board offensively and looked exceptional all spring long. In 2013, Stanton's biggest problem at the plate was his assumption that he would be pitched around. This led to Stanton watching very hittable pitches go right by him. With that in the back of his mind and a better lineup around him, Stanton should see hittable pitches again and this time around he will likely pounce on them.
The aforementioned starting rotation could be a lot of fun to watch all season long and it's possibly three or more of the arms eclipse double digit wins before all is said and done. Leading the pack of course is Fernandez who has stated that he wants to improve on his rookie season this time around. He has his eyes set on winning the N.L. Cy Young award which he finished third for in 2013. Fernandez could approach 20 wins if the offense supports him and the bullpen finishes his efforts. With that kind of win total and his likely high strikeout totals, it's not impossible that he knocks Clayton Kershaw off of his Cy Young throne.
Nathan Eovaldi will follow as the number two starter for Miami and could be a breakout name to watch in MLB this year. Eovaldi has a powerful fastball to go along with off-speed stuff that can be unhittable at times. The one major sticking point for Eovaldi is consistency though as it affects his ability to go deep into games. He did improve on that in August and September last year going at least seven innings in five of his last ten starts. Prior to that run, Eovaldi didn't go longer than six innings in any of his first eight games of 2013 per
Baseball-Reference.com
.
The third man in the rotation will be Henderson Alvarez who ended the 2013 season about as well as you could when he tossed the fifth no-hitter in Marlins history. It was an odd ending that saw Alvarez in the on-deck circle as the game ended. Overall it was a good season for the 23-year-old that began the year late due to injury. Bigger and better things could now be ahead for Alvarez if he can stay on the field for 30 plus starts. Alvarez isn't known for his strikeout prowess like his teammate and friend, Fernandez but he finds ways to get outs and keep runs off the board.
Going every fourth day will be Jacob Turner who could be the biggest question mark in the rotation. Turner is a former top prospect who has yet to live up to the hype but he is also still only 22-years-old and he hasn't been horrible in his time as a Marlin. He just hasn't been much more than a back of a rotation type arm, which is not what Miami thought they would acquire. Much like Alvarez, Turner is not known for strikeouts and that has cost him at times. Turner also ended the 2013 season on a down note allowing five runs twice in his three starts. Finally, Turner does not work deep into games only going seven or more innings five times in his 20 starts during 2013. These are all areas that Turner is going to need to need to improve on or he may be a candidate to be replaced in the rotation at some point in 2014.
The fifth starter to begin the year is Tom Koehler who won the job with a terrific spring which followed a somewhat successful 2013 season. Koehler wound up making 23 starts for the Marlins last season and finished on a high note with a 3.14 E.R.A in
September and October
.. On occasion, Koehler is able to pile up strikeouts thanks in part to an electric fastball but he too has struggled with consistency at times. The hope is that his experience from 2013 will lead to a pitcher who is more settled in at the big league level. The main thing for Koehler is to avoid a big inning as too often he would cruise for the first few frames and then see things unravel in one inning. That's something he has shown improvement in this spring and it could carry over into the regular season.
The bullpen will be anchored by closer Steve Cishek once again who begins the year with a streak of 29 consecutive saves. Setting up for Cishek will be a cast of characters that include Carlos Marmol. The former closer for the Cubs is known for being fiery on the mound and has lost control on many days. If he is unable to harness his command, it will be increasingly likely that Marmol is used in less late-game situations as the Marlins simply cannot afford to have wins taken away from their young starters. Also in the bullpen to begin the year are incumbents Mike Dunn, Daniel Jennings, and A.J. Ramos. Two more arms will start the year in the pen and they are both starters. Brad Hand and Kevin Slowey will work in middle and long relief after having great springs. The duo battled Koehler for the fifth rotation spot but ultimately lost out.
Some other names to keep in mind during 2014 besides the aforementioned Heaney and Marisnick are Derek Dietrich and Arquimedes Caminero. All four could see time in the big leagues at some point with Dietrich already locked into the Opening Night roster. Dietrich's initial run may be short-lived when Furcal returns but he is likely to come back later in the season. Marisnick's arrival time could depend on Ozuna's success while Caminero should be a back-end of the bullpen option as soon as an arm is needed. Heaney's arrival time is up in the air due to not only a lack of need in the rotation but his service time situation. If he succeeds in the minor leagues though, odds are the Marlins will make room for him by mid-season.
The Marlins will begin their 2014 campaign on Monday at Marlins Park with against the Colorado Rockies with Fernandez on the mound. The game will be televised locally as well as nationally on ESPN and will begin at 7:05 p.m.