Defenders of abused animals are coming together in hopes police will get some tips to capture the person who shot an arrow from a crossbow through a cat on Miami Beach.
Animal lover Gillian Mirabelle started a Facebook page in effort to get justice for the cat named Strushie. Now, more than $23,000 is available for information that helps investigators make an arrest.
The feline was found in an alley under a dumpster behind the Franklin Hotel on Wednesday.
"He was a local stray, fed by the previous owner of the Franklin and locals on Miami Beach," said Mirabelle.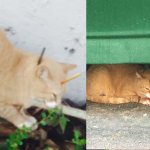 Strushie was taken to the vet, but had to be euthanized because of the injuries were so severe. The fear now is will this person strike again?
"A person who will do this to a defenseless cat would no doubt to another human. We should all be concerned as residents that this person is out there," said Mirabelle.