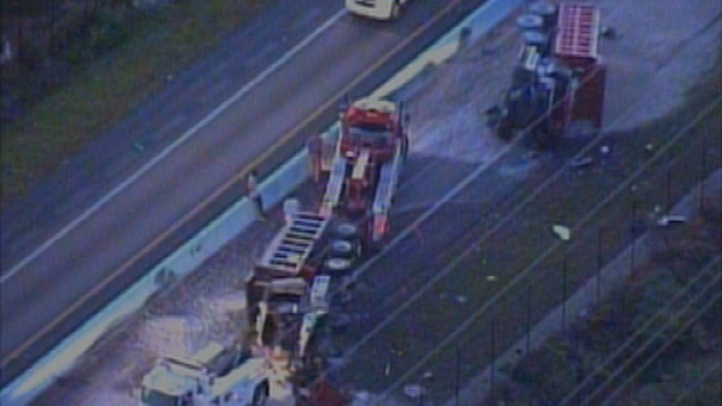 Three drivers were hospitalized and a stretch of U.S. 1 was closed after two dump trucks and a tractor trailer were involved in a nasty crash near the Miami-Dade-Monroe County border Monday morning, authorities said.

The incident happened around 4 a.m. near mile marker 120 when the driver of one of the dump trucks applied his brakes when he spotted a pedestrian walking in the shoulder, according to the Florida Highway Patrol.
SWAT Team Called In After Man Refuses to Leave Fort Lauderdale Home

The dump truck, which was loaded with gravel and traveling southbound, overturned before it was struck by the second dump truck which was also loaded with gravel and also overturned, authorities said.

The driver of the tractor trailer was also unable to stop and struck the second dump truck, according to the FHP.
Headless Goat, Roosters Found Floating in South Beach

All three truck drivers were taken to Homestead Hospital, where their conditions were unknown. The pedestrian wasn't injured.

The clean up was expected to take several hours and traffic was being diverted, officials said.