Miami Police are investigating after burglars stole three French Bulldogs, nine firearms and about $20,000 in clothing from a Liberty city home.
The break-in happened around 3 a.m. on Monday at a home in the 4100 block of Northwest 10th Avenue.
The homeowner was away from the home when he received a notification from his front door camera and saw three masked suspects.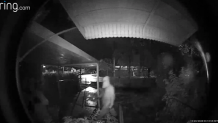 The homeowner rushed home and found his house ransacked and his three French Bulldogs worth about $60,000 gone. A fourth dog was left in the house and appeared to be injured.
Along with the dogs, the suspects stole nine firearms worth about $7,500, 20 flash bangs, or stun grenades, and miscellaneous designer clothing worth about $20,000, police said.
"They have to have talk to somebody. Somebody has to know about these dogs because they are very distinguished dogs. They are different from just a regular French bulldog," Miami Police spokesperson Michael Vega said.
Police are asking anyone with information to call 305-603-6030.