Fort Lauderdale Police arrested three adults for pickpocketing at the Tortuga Musical Festival on Saturday night, recovering 23 cell phones from them.
The arrestees include Piter Nieto Valenzuela, 28, Yesica Castellano, 28 and Wilson Andres Garson Ruzzi, 23.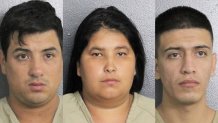 Police said the trio had nearly two dozen phones in a backpack when they were arrested.
The stolen phones were inside faraday bags, which block cell signals and make it difficult to track devices, police said.
"These suspects went to the festival with the intent of doing this of pickpocketing, that's evidenced by the faraday bags. It was thought about beforehand," said Det. Ali Adamson with Fort Lauderdale Police.
While at the festival, it wasn't difficult for NBC 6 to find people who had their phone stoles, but most said it would not ruin their weekend.
"It's horrible," attendee Keyonna Hill said. "People are out here trying to have a good time. Why are you trying to ruin it for other people?"
Hill watched as a man tried to steal her mom's cell phone just outside the entrance of the festival Sunday night.
"A guy was asking her about her wrist band and next thing you know he's trying to sneak in her pocket," Hill said. "Because we're on this side and I see him and he (my brother) goes there and grabs the phone and the dude just walks off."
LJ Pratt wasn't as lucky. His phone was stolen at the festival Saturday afternoon.
"It sucks, but we'll find them," Pratt said. "They'll get theirs."
Last month at the Ultra Music Festival, a man found more than 12 iPhones in a bag near a Miami motel after his wife's cell phone was stolen. Another man said that police told him 104 phones were stolen on the first day of the electronic music festival.
FLPD, along with festival security, have a zero-tolerance policy for victimizing festival attendees.
If you're attending an event with a large crowd, police recommend you keep your phone in a secure and safe place and always password protect your devices.
If anyone believes that may have been a victim of a phone theft at the event last night, they can contact 954-764-HELP (4357) and reference case number 22-063714.