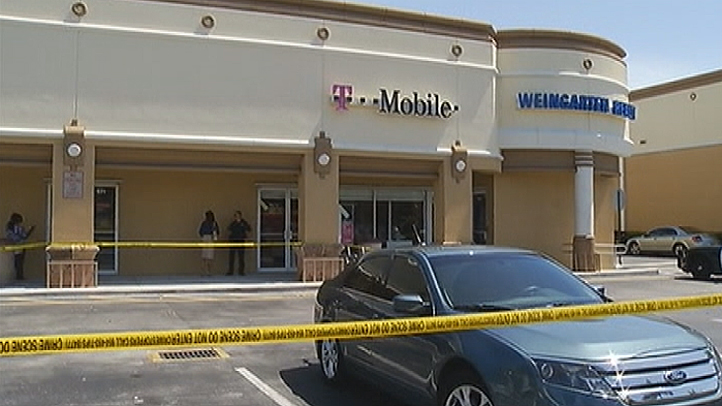 Four suspects have been arrested in connection with this week's robbery of a T-Mobile store in Oakland Park, the Broward Sheriff's Office said.

Georges Richardson, 21, of Pompano Beach and three juvenile males – ages 17, 17 and 16 – are charged with armed robbery with a firearm, the BSO said in a statement Tuesday. Richardson also faces two counts of violation of probation, the agency said.

Two of the suspects, armed and wearing ski masks, hoodies and gloves, went into the T-Mobile store at 881 E. Commercial Blvd. at about 9:45 a.m. Monday, the BSO said. They entered the store with their weapons drawn, and ordered the employees to a back room, according to the BSO.
Man Fatally Shot in Robbery: Miami Police
While the employees were forced to lie on the floor, the suspects took 36 new cell phones worth about $21,000, the BSO said.

Authorities initially said that 100 phones were stolen.

Two accomplices acted as lookouts from a nearby Dunkin' Donuts, and after the robbery the two gunmen fled in a BMW while the lookouts used a Chevy Impala, according to the BSO.

The BMW was recovered at 3321 NE 1st Ave. in Pompano Beach with the masks and hoodies from the crime still inside the vehicle, and the suspects were arrested at 248 NE 40th Court, where authorities recovered a gun and the stolen phones, the BSO said.

It wasn't known whether the suspects have attorneys.
More Local Stories: