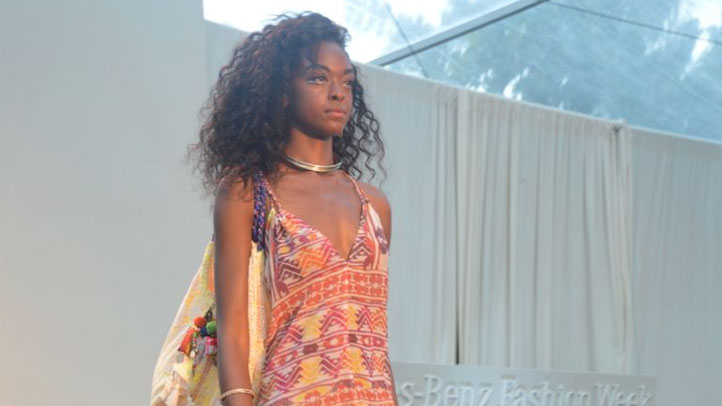 6 Shore Road has what every Miami girl wants: The ability to easily transition from beach to night.
On Monday night at 7 p.m. at the Oasis at The Raleigh, the line from Pooja Kharbanda made its swim week debut and left many of the Miami's front row fashionistas craving more than a few looks on the catwalk.
Among them, high-waisted tapered pants with a bejeweled waistline, flowing white maxi dresses with ethnic embroidered detail, high/low dresses in tribal prints and colorful rompers.
Standouts included a white bustier dress with cutout detail and sheer jumpsuits in red and black that could easily go from beach to bar with a quick change of shoes and accessories. And speaking of accessories, the ethnic embroidered bags that accompanied many of the looks were absolute perfection. Obviously meant for the beach, it's easy envisioning them in a life well beyond the sand.
As for suits, 6 Shore Road kept with many of the trends of the week: smatterings of red, banded bottoms, high-waisted suits and off-the-beaten path shapes (think one pieces with criss-cross fronts).
Says Kharbanda (donning the craveable bejeweled pants mentioned above) of her first show: "It was amazing, the energy is just through the roof. I meditated this morning, I went for a run. I did everything to be calm, and I was calm until we got to the line up and then I was like oh my god, it's happening."
As for why Miami meshes with her brand, "I take a lot of influence from where I grew up in India. I take a lot of influence from the decor of the brand, which is beach bazaar. You have all of these elements from different cultures. In Miami there's a lot of Spanish influence. I think blending those cultures is the connection."