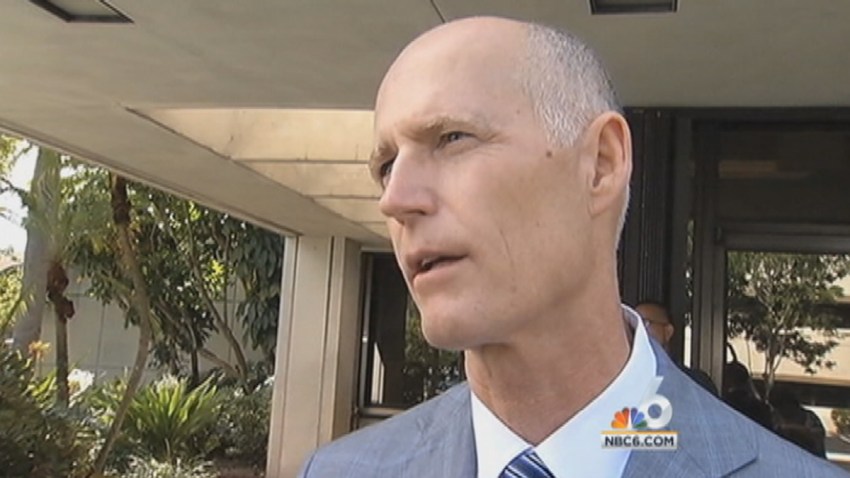 GOV. SCOTT TO PROPOSE CUTTING VEHICLE REGISTRATION FEES
Gov. Rick Scott is expected today to ask state legislators to cut auto registration fees by $401 million next year. The governor's office estimates the cut would result in a $25 decrease in the registration of a typical automobile.
FESTIVUS POLE MADE OF BEER CANS ON DISPLAY IN FLORIDA CAPITOL
Chaz Stevens of Deerfield Beach put up his 6-foot-tall pole Wednesday across the rotunda from a Nativity scene. Stevens says he opposes religious displays in government buildings and if the depiction of Jesus' birth is allowed, so should his Festivus pole. Festivus is a non-secular holiday created in a 1997 episode of "Seinfeld."
MORE FLORIDIANS ARE SIGNING UP FOR THE NEW FEDERAL HEALTH INSURANCE PROGRAM THAN RESIDENTS IN ANY OTHER STATE
According to figures released Wednesday, nearly 14,500 Floridians signed up under the Affordable Care Act in November. That compares to about 11,000 in Texas. Florida's November enrollment figures are considerably higher than the 3,500 in October when sign-ups were dwarfed by technical glitches with healthcare.gov. But it's still far less than what officials originally had projected.
FORMER FLORIDA ATLANTIC UNIVERSITY EMPLOYEE ACCUSED OF MAKING VIDEOS IN CAMPUS MEN'S ROOMS, POSTING THEM ON PORN SITES
A former library employee at Florida Atlantic University has been accused of secretly making videos at a campus men's room and posting some on Internet porn sites. Campus police said 40-year-old Seth Thompson is facing charges of video voyeurism and illegally disseminating such material.
ICONIC HALLANDALE WATER TOWER DEMOLISHED

The 140-foot, 200-thousand gallon water tower at Bluesten Park has been in service since 1951 but on Thursday it was demolished. The water tower was shut down shortly before Thanksgiving and is being replaced with high capacity water pipes.
US COAST GUARD WARNS HAITIANS AGAINST SEA VOYAGES

The U.S. Coast Guard is urging Haitians not to attempt risky sea voyages to escape their Caribbean homeland. Since Oct. 1, the Coast Guard has picked up 420 Haitians at sea. Officials say that in the past year, there's also been a significant increase in the number of Haitians crossing the 80 miles of water that separate the Dominican Republic and Puerto Rico.
Copyright AP - Associated Press