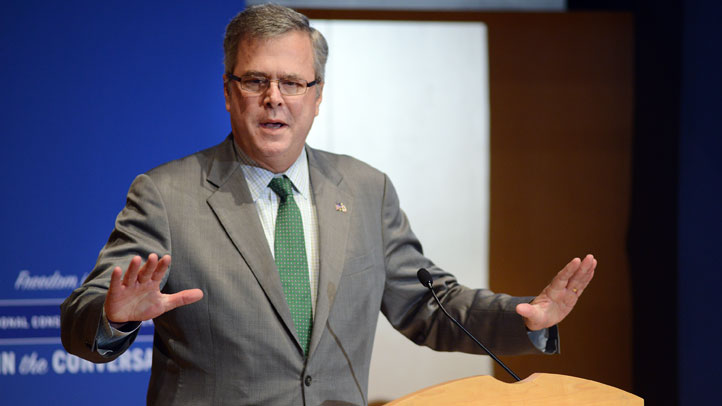 DEMOCRATS CALL FOR VOTER FRAUD INQUIRY

Top Florida Democratic legislators want an inquiry into how thorough state law-enforcement investigated voter fraud allegations against a company once aligned with Republicans. Last year, the Florida Department of Law Enforcement launched investigations into fraudulent voter registration forms allegedly turned in by employees of a company hired by the Republican Party of Florida.

HEALTH CARE COMPANY NAMES BUSH TO ADVISORY BOARD

Former Florida Gov. Jeb Bush is joining the advisory board of a privately-held health care staffing company. Atlanta-based Jackson Healthcare announced Tuesday that Bush had been appointed immediately to the advisory board of the company which reported $500 million in revenues in 2012 and served approximately 5 million patients nationwide.

MOM CHARGED WITH LEAVING KIDS IN PARKING LOT

A South Florida woman is facing counts of child neglect after authorities say she left two young children alone in a parking lot while she attended a Lil Wayne concert. Brittany Nicole Harris initially told deputies her cousin had brought the kids but later acknowledged that she left the children in the car.

MINISTER, GRANDSON FATALLY SHOT IN SOUTH FLORIDA HOME

A minister and her adult grandson have been found fatally shot inside a South Florida home. Miami Gardens police responded to the home Tuesday afternoon after a neighbor noticed 70-year-old Annette Anderson had not been seen outside since Saturday. Detectives didn't immediately report a possible motive for the killing.

SEA TURTLES TO BE RELEASED

After completing a successful rehabilitation at Miami Seaquarium, seven endangered sea turtles are ready for release back into the wild. A group of Miami Seaquarium summer campers will bid them farewell Wednesday.

SOUTH FLORIDA OFFICIALS TO LIVE ON MINIMUM WAGE FOR A WEEK

For five days, Broward County Commissioner Martin Kiar and State Senator Dwight Bullard will know what its like to rely on coupons and sales, only shopping for the necessities that a minimum wage budget will allow.
More Local Stories:
Copyright AP - Associated Press