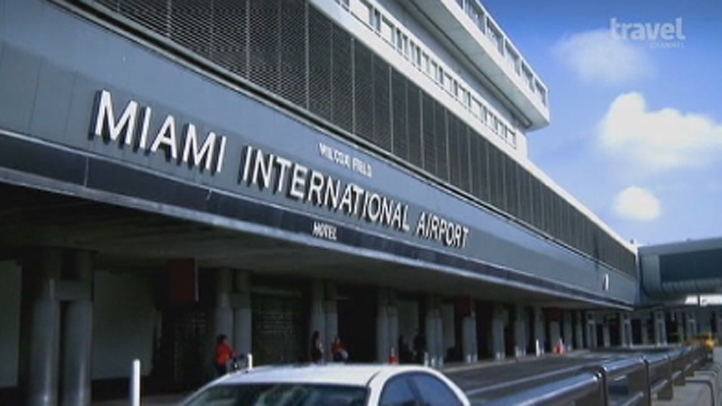 MIA EXPECTS 550,000 PASSENGERS FOR JULY 4TH

Miami International Airport is expecting more than half a million passengers for the July 4th holiday weekend. MIA officials said more than 550,000 travelers will go through the airport between Wednesday and Sunday. Last year's holiday weekend saw about 557,000 passengers.

SOUTH FLORIDA FEDERAL PROSECUTOR SPOKESWOMAN NAMED US JUDGE

The Cuban-American spokeswoman for the Miami U.S. attorney's office has been named a federal magistrate judge and will work at the Fort Lauderdale courthouse. Chief U.S. District Judge Federico Moreno announced Tuesday the appointment of 52-year-old Alicia Valle. She replaces retiring magistrate Ted Bandstra and begins her duties on Aug. 12.

NEW EVIDENCE LEADS TO SUSPECT IN DEPUTY'S DEATH

Nearly six years after a South Florida deputy was gunned down in a drugstore parking lot, authorities said Tuesday they have compelling evidence about a possible suspect. Broward Sheriff's officials said Shawn Labeet may have been involved in the murder of Sgt. Christopher Reyka, who was shot to death in 2007, as he stepped from his cruiser to investigate a suspicious car outside a Pompano Beach Walgreens.

MAN GETS LIFE SENTENCE FOR LAKELAND BOY'S DEATH

A Tampa Bay area man was sentenced Monday to life in prison for beating his girlfriend's 4-year-old son to death in central Florida. As part of a deal with Polk County prosecutors, 22-year-old Marton Pal pleaded guilty to aggravated child abuse and first-degree murder. Without the plea deal, he faced a potential death sentence.

2 SERIOUSLY INJURED IN PARASAILING CRASH

Two Indiana teenagers remained in critical condition at a Florida Panhandle hospital on Tuesday after a parasailing accident off Panama City Beach. The 17-year-olds were parasailing near the beach on Monday when a line attached to the boat broke and they crashed in to a building, power line and parked car. Sidney Renea Good and Alexis Fairchild remained hospitalized in critical condition Tuesday.

RESENTENCING IN FATAL TANKER TRUCK FIRE

The driver of a gas tanker that exploded in a fiery 2005 Turnpike crash, claiming four lives, is due back in court for resentencing. Flavio Santisteban was originally sentenced to 36 years in prison after being convicted of vehicular manslaughter but the sentence was overturned because of comments from the judge.
Copyright AP - Associated Press