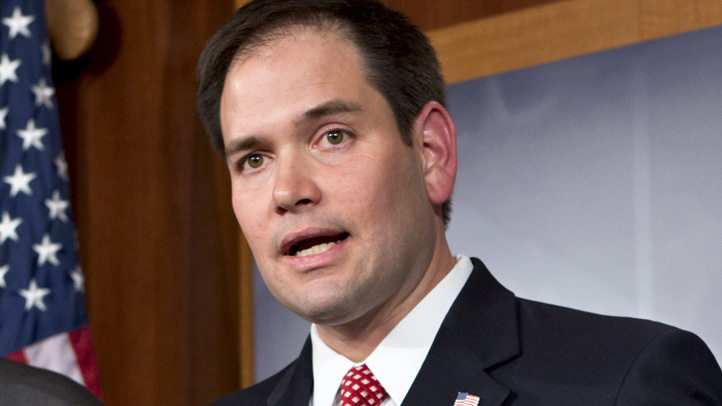 VOTERS DISAPPROVE OF RUBIO'S WORK ON IMMIGRATION

A new statewide poll shows Florida voters give Sen. Marco Rubio negative marks for his handling of immigration issues in Washington but still hold favorable views of the rising Republican star. A Quinnipiac University poll released Wednesday shows 41 percent disapprove of Rubio's work on an immigration overhaul in the Senate.

NO CHARGES IN WAVERUNNER THEFT SHOOTING

Prosecutors in Miami-Dade County have decided not to file charges in the fatal 2011 shooting of a deaf-mute man who tried to steal a WaveRunner from a waterfront home. Prosecutors decided Tuesday that a boy who was 14 at the time should not be charged for shooting 20-year-old Reynaldo Munoz with a shotgun outside the home.

LAW ENFORCEMENT INVESTIGATES COLD CASE LEAD

The FBI and local authorities in Florida are chasing a lead in the 20-year-old unsolved murder of a 12-year-old girl. The officers converged on a lake in Pasco County on Tuesday.

FUGITIVE WANTED ON CHILD PORN CHARGE CAUGHT IN FLORIDA

A fugitive featured on the TV show "America's Most Wanted" has been caught after authorities say he failed to move over for an officer conducting a traffic stop. The Florida Highway Patrol reports that a deputy pulled someone over in Brevard County last week, but Brett Bowyer didn't move into another lane. Florida law requires drivers to move out of the lane closest to an emergency vehicle or wrecked car.

2 CURRENT PSC MEMBERS ASKING FOR NEW TERMS

Two current members of the Florida Public Service Commission are trying to keep their jobs on the utility-regulation panel. PSC Chairman Ronald Brise and Commissioner Art Graham are among 24 people who applied for upcoming vacancies on the five-member commission. Brise and Graham's current terms end in January 2014.

MIAMI HEAT GAME 7 TICKETS GO ON SALE

The Miami Heat will begin selling individual tickets to Game 7 of the NBA Finals at 2 p.m. Wednesday. The Heat forced a Game 7 with Tuesday night's amazing 103-100 win over the San Antonio Spurs in overtime.
Copyright AP - Associated Press