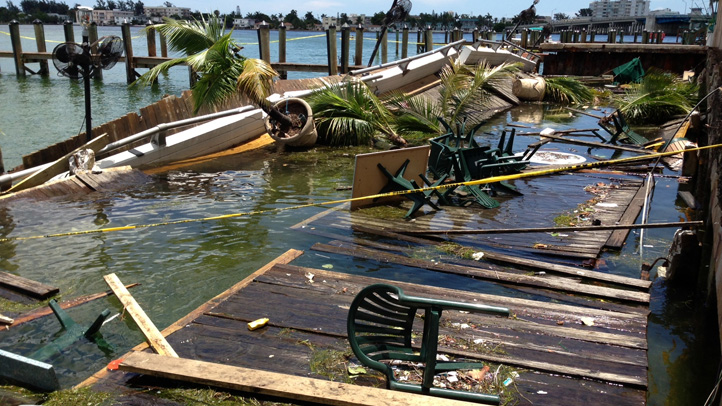 COUPLE IN DECK COLLAPSE SUES SOUTH FLORIDA RESTAURANT
A couple has filed a lawsuit against a South Florida restaurant where a deck collapsed into Biscayne Bay last week during the fourth game of the NBA finals. Officials say about 100 people _ many watching the Miami Heat play the San Antonio Spurs _ were on the wooden deck of Shuckers Bar & Grill last Thursday night when it suddenly gave way. Two dozen people sustained injuries, two of which were serious.
TEEN WHO KILLED OFFICER TO BE RE-SENTENCED
A St. Petersburg teen who was convicted of killing a police officer will have the chance to argue that he shouldn't spend life in prison. A re-sentencing hearing will be held for Nicholas Lindsey in July. After his sentencing last year, the U.S. Supreme Court ruled that mandatory life-without-parole sentences for juveniles are unconstitutional.
HAITI PRIME MINISTER FILES NEW COMPLAINT IN DEFAMATION CASE
Following a judge's order, Haiti's prime minister has filed a more detailed complaint in his defamation case against a Haitian-American journalist. Prime Minister Laurent Lamothe and South Florida businessman Patrice Baker say Leo Joseph knew his reporting about the Haitian government's acquisition of a telecommunications company included false and defamatory statements.

FBI SEEKING LAWYER ON FRAUD CHARGES
The FBI is looking for a suspended South Florida lawyer suspected of disappearing with more than $3 million from his law firm's client accounts. Federal agents filed a criminal complaint Wednesday against 55-year-old Timothy McCabe of Boca Raton.

'DOLPHIN TALE' SEQUEL TO HIT THEATERS FALL 2014
Winter the dolphin is returning to the big screen. Warner Bros. confirmed Wednesday that ``Dolphin Tale 2'' is scheduled to hit theaters on Sept. 19, 2014. Winter drew international attention several years ago when she was fitted with a prosthetic tail at Clearwater Marine Aquarium.
SENIOR COUPLES RENEW VOWS
Thirty senior couples who have been married more than 45 years will renew their wedding vows at a retirement community in Pompano Beach. The ceremony will take place at John Knox Village.
More Local Stories:
Copyright AP - Associated Press