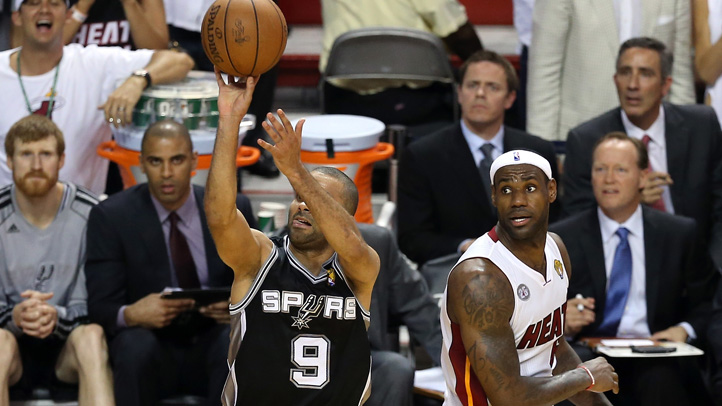 TROPICAL STORM ANDREA MARCHES ACROSS FLORIDA COAST

The first named storm of the Atlantic season made landfall Thursday in Florida's Big Bend area, bringing heavy rain and wind as it edges toward the coast of Georgia and the Carolinas. Andrea spawned several tornadoes as it made its way through Florida, with minor damage.

HEAT LOSE GAME 1

The Miami Heat spent much of the night in control of Game 1 of the NBA Finals. But the San Antonio Spurs came out on top, 92-88 on Thursday night in Miami.

FLORIDA COUNTY THAT ALLOWED 10 COMMANDMENTS MONUMENT WILL ALLOW ATHEIST MONUMENT

The courtyard outside the Bradford County Courthouse in north Florida will soon become home to a monument to atheism. The county reached a deal to let a national organization install a 1,500-pound granite bench near an existing Ten Commandments monument that prompted a lawsuit after it was installed last year

FLORIDA MAN RECOVERING AFTER BEING SHOT BY OFFICER DURING FOOT CHASE

A man is recovering from injuries after authorities say he tried to shoot an officer during a foot chase and the officer shot him.

MIAMI, SAN ANTONIO FIRE OFFICIALS WAGER ON HEAT, SPURS GAME

Miami and San Antonio fire rescue officials are making a friendly wager on the outcome of the NBA finals. The losers will wear the winners fire uniforms and snap a picture in front of their fire truck.

DOLPHINS LANDSCAPE HOME

Miami Dolphins players and members of the Miami Dolphins Women's Organization will help renovate the house of Ruby Grant, who recently celebrated her 101st birthday. The group will paint and landscape her Miami home.
Copyright AP - Associated Press