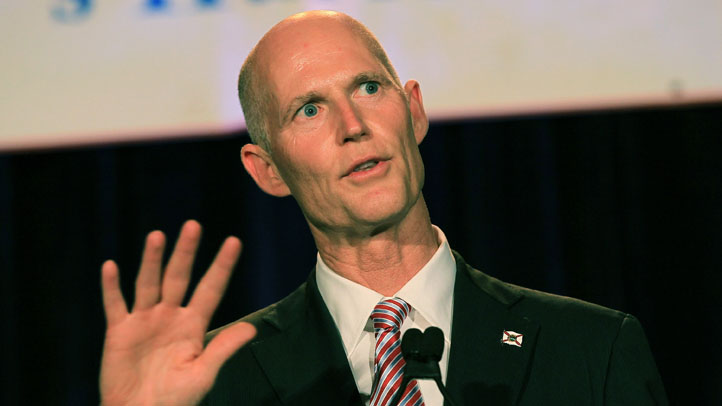 ETHICS PANEL TO REVIEW FLORIDA GOVERNOR'S FINANCES

A Florida ethics panel is going to review the way Gov. Rick Scott is handling his finances. Scott has asked the state's ethics commission if a blind trust he set up to handle his assets meets a new state ethics law. The multi-millionaire former businessman first set up his trust back in 2011 right after he came into office. He set aside nearly $74 million of assets into the account that is controlled by a New York firm.

HEARING HELD FOR DISABLED KIDS IN NURSING HOME

Attorneys will ask a federal judge to grant class-action status to a lawsuit alleging the state is unnecessarily institutionalizing about 200 disabled children in nursing homes and cutting services that would allow them to receive care at home. A hearing is scheduled for Friday.

IN WAKE OF DROWNING, SAFETY MEASURES DISCUSSED

A toddler's drowning in the Hillsborough River is leading Tampa City Council members to explore the idea of installing fences at Tampa parks with lakes, beaches or access to the river as a safety measure. Of the city's 151 parks, 69 have some sort of water feature, which altogether add up to 38.5 miles of shoreline.

BAIL HEARING IN FLORIDA FOR BOLIVIAN POLICE OFFICIAL

A Bolivian National Police official accused of trying to shake down a Bolivian businessman living in Miami is due in federal court for a bail hearing. The attorney for 42-year-old Mario Fabricio Ormachea Aliaga is seeking his release on bail at Friday's hearing. Federal prosecutors want him locked up until trial, which has not yet been scheduled.

GIRL BITTEN BY SMALL SHARK AT NEW SMYRNA BEACH

A teenage girl was bitten by a shark while swimming off New Smyrna Beach. Volusia County Beach Safety reports that the 13-year-old girl was in about 3 feet of water Thursday afternoon when the shark bit her. Officials say the people the girl was with drove her to a nearby hospital. They believed the shark was about 3 feet long.

DENTIST MENDS ENDANGERED GREEN SEA TURTLE'S SHELL

When the Turtle Hospital in Marathon, Fla., needed help fixing an endangered green sea turtle's fractured shell, dentist Fred Troxel turned out to be the man for the job. Elena, a 40-pound adolescent turtle, had a 10-inch split on her shell, and staffers were having trouble getting things to stick to the shell. So on Wednesday, Troxel used a denture repair adhesive to bond two metal orthopedic plates across the split, the Florida Keys News Bureau reported.

Copyright AP - Associated Press