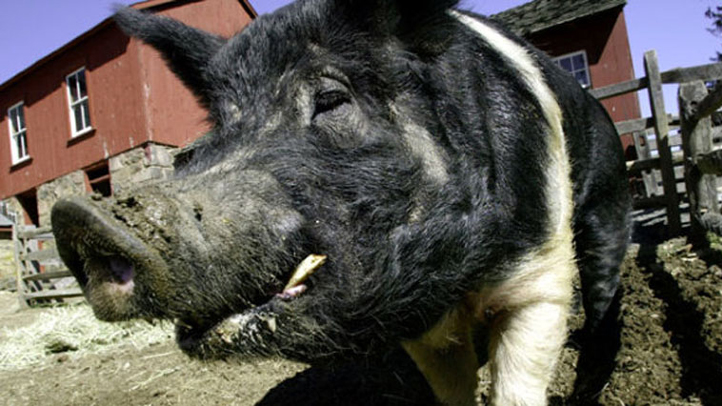 WILD HOGS MIGHT BE HUNTED ON MERRITT ISLAND REFUGE

Federal wildlife officials might allow the taking of an unlimited number of feral hogs during a deer hunt in the Merritt Island National Wildlife Refuge. The U.S. Fish and Wildlife Service has proposed allowing a deer hunt on 6,000 acres in the central Florida refuge.

FIU OFFERS PEEK INTO KEYS UNDERSEA RESEARCH LAB

Florida International University is offering a peek into an undersea research lab in the Florida Keys. The school took over operations at Aquarius Reef Base in January. The lab sits about 60 feet below the ocean's surface, a few miles off Key Largo. The federal government owns the lab but cut its budget last year. That left the lab at risk for closure until FIU assumed its operations.

AFRICAN MAN IN FLORIDA COURT ON IRAN-URANIUM PLOT

A west African man is due in a South Florida federal courtroom for a bail hearing on charges he plotted to ship uranium ore on Iran. A criminal complaint charges 33-year-old Patrick Campbell of Freetown, Sierra Leone, with attempting to violate the U.S. embargo against Iran. A bail hearing was set Wednesday in Fort Lauderdale. He hasn't entered a plea.

HUMAN REMAINS FOUND IN PLASTIC CONTAINER

A Tampa man found a container full of human bones while searching for scrap metal in Lakeland. The Polk County Sheriff's Office reports that the bones were found Tuesday. John Sargent was walking in some woods when he found the box. It was a blue plastic container and it contained a human skull and bones. Other bones were scattered near the container.

FIRM WITH JORDACHE TIE TOP BIDDER FOR VERSACE HOME

The new owners of the South Beach mansion where Gianni Versace lived and died said Tuesday that they hope to use the Italian fashion designer's name and legacy in rebranding the property as a hotel. VM South Beach LLC bid $41.5 million for the oceanfront property on Miami Beach's touristy Ocean Drive. The company's principals include the Nakash family of New York, which controls Jordache Enterprises.

MIAMI-DADE STREET TO BE RENAMED FOR BELLA RODRIGUEZ-TORRES

A 10-year-old South Florida girl who lost her brave fight against cancer earlier this year is being honored with a street naming in Miami-Dade. Miami-Dade County Commissioners passed a resolution Tuesday to rename Southwest 107th Avenue from 120th Street to 136th Street "Live Like Bella Way" in honor of Bella Rodriguez-Torres.
Copyright AP - Associated Press