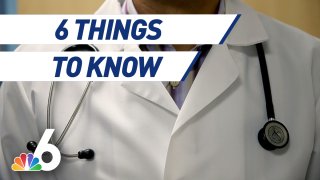 It's Friday, March 27th - and NBC 6 has the top stories you need to know for the day.
No. 1 - Residents in Broward and Miami-Dade counties are dealing with staying home for the most part after officials issued orders Thursday urging them to stay at home, with the exception of engaging in essential activities, amid the coronavirus pandemic.
In Broward County, officials implemented a so-called "Shelter in Place: Safer at Home" policy. County residents are "strongly urged to remain home other than to engage in essential activities" or patronize what's considered essential to the county. The order took effect at 12:01 a.m. on Friday. In Miami-Dade County, Mayor Carlos Gimenez issued a similar order and called it a "Safer at Home" policy.
No. 2 - Hundreds of new coronavirus cases were confirmed in Florida Thursday, bringing the state's total to just under 2,500, as six more deaths related to the virus were reported. 
Among the cases of COVID-19 that were confirmed in the state are 2,359 Florida residents and 125 non-Florida residents, according to the Florida Department of Health. It was 507 more than Wednesday's figure. Miami-Dade had a total of 654 cases Thursday, while Broward had 505. Palm Beach had 174 cases and Monroe had 14.
No. 3 - Democratic and Republican leaders scrambled to get members of Congress back to Washington by Friday because they suddenly believed the $2 trillion economic relief package might not pass by the voice vote planned for Friday and could be delayed if at least 216 members don't show up to vote on the floor.
Leaders in both parties had hoped to pass the measure with a sparsely attended voice vote — remarkable for a bill of such magnitude — so scattered lawmakers don't have to risk coronavirus exposure by traveling back to Washington. But members who were able and willing to return did so amid fears that iconoclastic Rep. Thomas Massie, R-Ky., an opponent of the bill, may seek to force a roll call vote on Friday.
No. 4 - Monroe County has set up law enforcement traffic stops starting Friday for an 18 mile stretch of U.S. 1 as well as part of State Road 905, located between Ocean Reef and Key Largo, in an effort to enforce the county's closure to those who are not residents amid the pandemic.
Amid growing concern over the coronavirus, Monroe County last week announced it was only allowing those who live, own property or actively work in the Florida Keys to be admitted until further notice.
No. 5 - Doctors across South Florida are preparing for what could be a difficult span of weeks and months in fighting the coronavirus, all while dealing with separation from their own friends and family.
NBC 6's Dan Grossman spoke with one of the many health care doctors across the area dealing with the scary situation. Click here to hear his story.
No. 6 - Weatherwise, South Florida could be flirting with record-setting heat throughout the weekend before slightly cooler temps come back around next week. Keep your NBC 6 app handy for push alerts on any severe weather as well as First Alert Doppler 6000.