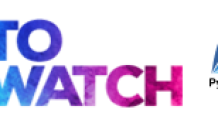 From Shaun White's quest to top the podium for a third time to figure skating's favorite married pair, there was no shortage of must-see action on Day 4 of the 2018 Pyeongchang Olympics.
Without further ado, here's our six to Watch recap of Day 4 (covering the action late Tuesday night through early Wednesday on the East Coast):
Back on Top: Shaun White Wins Halfpipe Gold
Team USA's Shaun White held off a strong field Wednesday and soared to victory in the men's halfpipe competition in Pyeongchang. White's gold medal marks the 100th for Team USA in its history of competing at the Winter Olympics.
Japan's Ayumu Hirano took the silver, while Australia's Scotty James earned the bronze.
White earned gold in Turin in 2006 and Vancouver in 2010, but didn't even crack the top three in Sochi. That outcome haunted him at times before he hit reset last summer and pointed to South Korea.
In qualifying, White exhaled after putting up a 93.75 on his first run, ensuring a spot in the finals. He later topped his own score with a 98.5.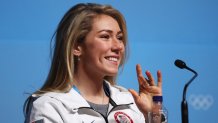 Mikaela Shiffrin's Olympic Debut Postponed — for a 2nd Time
Mikaela Shiffrin will have to wait a little longer to make her Pyeongchang debut.
She must wait to ski in her signature event, the slalom, after it was postponed Wednesday morning due to high winds. She was the youngest-ever Olympic slalom champion at the Sochi Games at age 18, and she's the first woman to win three consecutive slalom world titles in 78 years. Shiffrin hopes to become the first person to win the slalom gold medal twice in a row. She was initially set to make her Pyeongchang debut in the giant slalom race earlier in the week, but it was postponed due to dangerous winds.
The race has been moved to Friday, after the giant slalom race rescheduled for Thursday morning (Wednesday night in the U.S.).
Lindsey Vonn, another standout American skier, will not compete in the slalom.
The Knierims Advance to Pairs Figure Skating Final
Team USA's lone entry in pairs' figure skating, Alexa Scimeca Knierim and Chris Knierim, finished the short program portion of the competition in 14th place Wednesday morning at Gangneung Ice Arena. The score qualified them for the next stage, free skate, set for Thursday morning.
Skating to "Come What May" from "Moulin Rouge!" the Knierims scored a 65.55 — 34.18 for their technical score and 31.37 for performance. They were the 13th of 22 pairs to skate, with the top 16 advancing to the final.
It has been a busy first week in Pyeongchang for the husband and wife team. As the only U.S. pair, the Knierims skated both the short program and free skate in the figure skating team event, in which Team USA took bronze.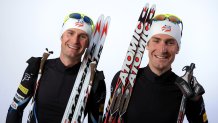 Germany's Frenzel Erases Deficit to Repeat as Olympic Gold Medalist
Germany's Eric Frenzel's dramatic comeback gave him his second-straight gold in the Nordic combined individual normal hill/10 km competition. It wasn't even close, as Frenzel finished in 24 minutes, 51.4 seconds. A replay of Sochi, Japan's Akito Watabe (24:56.2) again finished second to Frenzel.
Austria's Josef-Franz Rehrl, a huge underdog, made waves as he took the top spot in the ski jumping portion of the race. But it was a different Austrian who stood on the podium, as Lukas Klapfer took the bronze, finishing at 25:09.05.
Four U.S. athletes competed in the event: Bryan Fletcher and Taylor Fletcher, Ben Loomis and Jasper Good. Bryan led the U.S., placing 17th at 27:03.6. Taylor finished 35th, Loomis came in at 41st and Good finished 45th in the 47-man field.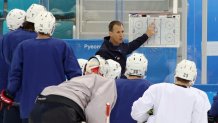 USA Men's Hockey Gives Up 3 Late Goals in Shock Loss to Slovenia
The U.S. men's hockey team's quest for a first gold medal since the "Miracle on Ice" in 1980 got off to a rough start Wednesday, as the Americans allowed Slovenia to come back from two goals down to win 3-2 in overtime.
American Brian O'Neill powered his team to the lead with a goal and an assist, but Slovenia got going early in the third period, when a deflected shot beat U.S. goalie Ryan Zapolski. Still losing with two minutes to go, Slovenia pulled its goalie to play with an extra attacker and soon had an equalizer thanks to captain Jan Mursak. Mursak scored again just 38 seconds into the sudden-death overtime.
This Olympics is the first since 1994 not to feature active NHL players, which may have made the difference in the game — none of the Americans who played in Sochi are on the roster this year, while the Slovenian team was largely unchanged.
But there's a silver lining to the U.S.'s first day in action. The tournament favorites, the Olympic Athletes from Russia, lost their opener as well, falling to Slovakia 3-2 in regulation time. That means the U.S. is still above the Russians in the group standings.
Florida's Brittany Bowe Comes in 4th in 1000m
Florida speedskater Brittany Bowe came up just short in the women's 1000m, missing the podium by less than half a second and coming in fourth place. Bowe finished fifth in the 1500m race Monday, the highest of the US skaters.
Team USA's Heather Bergsma, the reigning world champion in the discipline, came eighth, while Olympic rookie Jerica Tandiman came in 28th.
The Netherlands maintained its stranglehold on speedskating gold medals in Pyeongchang as Jorien Ter Mors sprinted to an Olympic-record victory.