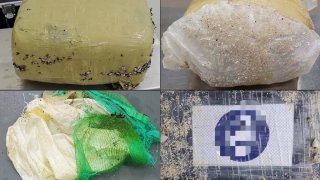 Nearly $80,000 worth of drugs have washed ashore in the Florida Keys just this week, authorities said.
U.S. Border Patrol agents have seized around 27 pounds of marijuana and three pounds of cocaine after responding to multiple drug washups along the coastline in the Keys, Chief Patrol Agent Walter N. Slosar said.
Slosar released photos of the sand-covered drug packages which have been reported by good Samaritans.