Ahead of a possible strike from Hurricane Irma this weekend, both Miami and FIU made the decisions to postpone their football teams' games scheduled for Saturday.
Tim Reynolds from the Associated Press tweeted that the game between the Hurricanes and Arkansas State scheduled for 3:30 p.m. will be canceled. The team was expected to leave Friday for the game. The two teams do not share the same bye week, so the game will likely not be made up.
FIU announced Tuesday night that their game vs. Alcorn State will not take place as scheduled. The move came hours after it was announced that the NFL's Miami Dolphins would also not be playing at home on Sunday to start their season.
Officials at FIU have not announced if the game has been postponed, canceled or will be played at another location.
And it wasn't just the Miami area keeping a close eye on Irma. All over Florida, teams were bracing for what may happen.
UCF's Saturday game against Memphis was also moved up to Friday, while both Florida State and Florida announced they are moving up their Saturday games.
The Seminoles' game against Louisiana-Monroe, scheduled for 7 p.m. in Tallahassee, will be played at 12 p.m., according to school officials. The same goes for the Gators, who are scheduled to play Northern Colorado at 7:30 p.m.
"Obviously we've got to be prepared for what's coming," said Dolphins quarterback Jay Cutler, who has never been through a hurricane before. "But I think everyone in South Florida has kind of been through the drill and is well prepared."
The Dolphins and Buccaneers may play at a neutral site, or play in November since they share the same bye week. FIU officials were looking for any way to get their game in as well.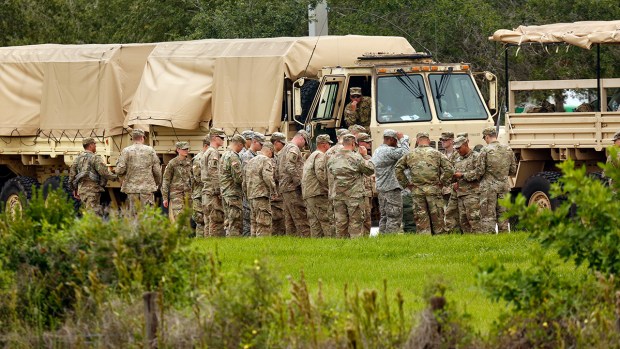 South Florida Prepares for Potential Hurricane Irma Landfall
"We are monitoring the situation and looking at all options," FIU executive director of sports and entertainment Pete Garcia said.
For now, No. 16 Miami and Florida Atlantic are planning to play this weekend — well out of the storm's projected path. Miami is scheduled to go to Arkansas State, and FAU is set to visit No. 9 Wisconsin.
Getting out of South Florida shouldn't be a problem for those teams. Getting back might be another story.
"Right now, everything is on go," Hurricanes coach Mark Richt said. "But with this storm coming and the direction it looks like it's taking, it's certainly a possibility it comes here, so we'll have to figure out what's best."
Irma's winds were 185 mph Tuesday, a strong Category 5 storm, and forecasters at the National Hurricane Center said it could strengthen more as it neared the eastern-most Caribbean islands. The storm had the most powerful winds ever recorded for a storm in the Atlantic Ocean.
The Miami Marlins won't have any home games affected by Irma; the team leaves for a road trip on Wednesday night. Families of Marlins players have been invited on the trip, so they wouldn't have to ride out what could be a devastating storm at home.
"If you had your kids here and you're leaving on a trip, it's not the best feeling to leave your family somewhere," Marlins manager Don Mattingly said.
New York Yankees manager Joe Girardi indicated that he wasn't sure if the AL wild-card leaders would start a series at Tampa Bay as scheduled starting Monday because of Irma fears. "It might be in jeopardy, and I think anyone that looks at the path would assume that it might be in jeopardy," Girardi told reporters in Baltimore. Moving the series to New York may be a possibility.