A diver has died in Pompano Beach as the first day of lobster mini-season kicked off in South Florida Wednesday, officials said.
Joseph Grosso, 22, had been diving for lobsters when he surfaced unconscious around 8:30 a.m., Pompano Fire Rescue officials said.
Officials said Grosso had been on a professional dive boat diving for lobster in 40 feet of water off shore when the incident happened.
"From what we're being told, Joey had come up with my other son and he said he had enough air to go down and get one more," said Phil Franchina, Grosso's stepfather. "Went down by himself, must've got tangled on the dive rope and either got disoriented, but he ran out of oxygen. Ran out of air. They found him floating, sad tragedy."
Captain Greg Mallek said crew members from Scubatyme did CPR on Grosso all the way back to shore.
"I mean, the vessel they were on, max speed is 15 miles an hour," Captain Mallek said. "Time is of the essence in any situation like this."
Grosso was brought to the Hillsboro Inlet Marina where paramedics performed CPR and rushed him to Broward Health North, where he later died.
The Broward Sheriff's Office is investigating Grosso's death.
Grosso had planned to attend the University of Miami's Law School. He had been accepted, but had yet enrolled. He had also hoped to walk-on to the UM football team later this year.
"We're in a state of shock," Franchina said. "To bury a son is uncommon, it's uncharted waters for any parent to have to deal with this; it's unspeakable."
The 2014 lobster mini-season began at midnight Wednesday and ends Thursday and is followed by the regular commercial and recreational season that starts Aug. 6 and ends March 31.
Officers with the Florida Fish and Wildlife Conservation Commission will be patrolling waters to make sure divers follow the rules.
"Every year we have people who just choose to violate the law and it's no exception this year," FWC spokesman Jorge Pino said. "We've already had our fair share of citations and arrests."
Each lobster must be measured to make sure the carapace length is at least 3 inches, otherwise it has to be left in the water. The harvesting of egg-bearing female lobsters is prohibited.
Lobster Mini-Season Kicks Off in South Florida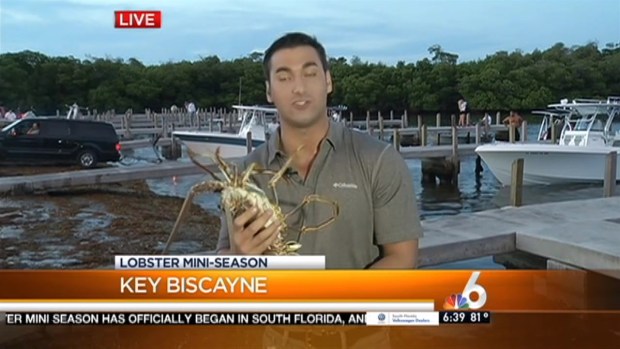 Spiny lobsters have to remain intact until they're brought to shore and can't be taken with any device that could puncture or crush the shell.
Bag limits for divers in Monroe County and Biscayne National Park waters mean only 12 lobsters per person per day can be kept. In other Florida waters, the limit is 12 lobsters per person per day.
Lobster harvest is prohibited in Everglades National Park, Dry Tortugas National Park, Biscayne Bay/Card Sound Spiny Lobster Sanctuary, certain areas of John Pennekamp State Park, and no-take areas in the Florida Keys National Marine Sanctuary.
For licensing information go to MyFWC.com/License.