What to Know
Under the program, a $9,000 bonus would be given out to nearly 45,000 qualifying teachers along with an additional $6,500 for principals.
In an effort that his administration hopes will encourage better public schools and keeping top teachers in the state, Florida Gov. Ron DeSantis unveiled new programs that include a substantial bonus for the best and brightest.
At an event inside a Tampa area high school, DeSantis announced the program that would give more than $422 million in additional money for the most effective teachers and principals in the state.
"I'm proud to announce these steps we are taking to ensure our state recruits and retains the very best educators for Florida schools," said DeSantis. "This renewed investment will reward highly effective teachers and principals across our state who are making a positive impact in our students' lives."
Under the program, a $9,000 bonus would be given out to nearly 45,000 qualifying teachers along with an additional $6,500 for principals. The testing requirement for teachers that tied bonuses to SAT and ACT results would be removed.
Florida Governor Pushes for New Teacher Bonus Program
Karla Hernandez-Max, president of the United Teachers of Dade, praised DeSantis for prioritizing education but wants to know how the proposed reform would be executed fairly.
"We know it will only benefit about 5 percent of our workforce," she said. "There's still a lot of unanswered questions ... we don't know why bonuses as opposed to a raise."
Sonia Diaz, a spokeswoman for UTD, said in a statement "proper compensation" for public school teachers in Florida is "long overdue," and the union is glad DeSantis is putting education "front and center" at the beginning of his term.
Gov. DeSantis Signs Order to Eliminate Common Core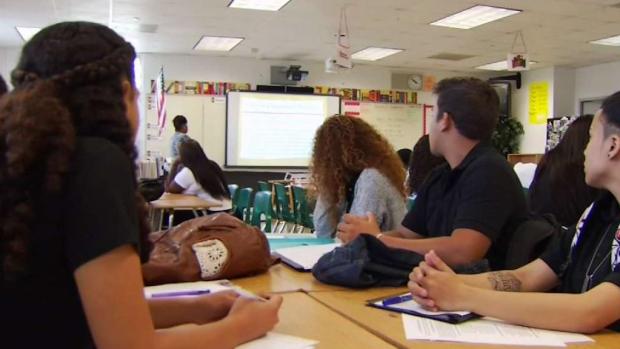 "The investment plan that he presented today still leaves a lot of unanswered questions, so we will wait on the details to analyze it a bit more closely," the statement said in part. "What we can say is that it would be preferable to give teachers raises over bonuses. Bonuses do not impact teacher pensions and only about 20 percent of our teachers will actually see the benefit of this particular proposition. We need something more all-encompassing if we want to address the widespread teacher shortage crisis that the profession is facing today."
Miami-Dade Superintendent Alberto Carvalho was pleased with the governor's budget, which he says would give the district more money next year -- an increase of $216 per child compared to last year's $65 per child.
DeSantis also announced the Teacher Talent Pipeline program, which would include $10 million a year for the next five years to launch a loan forgiveness program for up to 1,700 new teachers that agree to work in the state for five years.