Kim Rothstein has filed for divorce from convicted Ponzi schemer Scott Rothstein, just before she will be sentenced for hiding jewelry from authorities, the South Florida Sun Sentinel reported.
She made the divorce move last week, her attorneys said in a sentencing memo filed late Friday in federal court in Fort Lauderdale. That's where Rothstein and her friend Stacie Weisman are due to be sentenced Tuesday, after they pleaded guilty to conspiring to hide jewelry worth about $1 million from investigators.
Scott Rothstein is serving a 50-year prison sentence for operating a $1.2 billion Ponzi scheme that involved investments in fake legal settlements. Investigators sought to seize and auction the hidden jewelry to partially repay wronged investors after Rothstein turned himself in.
Kim Rothstein faces up to five years in prison for hiding and trying to sell the jewelry. Prosecutors say she and Weisman should get a reduced sentence, however, because they "provided substantial assistance in the investigation or prosecution of another person who has committed an offense."
Kim Rothstein Pleads Guilty in Jewelry-Hiding Conspiracy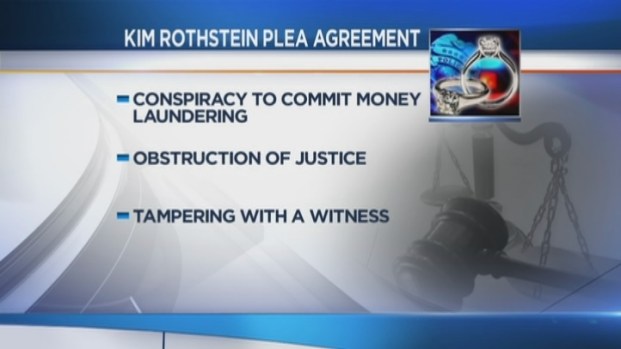 Rothstein and Weisman testified against a jeweler and a man who tried to sell some of the jewelry, both of whom pleaded guilty to related charges, according to the Sun Sentinel.
Kim Rothstein's former lawyer, Scott Saidel, also pleaded guilty for his role in the conspiracy.
Kim Rothstein's lawyers say it was her husband's idea to hide the jewelry, but she takes full responsibility for going along with it, the Sun Sentinel reported.
"Kim is fully responsible for her behavior. However, it was her husband, Scott Rothstein who originally requested that she take some family heirlooms, watches and other items of value as insurance," her attorneys David Tucker and David Kotler wrote in court records obtained by the Sun Sentinel. "He knew the avalanche of litigation that would be taking place over the next few years. Scott also recommended that Kim turn these items over to someone whom she trusted to sell them."
At the same time, Scott Rothstein is not responsible for Kim Rothstein's involvement, and she is accountable for what she did, the attorneys wrote.
"She is taking whatever actions steps necessary to move forward and is grateful that while she will be going to prison, that she now has the opportunity to move through life with less pain and much more awareness," they wrote. " She is learning to trust – a little at a time."
More NBC6.com Stories: