From a German concentration camp to Coral Springs to the Vatican, a relic of the Holocaust has opened eyes everywhere it's gone in its travels since World War II ended.
Decades after discovering a photo album in her late father's closet, Shari Unger-Klages showed it to Pope Francis at the Vatican two weeks ago for his blessing.
"It was just a few minutes but he seemed to be genuinely interested in what he was looking at," said Unger-Klages, recounting her meeting with the Pope, who in photographs, appears to bless the album. "It's a tremendous validation, tremendous validation of the significance of the artifact, the significance of the work that we're doing."
Shari's father, Arnold Unger, survived the horrors of the Dachau concentration camp as a young boy. The liberating American soldiers made him their mascot, and apparently made the album for him. Unger never spoke about it to his family, so no one knows why 30 original water colors, depicting life in the camp, were included in the album. The artist was a political prisoner from Poland, a Catholic named Michael Porulski, who died many years ago.
"I felt that it was important that the story of a Dachau survivor, who's Roman Catholic, who was a brilliant artist, needed to be shared with the world and that the Roman Catholic world needed to know this," said Avi Hoffman, the Executive Director of the Arnold Unger Foundation for Remembrance.
Hoffman, whose father was also a Holocaust survivor, accompanied Unger-Klages on the trip to meet Pope Francis. The two have made it their mission to use the album, with its Catholic connection, as an educational tool to expand the scope of Holocaust discussion. Unger-Klages says it doesn't diminish the Nazi genocide against Jews to also acknowledge the Germans' vicious campaign against political dissidents, gays, gypsies, and others.
"By expanding the dialogue, we'll get more attention paid to everybody that was impacted," Unger-Klages said.
She says her dad's album will eventually be displayed at the Library of Congress. In the meantime, Unger-Klages and Hoffman are hoping their moment with Pope Francis will help spread the still-relevant lesson that genocide against any people, anywhere, cannot be tolerated.
"The Pope's personal acknowledgment of this artifact is an enormously important tool in bringing the message of this album to the world," Hoffman said.
A documentary is being made about Arnold Unger's album. It should be completed within the year.
Photo Album Brings Unique View to Holocaust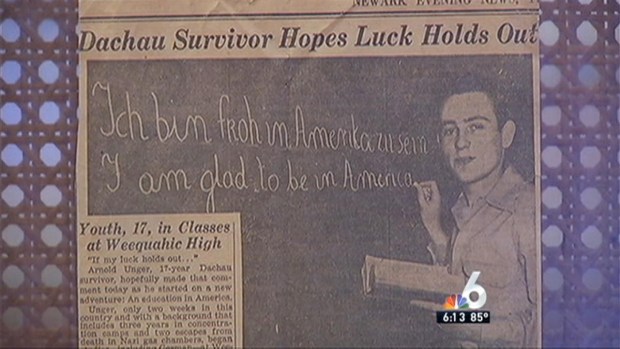 For more information about the album and its contents, see our first story on it.