A suspect police said ran over a woman after he attempted to rob her at a Homestead gas station was arrested at his North Miami home Thursday night, authorities said.
John Croissy, 26, was taken into custody without incident at about 8:30 p.m., police said.
"It was a very quick and surprising moment for him. He wasn't aware we were in the area," Morales said. "As soon as we observed him, I can't go into many details as far as the actual arrest, but we basically swarmed him and he had nowhere to go and we took him into custody."
Croissy (pictured below) was in bond court along with Michael Feliz, who authorities say, was his accomplice in two other crimes.
Man Accused of Running Over Woman Due in Court
Croissy faces charges of armed robbery, possession of a firearm by a convicted felon, use of a firearm during the commission of a felony, and leaving the scene of an accident with injuries, Morales said.
It wasn't immediately known whether Croissy has an attorney.
Pedestrian Seriously Injured in SW Miami-Dade Hit-and-Run: FHP
Suspect Accused of Running Over Woman at Homestead Gas Station Arrested
The attempted robbery happened on Aug. 5 as Sarah Delgado was pumping gas at the Sunoco station at U.S. 1 and Southwest 308th Street, according to police. He tried to steal her purse, but she fought back and he did not get away with it, police said.
"I grabbed his shirt to try to save myself from the top of his shirt and he would look at me and everytime he would look at me, I would try to remember his face," Delgado said.
He then got in his car and drove over her, police said. She was airlifted that day to Kendall Regional Medical Center, where she was in serious condition.
Woman Fights Back Against Robber, Gets Run Over in Homestead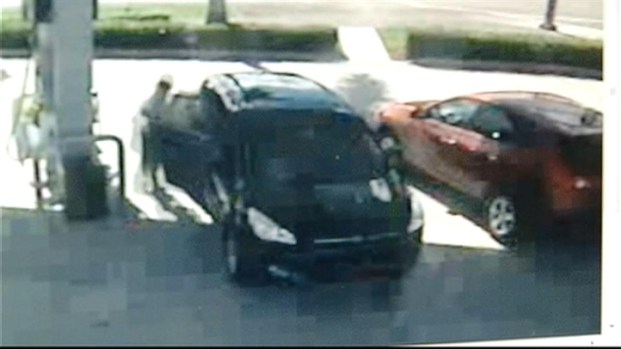 "I have some peace becasue you have to have some peace now that he's arrested and behind bars," Delgado said.
Surveillance video by Homestead Police led to the take down in North Miami. Croissy was a passenger in a white Tahoe when he was arrested, and Felix was behind the wheel.
"Homestead Police detectives recognized Michael Feliz from surveillance videos of another crime here in Homestead," said Morales.
Morales said Felix was the driver when he and Crossy stopped at a gas station in Homestead and stole a purse from a car on July 30. A search of the vehicle gave evidence of another crime: a driver's license.
Homestead Police were asking other law enforcement agencies to take a close look at the men.
"These two gentlemen would come down to the Homestead area on the Turnpike and start committing their crimes in Homestead and begin driving north on US 1, as they committed several crimes all the way back up to North Miami," Morales said.
More Local Stories: