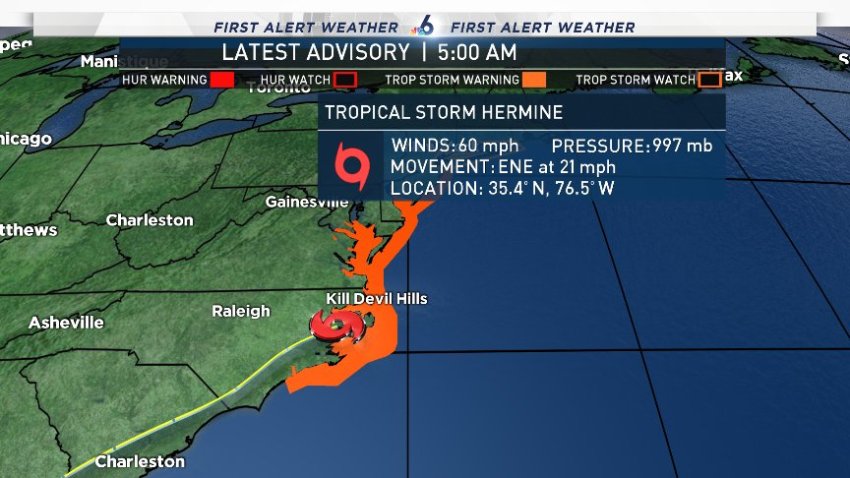 The first hurricane to hit Florida in more than a decade wiped away beachside buildings and toppled trees onto homes Friday before plowing inland on a path that could send it rolling up the densely populated East Coast with heavy rain, high winds and flooding.
Hermine quickly weakened to a tropical storm and was spinning inland along the North Carolina coast late Friday. But the National Hurricane Center predicted it would regain hurricane strength late in the weekend after emerging over the Atlantic Ocean. The system could then lash coastal areas as far north as Connecticut and Rhode Island through Labor Day.
"Anyone along the U.S. East Coast needs to be paying close attention this weekend,'' said Dennis Feltgen, a spokesman for the National Hurricane Center.
The National Weather Service on Saturday issued a flash flood watch for northeast North Carolina and southeast Virginia, including Virginia Beach and Norfolk. The watch is in effect through this evening. Rainfall totals of 3 to 6 inches are possible for southeast Virginia and 4 to 7 inches for northeast North Carolina.
In Florida, Hermine's main impact came in the form of power outages and damage from storm surges. A homeless man south of Gainesville died when a tree fell on him, Gov. Rick Scott said.
He later took to a Blackhawk helicopter to visit the coastal communities of Cedar Key and Steinhatchee hit hard by the damage from flooding and storm surge that crumpled docks and washed out homes and businesses.
Scott pledged that businesses would be eligible for help from the state. But it's unclear whether Florida will get any federal disaster assistance as the state begins to clean up from the storm.
An estimated 325,000 people were without power statewide and more than 107,000 in neighboring Georgia, officials said.
Copyright AP - Associated Press