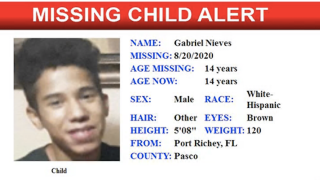 An alert has been canceled for a missing child last seen outside his home north of Tampa.
The Florida Department of Law Enforcement issued the alert for 14-year-old Gabriel Nieves, who was last seen Thursday off of Ironbark Drive in Port Richey.
Nieves is 5'8" tall and weighs 120 pounds with dyed orange-yellow hair and brown eyes. Officials did not say if he was with anyone before he went missing.
Police did not issue any updates at this time, include Nieves' condition.