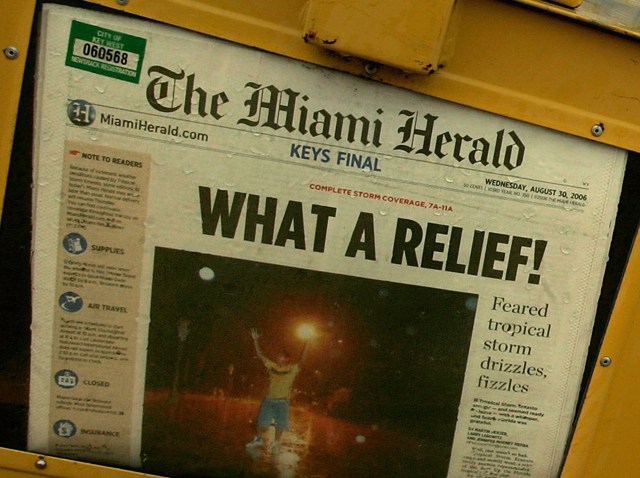 Just two months after they put out their hand asking for online donations, the Miami Herald has apparently ended its request for voluntary contributions to its Website.
An article under "Breaking Business News" posted this past Saturday stated that the push for handouts, which began in mid-December, was ending. A story posted Sunday by editor Anders Gyllenhaal said the "experiment with voluntary contributions from Web readers" was ending.
"The project taught us a lot about online reactions, but it's unlikely to be an important part of our approach going forward," Gyllenhaal wrote. "We thank the many readers who sent in contributions, suggestions and ideas as a part of this project."
A perusal of stories posted to the site today lack the link on the bottom of each story page which directed users to their donation page.
"If you value The Miami Herald's local news reporting and investigations, but prefer the convenience of the Internet, please consider a voluntary payment for the web news that matters to you," the now-defunct donation page read.
Through the link, users could pay any amount they wanted with a credit card -- Visa, MasterCard and American Express accepted, no DiscoverCard.
The Herald hasn't said how much the program brought in, but shortly after it began, Gyllenhaal said he was encouraged by the donations.
"The first few days of this experiment have elicited an encouraging steam of gifts, ranging from $2 to $55," Gyllenhaal said. "They've also provoked an array of reactions, here and across the country, since this has drawn attention as the first effort of its kind."
Herald brass haven't responded to calls for comment yet, but Saturday's article quoted VP Elissa Vanaver who said the Herald currently has no plans on charging for content.
So it looks like that whole job layoffs/money problem has been solved.