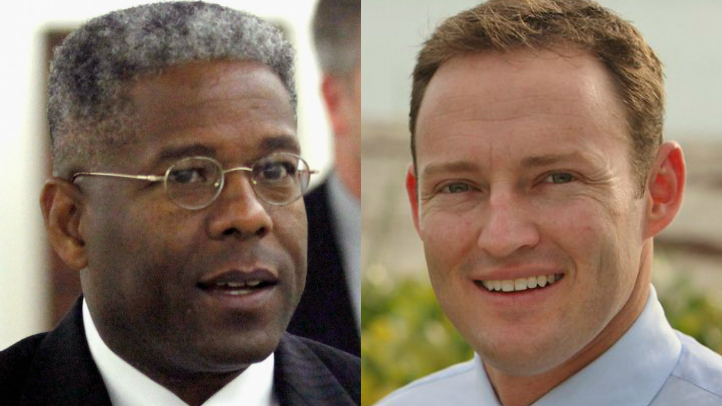 Two weeks after Election Day and following a contentious recount, Republican Allen West has conceded to Democrat Patrick Murphy in a closely watched Florida congressional race.

In a statement released Tuesday morning, West congratulated Murphy and said he wouldn't continue to challenge the results of the District 18 race.

"For two weeks since Election Day, we have been working to ensure every vote is counted accurately and fairly. We have made progress towards that goal, thanks to the dedication of our supporters and their unrelenting efforts to protect the integrity of the democratic process," West said. "While many questions remain unanswered, today I am announcing that I will take no further action to contest the outcome of this election."
Murphy Presumed Winner in Race Against West
Shortly after West conceded, Murphy released his own statement.
"I appreciate Congressman West's gracious concession today. I am truly humbled that the voters of the 18th district have entrusted me to represent them in Washington," Murphy said. "To those who supported my opponent, my door is open and I want to hear your voice. I campaigned on a message of reaching across the aisle to get things done for the people of the Treasure Coast and Palm Beaches, and that is as important in this district as it is in Washington. I am excited and honored to get to work."
West had refused to concede as unofficial results showed Murphy with a slim lead of less than 2,000 out of more than 330,000 cast in the three-county district.

This past weekend, election officials in St. Lucie County held a recount showed Murphy maintained his edge.

"While there are certainly still inaccuracies in the results, and the actions of the St. Lucie County and Palm Beach County Supervisors of Elections rightly raise questions in my mind and for many voters, after much analysis and this past weekend's recount in St. Lucie County, our legal team does not believe there are enough over-counted, undercounted or fraudulent votes to change the outcome of the election," West's statement read.
Judge Declines to Halt Recount in West-Murphy Race
The race was one of the country's most expensive House contests and one of the most closely watched. The two sides had raised nearly $21 million as of Oct. 17, according to the nonpartisan Center for Responsive Politics, and Super PACs poured in about $6.6 million.

West, 51, is a first-term tea party favorite and one of only two black Republicans in the House. He has made a string of headline-grabbing statements, from calling a majority of congressional Democrats communists to saying President Barack Obama, Rep. Nancy Pelosi and others should "get the hell out of the United States."
Complete Decision 2012 Coverage

Murphy, 29, is a political newcomer who portrayed West as an extremist who has done little else in Washington than stoke partisan fires.
"Serving the people in the House of Representatives has been among the highest honors of my life, but this seat does not belong to me, or for that matter, to any individual. It belongs to the people," West said.
Copyright AP - Associated Press