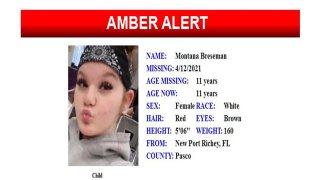 Law enforcement officials canceled an Amber Alert issued for a missing girl last seen near her hometown north of Tampa.
The Florida Department of Law Enforcement issued the alert Monday for 11-year-old Montana Bressman, who was last seen in the city of New Port Richey in Pasco County.
Bressman was last seen wearing a grey hoodie reading "My Blood My Sweat Your Tears" with a blue bandana along with black and white leggings.
Shortly after 7:30 a.m. Tuesday, FDLE officials canceled the alert and said Bressman was found safe.
Officials did not confirm if she had been with an unknown white male around 20 years old with sandy blond hair that was mentioned in the initial alert.