A man has been arrested in connection with fentanyl overdoses that involved five West Point cadets who were on spring break in Wilton Manors, authorities said.
Axel Giovany Casseus, 21, was arrested Friday on a cocaine trafficking charge, Broward County Jail records showed.
Casseus was arrested following Thursday's incident at a vacation rental home that led to six men and one woman being hospitalized, Wilton Manors Police said.
A spokesperson for the U.S. Military Academy said Saturday that five West Point cadets were involved and four of them were transported to the hospital. One was an Army football player, the spokesperson said.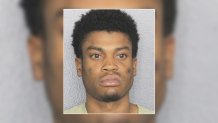 Casseus appeared in bond court Saturday morning, where the judge wanted to hear how police connected him to the Wilton Manors overdose case.
A Broward Sheriff's Office sergeant testified that investigators found the phone number for the alleged dealer who sold drugs to the spring breakers and used the number to negotiate a drug deal with Casseus.
Undercover officers met with Casseus on Friday and he sold them 43 grams of suspected cocaine in exchange for $1,000, the sergeant said.
The sergeant said the phone used to communicate with the spring breakers was found in Casseus' possession, and Casseus admitted to participating in the transaction.
But the sergeant said the cocaine undercover officers bought did not contain fentanyl, though it was present in the drug that led to the overdose of the spring breakers.
"The problem is, he can't connect the fentanyl to this defendant," the judge said.
Casseus hasn't been charged in connection with the sale of the drugs to the spring breakers, but Wilton Manors Police and BSO are still investigating the incident.
The judge set Casseus' bond at $50,000.
Fort Lauderdale Fire Department Battalion Chief Steve Gollan said four of the patients took a substance believed to be cocaine laced with fentanyl, and their two friends were exposed to the fentanyl when they tried to give them CPR.
Police said a seventh person, a woman, was later transported to the hospital after feeling ill.
When paramedics arrived, they found multiple men in cardiac arrest in the front yard of the home.
Police and paramedics began doing chest compressions, and after determining it was an overdose situation, quickly used the overdose drug Narcan, Gollan said.
Some of the patients were able to regain a heartbeat after the Narcan, but four were still in respiratory arrest when they were transported to the hospitals, Gollan said.
"These are healthy, young adults, college students in the prime of their life, and getting this drug into their system, it's unknown what the recovery will be," Gollan said.