The girlfriend of a Miami Police officer who was found dead in his Pembroke Pines home has been arrested and charged with second-degree murder.
Tiniko Thompson left her home with her lawyer Rod Vereen shortly before 7 p.m. Wednesday. Vereen's car pulled out of the driveway of the home and drove down the street. Vereen then handed Thompson over to police who placed her into handcuffs and took Tiniko into custody.
Thompson was booked into jail and was being held without bond following an appearance in court before Judge John Hurley Thursday.
Miami Police Chief Manuel Orosa released a statement Thursday saying he's praying for the Patrick family.

"I want to thank Chief Dan Guistino and the members of the Pembroke Pines Police Department for their hard work and dedication during this investigation into the death of Officer Carl Patrick," Orosa said. "Chief Guistino's entire department has been wonderfully gracious and has shown the true spirit of professionalism and courtesy to me and my department during this horrible loss."
"At this point, we will have to let justice run its course," Vereen said Wednesday. "She will appear before a court tomorrow for the purposes of a bond. At that point in time, probably no bond will be issued due to the nature of the charge."
The arrest came 19 days after Officer Carl Patrick's body was found inside his Pembroke Pines home after he failed to report for duty for several days. Officers found Patrick's body wrapped in a bed sheet and comforter.
A few days after the body was found, Thompson sat next to her attorney and spoke exclusively to NBC 6 to give her version of what happened, saying Patrick attacked her and pulled a weapon on her.
"He scared me. I don't know what else to say," Thompson said. "He scared me. I feared for my life and I held on and we struggled because I wasn't going to let go."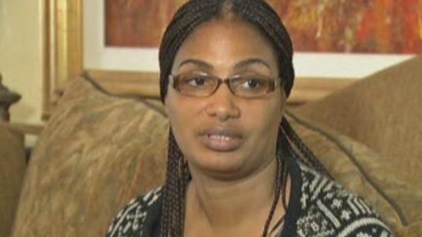 Thompson continued, "He slipped and he fell and I was still backed up into a corner and we're still tussling with the gun. And at that moment he is turning this way and it went 'POW!' And that was it. He called me a b****. He said, 'You b****.'"
Thompson, who said she was living with Patrick, claims she left the home after the shooting and slept in her car. Two days later, Friday, she spoke to her mother and the mother called 911 and told police to come to the couple's home.

Police said they wanted to talk to Thompson before she spoke to NBC 6, but she rejected their attempts to talk to her.
"I wasn't a monster," Thompson told NBC 6. "In my aspect, was, he was my man and I was his woman and a woman stand behind her man. So I helped him. Everything he needed done, I was there to do it."
Surveillance video shows what appears to be Thompson removing several items from her car and taking them inside a storage unit in the days after the shooting. The owner of the storage facility said police officers have searched the unit Thompson rents.
The arrest warrant reportedly said a gun was found next to his body and that blood was found on the wall and door frame. The warrant showed that police, after tracking down Thompson, took DNA samples from her purse, clothing, and cell phone, according to the Miami Herald.
Vereen told reporters Wednesday that he wouldn't discuss what "my client knows" and "where she learned the information from."
"I'm always confident the justice system will treat everybody fairly," Vereen said Wednesday night. "Whether individuals inside the justice system try to treat her differently, I don't know. We'll see."
The Miami Fraternal Order of Police issued a statement on the case Wednesday night that said in part: "We all knew he (Patrick) was brutally murdered by a cop killer while getting ready for work to serve and protect our community...We continue to pray for Officer Patrick's family and that justice will be served. We pray that this murderer never sees the light of day in order to protect law enforcement and the public at large."
"My hope now is that this arrest brings the closure that we so desperately need in the aftermath of what has been a terrible tragedy for us all," Orosa said in his statement.