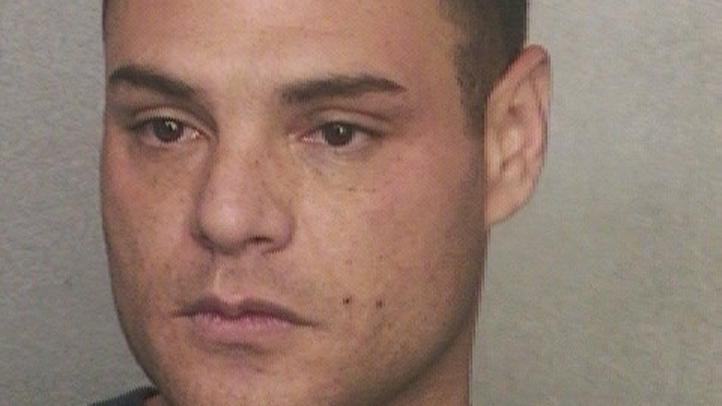 A Pembroke Pines man was arrested after he threatened to destroy his employer's Davie office and then set it on fire, authorities said.
Michael Visconti, 37, faces charges of arson and criminal mischief over $1,000 after the incident Monday night, Davie Police said in an arrest report.
At about 8:35 p.m., Visconti called his employer Richard Mallion, threatening both his Pro Health Management Inc. office and Mallion personally because Mallion allegedly owes him money, the report said.
Investigators Probe Suspicious Duplex Fire in Fort Lauderdale
Mallion called police, and Officer Bruce Paquet met with him and his wife in the parking lot of the office building, at 6153 SW 45th St. They headed upstairs, Paquet smelled smoke, and he saw that a small fire was burning inside the front office of the business, he wrote in the report.
As the officer was telling Mallion about the fire, he saw a man later identified as Visconti move quickly towards the front door, the report said.
VIDEO: Molotov Cocktail Tossed Into Miami Home: Police
Paquet identified himself as a police officer and ordered Visconti to step outside several times but he refused, so Paquet unlocked the door and opened it with Mallion's key, he said.
When Visconti again refused to move, Paquet said, he reached inside, grabbed Visconti in a headlock and dragged him outside.
Mallion and his wife then went into the office and put out the fire, the report said.
Fire Destroys Kendall Home; Investigators Scour Remains
Visconti said he did light the fire, according to the report. He also destroyed several pieces of office equipment worth about $5,000 and "trashed the office," the report said.
Visconti is being held on $51,250 bond at the North Broward Bureau on the two above charges and an unrelated charge, online Broward Sheriff's Office records said. It wasn't immediately known whether he has an attorney.
More Local Stories: